Application Deadline Approaching
(Washington) Reminder: the May 5, 2014 deadline is approaching to submit a grant application to the Fund for Investigative Journalism (FIJ).
Grants cover expenses such as travel, document production and equipment rental. Small stipends may be considered as a part of the grant. The typical grant is $5,000.
The Board of Directors looks for stories that break new ground and expose wrongdoing in the public or private sectors. FIJ accepts applications for both domestic and foreign investigations.
Visit the FIJ website for detailed instructions and the on-line application form: http://fij.org/grant-application/.
Apply by May 5, at 5pm Eastern time to be considered for this round of funding. FIJ makes grants three or four times a year.
Email fundfij@gmail.com if you have questions about the application process.
FIJ Grantee Wins Edward R. Murrow Award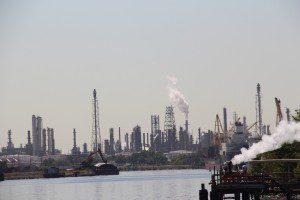 Reid Frazier has won a regional Edward R. Murrow Award, from the Radio Television Digital News Association (RTDNA) for his series "The Coming Chemical Boom." His investigation aired on The Allegheny Front, a program carried by Pennsylvania public radio stations.
In a series of reports to inform his audience on what might happen when the petrochemical industry comes to Pennsylvania as proposed, Frazier traveled to Texas and Louisiana to report on conditions there – where the chemical industry is booming, thanks to cheap natural gas. In Houston, he found the chemical plants brought economic benefits, but that air quality suffered, increasing the risk of cancer, asthma, and heart disease.
Photo by Reid Frazier.
New Mexico's Badlands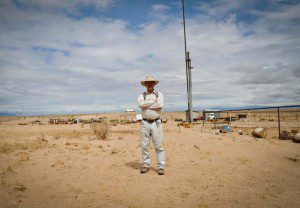 From Joseph Sorrentino for the Sante Fe Reporter and In These Times, the story of real estate con games that prey upon the poor in New Mexico.
An excerpt: "People are losing their land and their money to suspect real estate deals. They're also buying land thinking they can live there, only to learn too late that they can't."
"Many people buying land in colonias are Mexican or Mexican-American, and they often speak and read only Spanish; contracts are almost always in English. Further, there's no requirement for sellers to produce a title or title insurance to prove that they actually have the rights to the land."
Photo courtesy of Joseph Sorrentino.
Kogod Professor Advises FIJ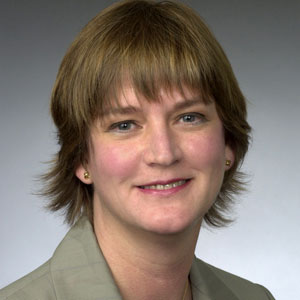 American University Kogod School of Business magazine, Kogod Now, profiles associate professor Leigh Riddick, who provides pro bono business and finance advice to the Fund for Investigative Journalism.
An excerpt from the profile:
Sustaining a news organization is no easy feat. Riddick knows this firsthand. Her grandfather, James Bland, bought the Times-Dispatch [in Arkansas] in 1921. She worked for her grandfather and later her uncle (James Jr.) in the summers and after school. She covered trials, weddings, obituaries—and [the occasional] scandal. Her cousin John Bland runs the newspaper now….
Like the Times-Dispatch, the FIJ contributes to the public good in a way Riddick admires.
"I've been impressed with the level of organization and detail," she said. "[They are] very frugal, clearly saving the money to put into grants."