'GIVING TUESDAY' is November 29. Please donate and support independent watchdog journalism.
---
---
Idris Akinbajo, an investigative reporter from Nigeria, is hopeful that his country's maturing democracy will mean more government transparency and perhaps lead to increased availability of government data.
Akinbajo, who has been twice named Nigeria's "Journalist of the Year," certainly has the journalistic chops to report aggressively on the issues facing his country. But he wants to be better prepared to analyze the data that might soon become available.
"The sheer volume and complexity of some of the data means basic investigative journalism skills might not be enough to analyze the information," he said, noting that data journalism is mostly absent from Nigerian newsrooms. "How to sort the data, knowing where to look and how to understand the data were some of the essential techniques I wanted to develop."
Through the generosity of the Reva & David Logan Foundation, the Fund for Investigative Journalism provided opportunities for six foreign-based journalists, including Akinbajo, to attend conferences so they could further hone their reporting skills and network with other investigative journalists.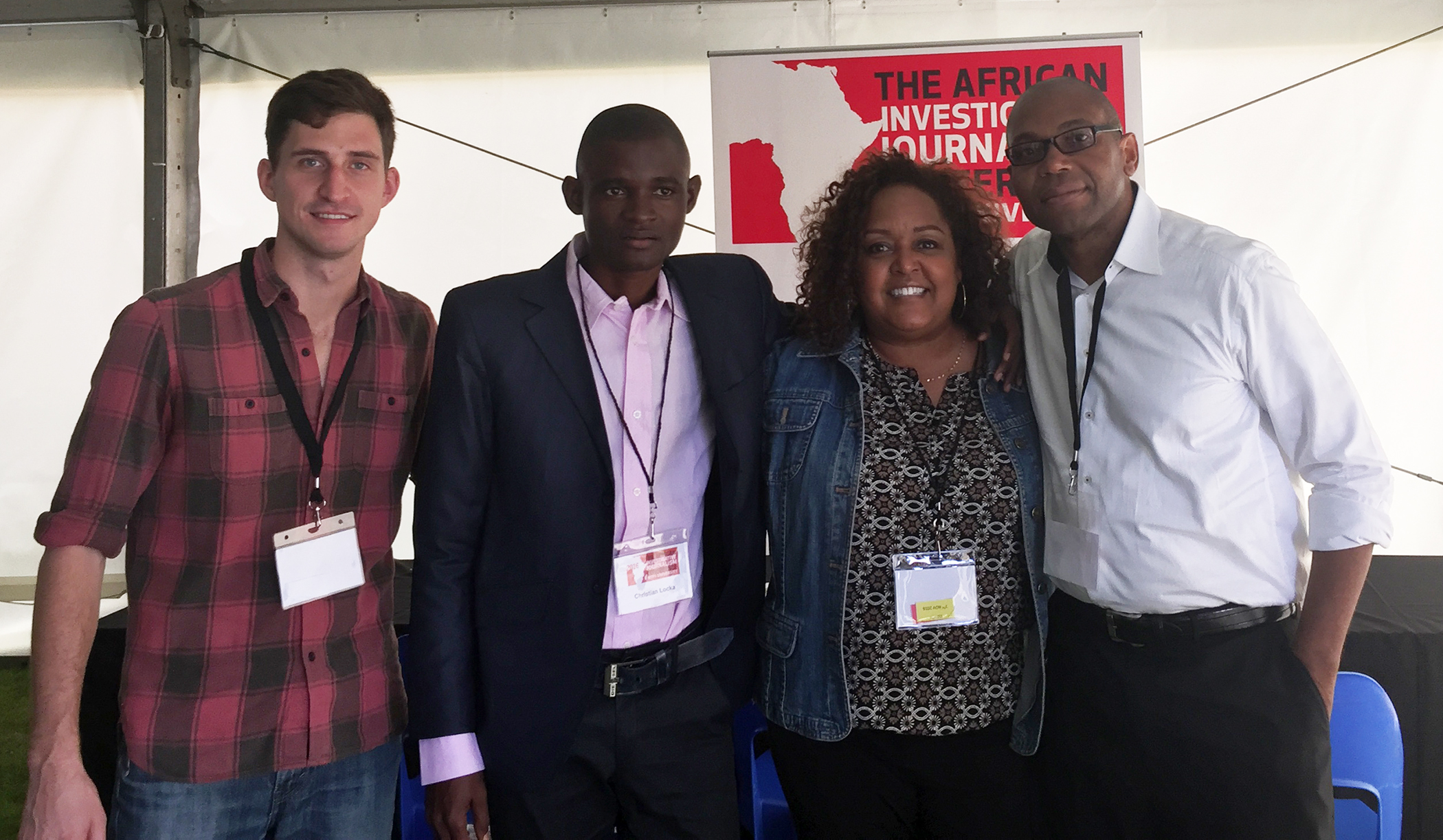 Mark Olalde, left, an American journalist based in South Africa, and Christian Locka, an investigative reporter from Cameroon, center-left, met with FIJ board members Cheryl W. Thompson and Ron Nixon at the African Investigative Conference held earlier this month in Johannesburg, South Africa. (Photo courtesy of Cheryl W. Thompson.)
In March, Marianna Grigoryan of Armenia attended the Logan Symposium in Berlin. Rosalia Omungo of Kenya went to the IRE convention in New Orleans in June.
Earlier this month, Christian Locka of Cameroon and Mark Olalde, an American based in South Africa, attended the African Investigative Conference in Johannesburg. FIJ board members Ron Nixon and Cheryl W. Thompson also attended the gathering and had a chance to meet with Locka and Olalde.
Akinbajo, along with another former grant recipient, Roza Hovhannisyan of Armenia, attended a three-day summer reporting session put on by the Centre for Investigative Reporting at Goldsmith University of London.
FIJ selected the participants from a list of foreign journalists who had recently completed FIJ-funded projects, giving priority to grant recipients with a track record of success.
"I met journalists from across the globe, doing amazing work," Omungo said of her trip to the United States. She attended sessions on data journalism, health reporting and business journalism. "I will be taking the next step to open discussions on ways of collaborating."
While in New Orleans, Omungo had the opportunity to meet FIJ Board President Ricardo Sandoval Palos, who championed the training program.
Olalde, who is trying to better familiarize himself with data journalism overseas, attended sessions teaching him where to look for useful databases, how to more efficiently clean unwieldy datasets and how to easily create maps.
On a related note, the Reva & David Logan Foundation has increased its financial support of FIJ by an additional $15,000 — bringing its total donation this year to $100,000.

Next application deadline: Monday, Feb. 6, 2017
---
Grantee delves into troubling lapses in home care industry


Scrutinizing home care:  As the need for personal care attendants rises for the country's aging baby boomers, concern is also rising about the quality of care being dispensed by caregiver placement agencies. Jennifer Margulis, reporting for Oregon's Jefferson Public Radio, documents how some families are let down by for-profit in-home care agencies that don't adequately screen their workers – in some cases, failing to conduct thorough criminal background checks.

Shoshanah Dubiner, 73, of Ashland, Oregon, says she and her husband worry about the quality of care from caregivers hired through placement agencies. (Photo by Jennifer Margulis)
---
Newsletter Editor: Bobby Caina Calvan
---
The Fund for Investigative Journalism
529 14th Street NW, 13th Floor | Washington, D.C. 20045 | Phone: 202.662.7564 | Email: fundfij@gmail.com | www.fij.org