December 2nd, 2016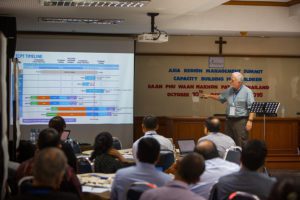 Foundations, corporations and individual Americans gave $119 billion in 2015 to religious charities. Steve Rabey, reporting for the Colorado Springs Gazette and Religion News Service, found that some of these charities aren't very forthcoming about how they spend their money. Reporting for the Gazette, Rabey delved into the financials of some of his community's largest ministries. But not all complied with his request for records — in apparent violation of transparency standards of the Evangelical Council for Financial Accountability. In his piece for RNS, Rabey took a broader look at financial transparency among the country's largest religious ministries.
[In photo, Ed Anderson, Compassion International's chief financial officer, discusses information systems with ministry workers in Thailand in October. Photo courtesy of Compassion International.]
[Reporting sponsored by the Ethics and Excellence in Journalism Foundation.]
November 23rd, 2016
'GIVING TUESDAY' is November 29. Please donate and support independent watchdog journalism.
---
---
Idris Akinbajo, an investigative reporter from Nigeria, is hopeful that his country's maturing democracy will mean more government transparency and perhaps lead to increased availability of government data.
Akinbajo, who has been twice named Nigeria's "Journalist of the Year," certainly has the journalistic chops to report aggressively on the issues facing his country. But he wants to be better prepared to analyze the data that might soon become available.
"The sheer volume and complexity of some of the data means basic investigative journalism skills might not be enough to analyze the information," he said, noting that data journalism is mostly absent from Nigerian newsrooms. "How to sort the data, knowing where to look and how to understand the data were some of the essential techniques I wanted to develop."
Through the generosity of the Reva & David Logan Foundation, the Fund for Investigative Journalism provided opportunities for six foreign-based journalists, including Akinbajo, to attend conferences so they could further hone their reporting skills and network with other investigative journalists. Read the rest of this entry »
October 29th, 2016
---
The Reva & David Logan Foundation has been a valued patron of the Fund for Investigative Journalism, and we are grateful for its continued generosity. The foundation recently awarded FIJ another $85,000 – the fourth year it has supported our mission of funding independent investigative journalists.
"This gift is an honor and a challenge: It recognizes the impact of investigations we've underwritten, and pushes us to seek out projects with the potential to bring about important social change," said FIJ's board president, Ricardo Sandoval Palos.
Our funders allow FIJ journalists to produce compelling work worthy of recognition. Here's a recent sampling:
—Adriana Cardona-Maguigad won two prestigious awards – the Sigma Delta Chi award for radio documentaries and an Edward R. Murrow Award – for her investigation into how drug addicts from Puerto Rico end up on Chicago's streets.
—The Kentucky Center for Investigative Reporting won an Edward R. Murrow Award and recognition from IRE for its report on an entrenched system of political employees that soaks up $2 million in taxpayer dollars each year.
—Susan Southard received the Dayton Literary Peace Prize and the J. Anthony Lukas Book Prize for her debut nonfiction book, "Nagasaki: Life After Nuclear War," about the second atomic bomb dropped on Japan during World War II.
—City Limits and its reporter Kate Pastor garnered award-winning praise from the New York Press Club for an ongoing series on housing.
—Francesca Lyman received an "Arlene Award for Writing that Makes a Difference" from the American Society of Journalists and Authors for her expose on thrift stores for InvestigateWest.
—Halle Stockton was a 2016 finalist for the Livingston Award for Young Journalists for her PublicSource series on psychotropic drugs prescribed to juvenile offenders.
Next application deadline: Monday, Feb. 6, 2017
---
September 30th, 2016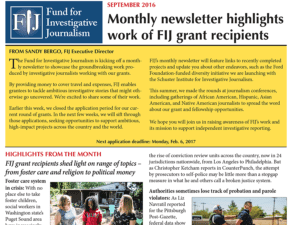 The Fund for Investigative Journalism is kicking off a monthly newsletter to showcase the groundbreaking work produced by investigative journalists working with our grants.
By providing money to cover travel and expenses, FIJ enables grantees to tackle ambitious investigative stories that might otherwise go uncovered. We are excited to share some of their work.
Earlier this week, we closed the application period for our current round of grants. In the next few weeks, we will sift through those applications, seeking opportunities to support ambitious, high-impact projects across the country and the world.
FIJ's monthly newsletter will feature links to recently completed projects and update you about other endeavors, such as the Ford Foundation-funded diversity initiative we are launching with the Schuster Institute for Investigative Journalism.
This summer, we made the rounds at summer journalism conferences, including gatherings of African American, Hispanic, Asian American, and Native American journalists to spread the word about our grant and fellowship opportunities.
We hope you will join us in raising awareness of FIJ's work and its mission to support independent investigative reporting.
September 21st, 2016
(Washington) Applications for a diversity initiative funded by the Ford Foundation are currently being accepted, with an upcoming deadline of October 1st.  The initiative is an FIJ collaboration with the Schuster Institute for Investigative Journalism to award FIJ grants, coupled with Schuster Institute fellowships, to women journalists and journalists of color.
The online application form with instructions for the grant/fellowship diversity initiative can be found here: https://investigate.submittable.com/submit.
The Fund for Investigative Journalism's deadline for its fall cycle has passed.  Applications are accepted by FIJ three times a year. The next deadline is Monday February 6, 2017, at 5pm Eastern time.
The online application form with instructions can be found here: http://fij.org/grant-application/
August 31st, 2016
(Washington) – The Fund for Investigative Journalism (FIJ) is pleased to announce that for the fourth year in a row, the Nicholas B. Ottaway Foundation has donated $25,000 in support of FIJ's grant-making program for independent investigative reporters.
The funds will support the work of freelance reporters whose investigations are published in US media outlets.
The Nicholas B. Ottaway Foundation's journalism program supports press freedom around the world and seeks to improve the quality of journalism through grants to American journalism schools, investigative reporting projects, and online investigative news centers.
FIJ board member David Ottaway also serves on the board of the Nicholas B. Ottaway Foundation.
Among the recently published FIJ projects underwritten by the Nicholas B. Ottaway Foundation:
Reporter Adriana Cardona-Maguigad traveled to Puerto Rico to investigate why an influx of drug addicts from Puerto Rico now lived on the streets of Chicago. She found that addicts were given one way tickets to Chicago and other big cities with promises of drug treatment. But those promises were broken. Cardona-Maguigad was interviewed about her investigation for the public radio program This American Life.
Vivekananda Nemana and Ankita Rao reported on the deliberate underreporting of malaria cases in India, which interferes with efforts to fight the disease.
Francesca Lyman investigated Savers, the thrift store chain, and found their claims about helping charities were vastly overblown.
Freelancer Jeanne Baron reported for NPR on World Bank projects that aim to fight poverty around the world, and found that while uprooting local people, project leaders don't always follow World Bank rules for resettlements.
Sandra Bartlett reported for the radio program, Reveal, on "disposable" workers in South Korea and Vietnam – exposed to toxic chemicals, then to reproductive disorders and cancer. Many of the victims are young women. Reveal is a nationally broadcast public radio program and podcast from the Center for Investigative Reporting and PRX.
For more than forty years, FIJ has covered expenses for reporters who have the ideas, sources, and know-how to produce groundbreaking investigative journalism but need resources to complete their projects.
Grant applications are currently being accepted through the FIJ website, http://fij.org/grant-application/, with an upcoming deadline of September 26.
FIJ is also collaborating with the Schuster Institute for Investigative Journalism on a diversity initiative funded by the Ford Foundation. Applications for grants and fellowships for diverse journalists are being accepted at https://investigate.submittable.com/submit, through October 1.
August 12th, 2016
(Las Vegas) Directors of journalism grant and fellowship programs described the "transformative" impact the programs have on reporters' careers, during a panel discussion at the 2016 national convention of the Asian American Journalists Association (AAJA), being held August 10-13 at Caesars Palace in Las Vegas.
Among the panelists, Sandy Bergo of the Fund for Investigative Journalism described how its four decades-long grants program has helped reporters break big stories, such as the My Lai massacre.
And she introduced a new diversity initiative that will award grants and fellowships with the Schuster Institute for Investigative Journalism to women and journalists of color, to help address the lack of diversity in the field of investigative reporting.
The FIJ/Schuster initiative is funded by the Ford Foundation. Read the rest of this entry »
August 8th, 2016
(Washington) The Fund for Investigative Journalism (FIJ) has awarded $52,000 in grants to support the expenses of 14 investigative journalists working on stories in the United States and around the world. Grants from FIJ help freelancers and reporters working for nonprofit news organizations cover expenses such as document retrieval, travel, and equipment rental.
The grantees are: Read the rest of this entry »
August 4th, 2016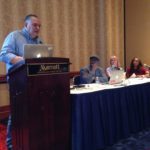 (Washington) If you've got a great story, you can find the funding to get it done. That was the message from Phillip Martin, WGBH-Boston senior investigative reporter and a senior fellow at the Schuster Institute for Investigative Journalism at Brandeis University.
"There's always a place for good journalism and there's always funding for good journalism," he told a packed conference room at the 2016 convention of the National Association of Black Journalists and National Association of Hispanic Journalists, held in Washington DC this week.
Martin has won several grants and fellowships that allowed him to pursue stories that he wanted to do but his employer could not afford. His stories on human trafficking were honored with the national Edward R. Murrow Award. A 2012 fellowship from the International Center for Journalists financed the travel.
If a grant or fellowship application is turned down, "do not give up," said Martin. Oftentimes, an applicant can find out why the proposal was rejected, do extra research, resubmit and get the grant.
Fund for Investigative Journalism (FIJ) president Ricardo Sandoval Palos moderated the panel on "Finding Funding," and announced that several organizations have launched initiatives this year to provide training, grants and fellowships, specifically targeted for journalists of color, to address the "embarrassing dearth" of investigative reporters of color in the U. S.
Partnering with the Schuster Institute, FIJ has launched one of those initiatives, financed by the Ford Foundation, offering $9,000 grants paired with Schuster fellowships to women and journalists of color. Applications are being taken now through October 1 at investigate.submittable.com. Read the rest of this entry »
July 13th, 2016
NEW ORLEANS — It all began with a tweet from a lady working in an organization concerned about governance of water bodies such as rivers. On responding to the tweet, she informed me of the danger that was being posed to Lake Turkana in Kenya due to the construction of Gibe 111 dam in Ethiopia, urging me to follow up on the story. I went a notch higher and presented a proposal to the Fund for Investigative Journalism to investigate the story, which was accepted. It is because of this investigative series that highlighted the plight of Kenyans and even Ethiopians that I landed an opportunity to attend the Investigative Reporters and Editors conference in New Orleans in June 2017.
It was a time for the crème de la crème in investigative reporting globally to converge in New Orleans to share their work and share ideas on how to make investigative reporting better. Sessions explored several themes ranging from data journalism, health reporting freelancing and business journalism. I was happy to be a panelist in the session on uncovering stories on the environmental beat, alongside other journalists from the Society for Environmental Journalists (SEJ). I was able to share my work in environmental reporting in Kenya with conference participants.
My presentation focused on Gibe III dam in Ethiopia, its connection to Lake Turkana in the North of Kenya and the predicament facing residents who rely on the Lake for water for domestic purposes. The audience applauded the Turkana reporting for the series #Lake TurkanaUnder Siege, saying it was an important avenue for the vulnerable community to share their plight. Read the rest of this entry »