August 9th, 2018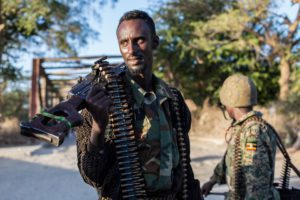 Grant recipient Christina Goldbaum has won the Edwin M. Hood Award for Diplomatic Correspondence from the National Press Club for her reporting on suspected U.S. military involvement in the killing of 10 civilians during a mission in Somalia in 2017. This follows her earlier win of a Livingston Award for Excellence in International Reporting for the same series of stories in the Daily Beast.
Goldbaum's reporting found evidence that U.S. Special Forces undertook the mission based on dubious intelligence from poorly vetted sources. Her reporting also raised questions about the oversight and strategy of U.S. forces in Africa. While the number of U.S. military missions in Africa has increased by 1,900 percent between 2008 and 2015, a person working with the U.S. mission in Somalia says, "There is no U.S. strategy here."
The stories were mentioned by Representative Ted Lieu (D-CA) in his call for a House Foreign Affairs Committee hearing on counterterrorism efforts in Africa.
In photo, a Somali National Army soldier patrols alongside African Union Peacekeeping Forces. Photo by Christina Goldbaum
[Funding for this project was provided by the Reva and David Logan Foundation.]
August 6th, 2018
Grant recipient Eliza Griswold's book "Amity and Prosperity: One Family and the Fracturing of America" was one of four books noted in a cover feature called "This Land is Our Land" in the August 5, New York Times Book Review. The laudatory review noted Griswold's "impressive research" and called the book "a David and Goliath story fit for the movies."
In "Amity and Prosperity" Griswold examines the health, economic and political costs that follow in the footsteps of the American fracking boom.
[Funding for this project was provided by the Ethics and Excellence in Journalism Foundation and the Park Foundation.]
July 30th, 2018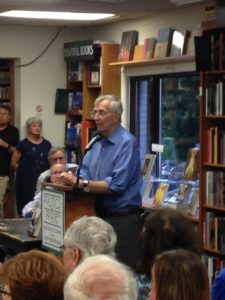 Seymour Hersh has published a memoir in which he recounts his long career as an investigative journalist. His book, "Reporter," shares what his publisher calls "the stories behind the stories."
Hersh has been making the rounds to promote the memoir, including a recent visit to the Washington, D.C., bookstore Politics & Prose.
Hersh won a Pulitzer in international reporting for his FIJ-funded expose on the My Lai massacre during the Vietnam War. In his book, Hersh describes FIJ as "an important foundation that continues today to finance innovative newspaper and magazine stories."
The Washington Post called his book a welcome addition to those focused on "the making of journalism."
(Photo by Chuck Neubauer.)
July 17th, 2018
InsideClimate News, The Marshall Project, Reveal/CIR,
Ida B. Wells Society join FIJ diversity initiative
The Fund for Investigative Journalism is proud to announce partnerships with four of the country's most innovative journalism nonprofits for a yearlong fellowship program that aims to expand opportunities for diverse journalists in watchdog reporting, with an emphasis on journalists of color.
InsideClimate News, The Marshall Project and Reveal from The Center for Investigative Reporting are joining FIJ in this important collaboration to train more investigative journalists and help draw focus to stories that might otherwise go untold.
The Ida B. Wells Society for Investigative Reporting will play a supporting role by providing fellows with additonal training and support.
"It is critically important to support and train a new generation of investigative journalists," said FIJ Board President Marcia Bullard. "We're excited to offer diverse journalists the opportunity to work with these stellar journalism organizations."
FIJ and its partners will select up to four fellows who will work with one of FIJ's partner outlets to produce deeply reported investigations on climate change and the environment, social justice and the U.S. criminal justice system, and government accountability and the abuse of power.
Fellows will have access to reporting expertise and other resources offered by partner outlets. Each will get guidance from some of the industry's best editors and investigative journalists.
The deadline to apply is Oct. 1, 2018, and fellows will be announced by the end of the year.
This will be the third year that FIJ is offering diversity fellowships. So far, 11 journalists have taken part in the program.
For nearly half a century, the Fund for Investigative Journalism has supported the work of independent journalists who have lacked the resources needed to pursue their investigations. The late Philip M. Stern founded FIJ in 1969 to invest in the work of determined journalists in the fight against racism, poverty, corporate greed and governmental corruption. FIJ-supported projects have won a wide array of journalistic honors, including the Pulitzer Prize, the Peabody Award, the George Polk Award, the Sigma Delta Chi Award and many more.
"I've watched FIJ grow this program over the years and patterned parts of our own fellowship program on theirs," said Amy Pyle, editor in chief of Reveal/CIR. "I look forward to supporting FIJ in promoting the work and advancement of journalists with diverse backgrounds and perspectives."
Reveal, a product of the country's oldest nonprofit investigative newsroom, engages and empowers the public through investigative journalism and groundbreaking storytelling that sparks action, improves lives and protects our democracy. Reveal publishes its work on its website, public radio program and podcast (produced with PRX), social media platforms and in partnership with media partners nationwide and around the world.
Reveal looks for stories that are unique and deeply investigative that clearly pinpoint who is responsible, with the potential for driving change.
FIJ's partners are recognized across the industry for the rigor of their journalism, their expertise in their respective reporting areas and for the innovative ways in which they engage with their audiences.
"We're thrilled that the Fund for Investigative Journalism is making this opportunity available to The Marshall Project," said Carroll Bogert, president of The Marshall Project. "We look forward to working with our FIJ fellow to produce a stellar piece of investigative journalism that will have real impact on the criminal justice system."
The Marshall Project is a nonprofit, nonpartisan newsroom covering criminal justice issues in the United States. Launched four years ago, it has published more than 1,200 stories with over 100 media partners and has won many top journalism awards, including the Pulitzer. The Marshall Project prioritizes stories that require deep digging and have not been covered by other news outlets – including stories about immigration as a parallel criminal justice system.
FIJ is also proud to partner with InsideClimate News, another Pulitzer Prize-winning nonprofit and nonpartisan news organization. ICN provides essential reporting and analysis on climate change, energy and the environment. It serves as a watchdog on government, industry and advocacy groups.
"We're delighted to work with the Fund for Investigative Journalism on this important project and to bring an FIJ fellow into our newsroom and community," said Stacy Feldman, ICN's executive editor. "We're covering complex, dramatic and urgent stories of climate change and environmental injustice, and it's crucial to have reporters from a broad range of perspectives and background to help us tell them."
Started 11 years ago as a two-person blog, ICN has grown into one of the largest environmental newsrooms in the country. ICN is committed to establishing a national reporting network, training the next generation of journalists and strengthening the practice of environmental journalism.
The Ida B. Wells Society is dedicated to increasing and retaining reporters and editors of color in the field of investigative reporting. The organization, which is spearheaded by veteran journalists, also seeks to educate news organizations and journalists on how the inclusion of diverse voices can raise the caliber, impact and visibility of investigative journalism as a means of promoting transparency and good government. The Society is open to journalists of all races and backgrounds who support the mission of the organization.
For more information, contact FIJ Executive Director Sandy Bergo, sbergo@fij.org. 
June 2nd, 2018
Over the years, FIJ has sought to widen opportunities for freelance and independent journalists, including ambitious young reporters still establishing themselves in the field of investigative journalism.
May 16th, 2018
The Fund for Investigative Journalism congratulates the Kentucky Center for Investigative Reportingand Indiana's WNIN Tri-State Public Media on well-deserved honors for their important work.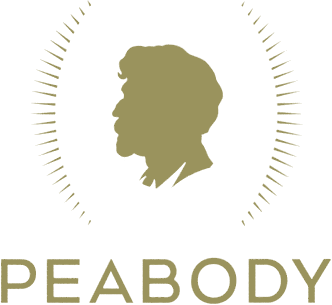 The Kentucky team received a Peabody Award – broadcasting's highest accolade – for "The Pope's Long Con," a five-part series on "a Kentucky preacher-turned-politician's web of lies."
The package exposed what the center described as a series of deceptions over decades by state Rep. Dan Johnson, a self-anointed "pope, bishop and minister to outcasts."
WNIN of Evansville, Indiana, won a Sigma Delta Chi Award from the Society of Professional Journalists for a yearlong investigation into a psychologist whose evaluations are under scrutiny because of concerns that some might have been falsified. 
WNIN's project, "A Scar on the System: The Case of Albert Fink," found more than 10,000 Social Security disability claims in which the psychologist provided exams or testing.
"These award-winning investigations show just how important it is to our country to support local journalism," FIJ Board President Marcia Bullard said. "FIJ is proud of the work these reporters have done. They have exposed wrongs that otherwise might have gone unnoticed. We look forward to funding even more investigations of such high caliber." 
FIJ will announce its next round of grants in June. The deadline to apply was May 7.
April 24th, 2018
The Kentucky Center for Investigative Reporting has received a Peabody Award, broadcasting's highest honor, for "The Pope's Long Con," the center's five-part series on "a Kentucky preacher-turned-politician's web of lies."
The package was reported by R.G. Dunlop and Jacob Ryan, and produced by Laura Ellis, exposed what the center said was a series of deceptions over decades by state Rep. Dan Johnson, a self-anointed "pope, bishop and minister to outcasts."
A grant from the Fund for Investigative Journalism supported the work.
"This award gives national recognition to the power and necessity of local reporting at a time when journalism everywhere is under threat. As a nonprofit newsroom, we're fortunate to have a community in Louisville that provides a strong backbone for this work, " Stephen George, interim president of Louisville Public Media, said on its website.
April 24th, 2018
The Society of Professional Journalists is honoring Indiana public radio station WNIN with a Sigma Delta Chi Award for the station's year-long investigation into an Indiana psychologist whose mental evaluations are now under scrutiny. The psychologist had admitted to authorities that he had falsified a mental evaluation in one criminal case, prompting authorities to launch an inquiry that encompassed nearly 80 other criminal cases in which the psychologist had provided evaluations. WNIN's own inquiry, "A Scar on the System: The Case of Albert Fink," uncovered more than ten thousand Social Security disability claims for which the psychologist provided exams or testing.
FIJ provided financial support for the project.
March 30th, 2018
The Fund for Investigative Journalism has awarded $58,535 in reporting grants for eight projects that will help shine light on potential abuses of power, expose significant shortcomings in social institutions and give voice to people who seldom have the platform to share their stories.
Among the grant recipients:
Katti Gray, a veteran journalist who mainly covers health and criminal justice issues;
Christina Goldbaum, an independent investigative journalist based in East Africa;
InvestigateWest, a Seattle-based journalism nonprofit;
James McNair, a Cincinnati-based investigative reporter;
Aly Pachter and the staff of the Georgetown University newspaper, The Hoya;
Jenni Monet, an independent journalist who reports extensively on the rights of the country's indigenous people;
Alisa Partlan and Hella Winston, two New York-based investigative journalists; and
Robin Urevich, a Los Angeles-based reporter.
Applications are now being accepted at investigate.submittable.com for the next round of grants. The deadline is Monday, May 7, 2018. Read the rest of this entry »
March 5th, 2018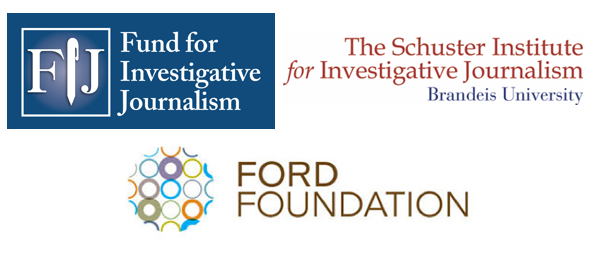 Four Investigative Reporters Selected for 2018 Social Justice Investigative Reporting Fellowship and Grants
The fellowship is a collaboration of the Fund for Investigative Journalism and the Schuster Institute for Investigative Journalism at Brandeis University, with support from the Ford Foundation
Feb. 26, 2018–The Fund for Investigative Journalism (FIJ) and the Schuster Institute for Investigative Journalism at Brandeis University are pleased to announce the 2018 winners of our nationally competitive journalism initiative funded by the Ford Foundation, with the express goal of increasing diverse and inclusive voices and topics in investigative journalism.
Four journalists have been awarded grants and fellowships for social justice investigative reporting projects: Danielle Mackey, Johnny Magdaleno, Luis Trelles and Chandra Thomas Whitfield. The fellows will investigate critical contemporary issues such as racial disparities in domestic violence cases, treatment for opioid addiction, Central American gangs, and the government's handling of natural disasters.
Judges for the selection process said the need for such reporting is great and that the quality of the proposals received reflects the outstanding pool of talented independent reporters seeking funding and support for groundbreaking stories that can have far-reaching impacts.
"Journalism must take hard looks at all levels of society. We are proud to help these talented investigative reporters who are tackling such important topics," said Marcia Bullard, president of the Fund for Investigative Journalism. "We're especially grateful for the support of the Ford Foundation and the Schuster Institute and their commitment to social justice issues."
"The wider perspective that diverse voices and experiences provide strengthens the effort investigative journalists make to keep government, corporations and others in power accountable. The truth is, the need for diversity among journalists investigating and telling important, under-covered stories has never been greater," said Florence Graves, Schuster Institute founding director and editor-in-chief. "We are honored to be part of this initiative with our partners, the Fund for Investigative Journalism and the Ford Foundation, and are eager to work with the new fellows." Read the rest of this entry »