Rebuilding from Nepal quake hampered by sluggish funding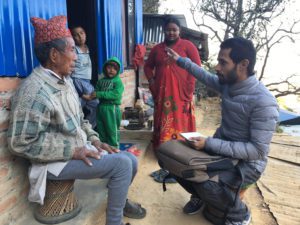 Lucinda Fleeson traveled to Nepal to probe delays in distributing housing grants to residents trying to rebuild after the disastrous 2015 earthquake. In her piece for the Philadelphia Inquirer, Fleeson writes about that only a meager 3 percent of the $936 million promised to residents has been disbursed.
NiemanReports recently featured her work with journalists in Nepal, who produced multimedia stories and interactive data graphics published on the website of the Center for Investigative Journalism-Nepal. The stories reached tens of thousands of readers and listeners. They were published in the three largest English-language newspapers and the leading English-language weekly. The BBC-Nepali radio service broadcast a series of related-stories throughout the country, where listenership counts more than 2.2 million.
Photo: Kathmandu Post reporter Roshan Sedhai talks with members of the Tamang community in the hills outside of Kathmandu. (Photo courtesy of Lucinda Fleeson.)
[Reporting for this project was sponsored by the Reva and David Logan Foundation.]