Mine closures in South Africa scar communities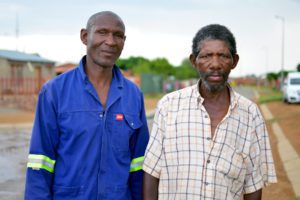 The mining industry built South Africa, but gold deposits are nearly depleted and coal markets are drying up. Documents uncovered by Mark Olalde reveal that major mining houses fail to properly close mines and instead sell their assets to smaller companies that lack funds for environmental rehabilitation.
Olalde also delved into the environmental, social and economic implications of South Africa's failed system of mine closures, as well as the questionable practices international mining companies employ to turn a profit. In communities like Amadiba, some are pushing back against projects financed by international mining ventures.
(Photo by Mark Olalde: Former South African miners and the country as a whole struggle to cope with a minerals extraction industry that is ill-prepared for mine closure and life after mining.)
[Reporting for this project was was sponsored by the Reva and David Logan Foundation.]