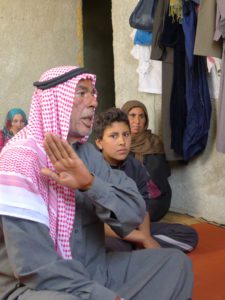 Roy Gutman set out to investigate what appeared to be an ethnically motivated mass expulsion of Arabs in northern Syria from late 2014 through mid-2015 by a Kurdish militia allied with the United States, the People's Protection Units (YPG). While Gutman could not document any systematic "ethnic cleansing," he found evidence that the militia, the Syrian branch of the Kurdistan Workers' Party (PKK), had organized widespread expulsions of Arabs, a war crime under international humanitarian law, and systematically violated the human rights of Kurds and Arabs northern Syria. The expulsions were largely political, undertaken at the behest of the Assad regime, with which the YPG is closely allied.
A six-month investigation for the Nation shows that the militia has evicted Arabs from their homes under threat of violence starting in 2013 and subsequently has blown up, torched, or bulldozed their homes and villages.
In addition, Gutman found that the Syrian militia has used whatever means necessary to recruit fighters, even at gunpoint, as it kills political opponents and suppresses the news media.
Central to Gutman's reporting is the long struggle for Kurdish independence, which has had a long and violent history across Iraq, Turkey, Syria and Iran.
PHOTO:Ibrahim Abo Omar, 61, a Syrian Arab, describes the eviction of his family from their home in Tel Abyad, Syria, last spring by the Kurdish YPG militia. "They just locked the door. Put the keys in their pocket. They said 'if you come back, we will slaughter you.'" He and his family — wife Jamila al Hussein Yusuf, 51 and son Ali, 12, are sitting just to the right of him — now live in Akcakale, a Turkish city just across the border from Tel Abyad. (Photo for The Nation by Roy Gutman)
[Reporting sponsored by the Nicholas B. Ottaway Foundation.]