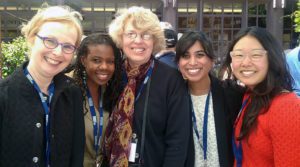 The Logan Symposium hosted in April by the Graduate School of Journalism at the University of California, Berkeley, provided some of our FIJ/Schuster Institute fellows an opportunity to meet and learn from some of investigative journalism's best.
For Linda Matchan, the symposium helped restore the "bounce" in her step and renewed her commitment to a discipline that, she said, can sometimes be discouraging because of "the many logistical and human obstacles that stand in the way" of stories.
Like the other fellows, she learned immensely from the discussions led by some of the profession's most celebrated talents.
Washington Post reporter David Fahrenthold, who recently won a Pulitzer for his reporting on Donald Trump's presidential campaign, was especially helpful in getting our fellows to think beyond traditional reporting and storytelling.
"I saw immediate ways in which these out-of-the-box, first-person narratives had applicability to my own work," Matchan said. "I'm now talking to my editors about ways to incorporate some of these ideas into my project."
Jaeah Lee headed into the symposium with a question: How do the best and brightest of investigative journalism view the state of the field and its future?
Lee said she was reminded of the importance of fundamentals in reporting and storytelling.
"It was inspiring to hear journalists talk about the hard work behind their successes: developing trust with sources over many months or even years; running down dozens of rabbit holes; going to great lengths to verify material in the age of YouTube; going deep inside communities invisible or forbidden to bring stories of people unheard."
Lottie Joiner said she appreciates the work of journalists who conduct some of their reporting while undercover, as some described during a session focused on the discipline.
"They were not outsiders looking in and reporting on what they observed," she said. "These reporters became part of a different world and their experiences shed light on injustice and systemic wrongs."
But Joiner said great reporting is also done by approaching stories head on, without having to blend oneself into the story.
Like the other fellows, she found Fahrenthold's reporting methods especially instructive. His use of Twitter to solicit and develop news tips showed how social media is a powerful new frontier in reporting.
The four other fellowship participants are in Phoenix this month to take part in the annual Investigative Reporters and Editors (IRE) conference.
(In photo, FIJ Executive Director Sandy Bergo, center, is joined by FIJ/Schuster Institute fellows, from left to right, Linda Matchan, Lottie Joiner, Sonia Paul and Jaeah Lee. Photo courtesy of Lottie Joiner.)