How FIJ Helped to Uncover the My Lai Massacre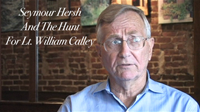 Start the video below to hear veteran investigative reporter Seymour Hersh tell how – with financial support from the Fund for Investigative Journalism – he learned about the massacre of civilians in Vietnam, how he tracked down Lt. William Calley and, in so doing, changed the world's perception of American intervention in Southeast Asia. It demonstrates how small grants from our fund have enabled talented journalists to produce big, important stories, changing the course of history.
Gannett Foundation Grant Supports Investigative Journalists

 (Washington) – The Fund for Investigative Journalism (FIJ) is pleased to announce continuing support from the Gannett Foundation for FIJ's grant and mentoring program for independent watchdog journalists.
The Foundation has awarded a grant for $25,000 that will give critical assistance to reporters working on domestic investigative reporting projects. This is the second year that the Foundation has awarded a grant to the Fund for Investigative Journalism.
FIJ makes grants to reporters who have the ideas, sources, and know-how to produce groundbreaking investigative journalism, but need help paying the expenses of reporting. Gannett Foundation support helped launch five investigations into domestic issues in 2011.
"At a time of shrinking news media budgets, the Gannett Foundation support for investigative reporting provides a much needed boost for the independent journalist doing watchdog work," said Brant Houston, president of  FIJ's board of directors.
In partnership with Investigative Reporters and Editors, FIJ matches grant recipients with veteran journalists who serve as mentors. Interested grantees are also eligible for fellowships with the Schuster Institute for Investigative Journalism at Brandeis University.
In addition to support from the Gannett Foundation, the Fund for Investigative Journalism receives foundation support from the Ethics and Excellence in Journalism Foundation, the Green Park Foundation, the Park Foundation, from private family foundations, and from individuals. The John S. and James L. Knight Chair in Investigative and Enterprise Reporting at the Journalism Department in the College of Media at the University of Illinois also supports FIJ.
Donations can be made online, www.fij.org, or by mail to the Fund for Investigative Journalism, 529 14th Street NW – 13thfloor, Washington DC 20045.
Livingston Finalists Announced
Fund for Investigative Journalism – supported reporter Trevor Aaronson has been selected as a finalist for the  2011 Livingston Awards for Young Journalists. Aaronson was cited for his story published in Mother Jones on informants recruited by the FBI to pose as terrorists. Aaronson examined terrorism prosecutions and discovered that a series of high-profile cases had started as FBI stings where the means, the plot, and the co-conspirators were all supplied by the FBI. Aaronson's investigation was also supported by a year-long fellowship with the Investigative  Reporting  Program at the University of California-Berkeley. Aaronson is co-founder of the Florida Center for Investigative Reporting.