Ethics and Excellence in Journalism Foundation Supports Investigative Reporting
(Washington) – The Fund for Investigative Journalism is proud to announce that the Ethics and Excellence in Journalism Foundation has renewed its support of the Fund's grant-making program. The $100,000 donation from the Foundation will underwrite grants to independent reporters who have leads, ideas, and expertise, but need help paying the expenses of reporting.
The Oklahoma City-based foundation has been a proud supporter of the Fund for many years, and more recently has aided the growth of many investigative reporting centers formed to serve urban and regional "news deserts" where metropolitan newspapers and broadcast stations once had robust, prize-winning investigative reporting teams.
The financial assistance from the Fund – along with mentors recruited through partnerships with Investigative Reporters and Editors and with the Society of Environmental Journalists – helps independent investigative journalism thrive in an era of shrinking staffs and diminished newsroom resources.
The Fund is grateful to the Ethics and Excellence in Journalism Foundation for its continued support of a grant-making program for freelancers, who bring local investigative news to communities throughout the United States.
Last Stop Before Eviction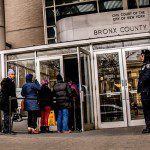 From Kate Pastor, for City Limits, a series on Bronx Housing Court, overwhelmed with cases, with little help available for tenants about to lose their housing.
[Reporting sponsored by The Gannett Foundation.]
Photo credit: Adi Talwar
Application Deadlines
Application deadlines for the next three grant cycles are as following:
Monday, May 11, 2015, at 5pm Eastern Time.
Monday, September 21, 2015, at 5pm Eastern Time.
Monday, February 1, 2016 at 5pm Eastern Time.
No End to Oil Train Explosions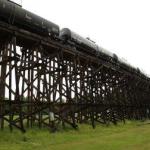 In a column for the New York Times, Marcus Stern explains why oil trains keep blowing up across America. A 2014 investigation of the train explosions by Stern and Sebastian Jones for InsideClimate News, the Weather Channel, and the Investigative Fund was financed, in part, by the Fund for Investigative Journalism and the Park Foundation.
Photo credit: Jason Rudge / The Weather Channel
Discrepancies in Nursing Home Staffing Reports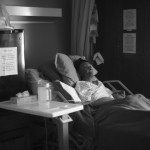 From Jeff Kelly Lowenstein for the Center for Public Integrity and Hoy Chicago, an investigation of nursing homes' staffing levels. Lowenstein found that most nursing homes tell different stories to the public and to the government. They tell the public that staffing levels are higher than what they report on official documents filed with the federal government. Read more.
[Reporting sponsored by The Ethics and Excellence in Journalism Foundation.]
Photo credit: Jon Lowenstein