October 18th, 2016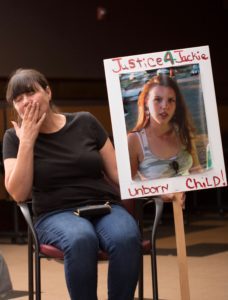 The death of Jackie Salyers, a pregnant 32-year-old Puyallup tribal member, went mostly unnoticed when police in Tacoma, Washington, shot her in the head in January. As publicity over police shootings intensifies, scant attention has been focused on Native Americans who are killed by authorities, according to Stephanie Woodard's report for "In These Times." According to data from the Centers for Disease Control and multiple other tabulations, police kill Native Americans at a rate higher than any other group. Inspired by the "Idle No More" and "Black Lives Matter" campaigns, Native Americans are working to focus attention on police-related deaths in their communities and address the root causes of the violence.
(Photo: Lisa Earl has joined the Puyallup tribe in mourning victims of police violence, including her daughter Jackie Salyers, who was pregnant at the time Tacoma police shot her. Photo by Joseph Zummo.)
[Reporting sponsored by the Reva and David Logan Foundation.]
October 4th, 2016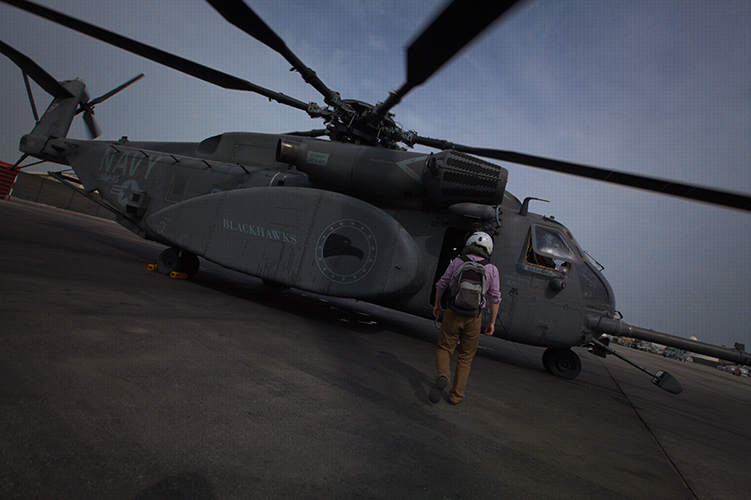 The Navy's aging fleet of minesweeping helicopters is in disrepair. In fact, less than a fourth of the 28 remaining Sea Dragons are in flying shape at any given time, according to a two-part report by Mike Hixenbaugh and Jason Paladino in The Virginian-Pilot.
In partnership with UC Berkeley's Investigative Reporting Program, the pair reported that the Navy needs to keep the Sea Dragon in service through at least 2025, and likely for years beyond that, because there is no viable replacement for the aircraft – despite the growing threat posed by mines.
More than a quarter-million ocean mines are held in the inventories of 50 navies around the world, including Iran, China and North Korea.
(In accompanying photo, Virginian-Pilot reporter Mike Hixenbaugh boards a Navy MH-53E Sea Dragon helicopter in Bahrain while on a reporting assignment for UC Berkeley's Investigative Reporting Program. Photo by Jason Paladino.)
[Reporting sponsored by the funder was The Ethics and Excellence Foundation.]
October 3rd, 2016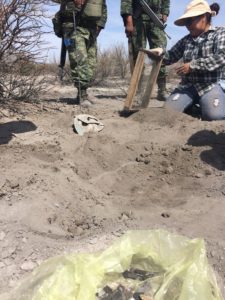 No one really knows how many people are buried in clandestine graves across Mexico in the wake of the country's drug wars. Mexican officials say 662 bodies were found in 201 graves in 16 Mexican states between August 2006 and October 2015.
But as Dawn Paley reported for The Nation, the tally could be far more staggering: During the same period, newspapers reported at least 2,439 bodies discovered in 30 of Mexico's 31 states, as well as in Mexico City. Meanwhile self-taught search teams fan out in search of loved ones, relying on hand-drawn maps, messages on WhatsApp and Facebook and tips from folks who speak of bodies being buried late into the night.
(In photo, a mother whose son disappeared sifts through sand for bone fragments as soldiers look on, outside of the city of Torreón. Photo by Dawn Paley.)
[Reporting sponsored by the the Reva and David Logan Foundation.]
September 29th, 2016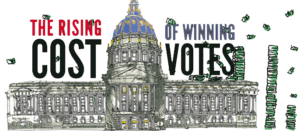 The role of money is looming larger in San Francisco politics, where nearly $28 million flowed into campaigns last year. Some campaigns had more money than others. In partnership with the TV Archive, a project of the Internet Archive, the San Francisco Public Press examined how the money was spent and analyzed the "half-truths and slanted narratives" being peddled by campaigns. Surprisingly, much of the money spent in the tech-savvy city was for old-school campaign tactics: mailers and television spots.
[Reporting sponsored by The Ethics and Excellence in Journalism Foundation.]
September 27th, 2016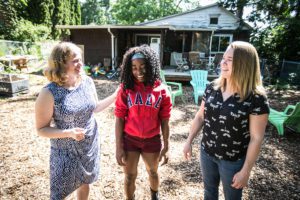 With no place else to take foster children, social workers in Washington state's Puget Sound area have increasingly resorted to housing children in hotels at night, then babysitting them in child welfare offices during the day.
As InvestigateWest reported, in partnership with "Crosscut" and KCTS Television, the state has grown so desperate that it pays some foster parents up to $325 a night – more than 10 times the normal daily rate. And because there are no regular foster families to take them, some children spend nights at group facilities for runaways and youths with severe mental health problems. State officials concede the system is in "crisis."
[In photo, Angelique Kelley (center) was fortunate to have been adopted as a teen out of foster care by Lauren Hubbard and Reiley Wicken. But the scars of her 17 moves in foster care remain. Photo by Paul Joseph Brown/InvestigateWest]
[Reporting sponsored by The Park Foundation.]
September 26th, 2016
Earlier this year, President Obama announced an offshore drilling plan that excluded the Atlantic. As Facing South reported earlier this year, it was a major setback for the Outer Continental Shelf Governors Coalition, which Facing South described as "a secretive group founded in 2011 to revive and expand offshore drilling in the wake of the BP disaster."
As part of her three-part series on Atlantic drilling, Sue Sturgis, the editorial director of Facing South and the Institute for Southern Studies, unraveled the unusual relationships between the Governors Coalition and the oil and gas industries.
[Photo by J. Stephen Conn via Flickr.]
[Reporting sponsored by the Park Foundation.]
September 20th, 2016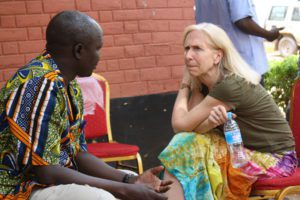 While some evangelicals might dismiss talk about diversity, others say it's a theological imperative. Steve Rabey, writing for Religion News Service and the Colorado Springs Gazette, reports that women and people of color aren't well represented in the leadership ranks of so-called parachurches — the thousands of religious nonprofit groups involved in various forms of Christian ministry.
(Photo of Jane Overstreet, one of the few women to lead a nonprofit religious ministry, is courtesy of Caleb Overstreet and Developmental Associates International.)
[Reporting sponsored by the Ethics and Excellence in Journalism Foundation.]
September 19th, 2016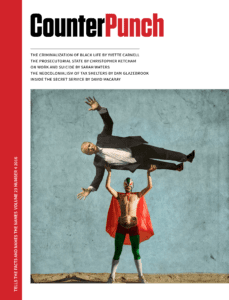 Concern over people being wrongly imprisoned has prompted the rise of conviction review units across the country, now in 24 jurisdictions nationwide, from Los Angeles to Philadelphia. But as Christopher Ketcham reports in CounterPunch, the attempt by prosecutors to self-police may only be a stopgap measure in what he and others call a broken justice system.
[Reporting sponsored by The Park Foundation.]
September 17th, 2016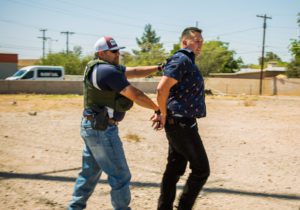 As Liz Navratil reported for the Pittsburgh Post-Gazette, federal data shows more than 4 million people in the United States are on parole, probation or similar programs. In 2014, more than 350,000 returned to jail, with nearly 100,000 of them for new crimes.
Research shows that addressing violations quickly reduces the probability that probationers and parolees will go on to commit new crimes.
Yet, agencies across the country often lose track of probation and parole violators – in some cases, leading to horrendous consequences.
(In photo, a federal agent assists in the arrest of Antonio Alejandro Garcia, 37, in Pima County, Arizona. Garcia was wanted for a probation violation in one case and for leaving his sentencing in another case. Photo by Andrew Rush, Pittsburgh Post-Gazette.)
[Reporting sponsored by The Park Foundation.]
August 29th, 2016
Kent Paterson of Frontera NorteSur, in the first of a series on small town governance, describes how the excessive levels of arsenic in water supplies along the southern border of New Mexico, a longstanding problem, was exacerbated by the complete break-down of two water treatment plants. The utility in charge of delivering clean water belatedly notified residents of a consistent pattern of violations, going back four years, but the lack of consistent, timely notifications was itself a violation of the Safe Drinking Water Act. "… some of the basic elements of Management 101 hadn't been followed," according to a local official.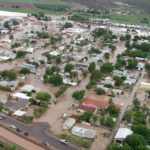 And finally, the small town of Hatch, New Mexico, having slowly recovered – by and large – from a devastating 2006 flash flood, struggles for a way to protect itself from future floods. The community is particularly vulnerable because most people living there have no flood insurance.
[Reporting sponsored by The Ethics and Excellence in Journalism Foundation.]