August 7th, 2017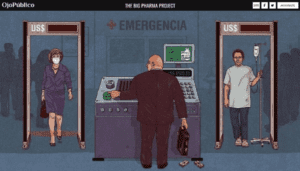 An investigation led by Fabiola Torres on behalf of Ojo-publico.com reveals the pressure exerted by pharmaceutical companies across Latin America to prolong their monopolies via diplomatic lobbying, court action and using the patent system to stifle competition. The result offers a glimpse at questionable practices that make it difficult for some of the region's most vulnerable populations gain access to costly medicines. The investigation was a collaboration that brought together journalists from Mexico, Argentina, Guatemala and Colombia.
[Reporting for this project was sponsored by the Green Park Foundation.]
August 7th, 2017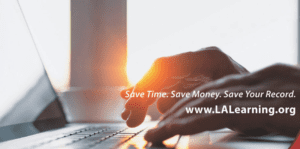 Prosecutors in Louisiana are diverting traffic fines to their coffers, depriving public defenders and other agencies of much-needed revenue. An investigation by Samantha Sunne on behalf of The Lens, shows that an increasing number of District Attorneys across the state are using a pre-trial diversion program to keep traffic fines for themselves. Ordinarily, traffic tickets go through the court system and the resulting fines are divided among several agencies. But the diversion program keeps the tickets from reaching the court system, which means the fines aren't shared with other agencies such as public defenders offices, which are already underfunded and are losing a key source of income.
[Reporting for this project was sponsored by the Park Foundation.]
July 16th, 2017
A two-year investigation found that seed-corn companies like Monsanto use contractors to recruit thousands of migrant farm workers for producing hybrid corn seeds in an $11 billion industry. According to the investigation by Laird Townsend for the Midwest Center for Investigative Reporting, the use of contractors has led to repeated allegations of labor violations over the past decade against Monsanto, DuPont Pioneer, and their contractors — from broken recruiting promises and minimum-wage violations, to improperly withheld pay and substandard housing.
(Photo by Alan Pogue/Texas Center for Documentary Photography: Marcilia Estrada Castillo reaches to pull off a tassel from an ear of corn on a detasseling job in 1981. Detasseling facilitates the production of hybrid corn. The practice has remained little changed for decades.)
[Reporting for this project was sponsored by the Park Foundation.]
July 14th, 2017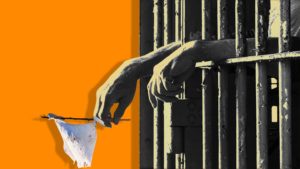 Hella Winston examined 263 wrongful murder convictions for her piece published by the Daily Beast and found that prosecutors brought charges against a new suspect in just 7 percent of those cases. It's partly because prosecutors don't want to acknowledge their mistakes and the challenges they face in successfully prosecuting another suspect after an earlier conviction has been thrown out.
[Reporting for this project was sponsored by the Reva and David Logan Foundation.]
July 6th, 2017
If domestic abuse is one of the most underreported crimes, domestic abuse by police officers is virtually an invisible one, according to compelling report by Melissa Jeltsen and Dana Liebelson for the Huffington Post. Because there are no government statistics, it is nearly impossible to calculate the frequency of domestic crimes committed by police—not least because victims are often reluctant to seek help from their abuser's colleagues. A Cato Institute researcher they interviewed said that domestic violence is "the most common violent crime for which police officers are arrested." And yet, most of the arrested officers appear to keep their jobs. Jeltsen and Liebelson spent months reporting out one particular case with two victims, shedding light on how officers can use their positions to facilitate abuse.
(Graphic courtesy of the Huffington Post.)
[Reporting for this project was sponsored by the Park Foundation.]
June 21st, 2017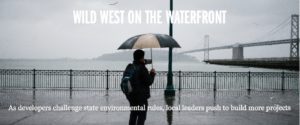 Pressure from real estate developers in the San Francisco Bay Area has undermined regulations meant to protect shoreline from rising sea levels, according to an investigation by the San Francisco Public Press. The landmark California Environmental Quality Act, a key tool for city planners, has faced successful legal challenges from industry. As a result, state regulations have loosened and local governments have been slow to react. In San Francisco and across the region, local officials continue to promote large coastal developments despite increasingly dire scenarios precipitated by greenhouse gases, the melting of the world's glaciers and the increasing intensity of storms.
[Reporting for this project was sponsored by The Park Foundation.]
June 5th, 2017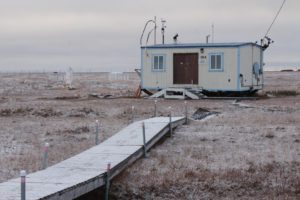 As warming temperatures thaw the Arctic, pressure is mounting to develop new sources of oil and gas and expand shipping routes throughout the region. As Madeline Ostrander reports for "ensia," the Arctic is especially vulnerable to a type of air pollution called black carbon, and scientists are scrambling to understand and mitigate its impacts before it's too late.
(Photo by Madeline Ostrander: Scientists study the impacts of air pollution on the Arctic in this remote lab outside of Utqiaġvik, Alaska.)
[Reporting for this project was sponsored by the Park Foundation.]
May 23rd, 2017
In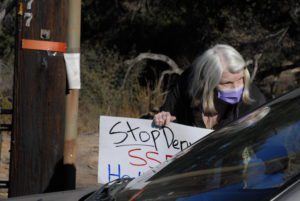 a series of reports for The California Report, Chris Richard investigated the long-stalled cleanup of the Santa Susana Field Laboratory near Los Angeles. He describes how NASA and the Department of Energy failed to fulfill their legal commitments to remove the contamination they and other federal agencies caused, including the radiation from a partial nuclear meltdown a half century ago. Richard reports that the environmental damage has yet to be fully addressed. A final segment examined similar regulatory failures by California's Department of Toxic Substances Control.
(Photo by Chris Richard/KQED: Jeanne Fjelstad hands out a leaflet warning visitors to the Santa Susana Field Laboratory of remaining chemical and nuclear contamination.)
[Reporting for this project was sponsored by the Park Foundation.]
May 15th, 2017
Over the past 15 years, the U.S. government has quietly released more than 400 people convicted on international terrorism-related charges. Some were deported to other countries following their prison terms, but a large number of convicted terrorists are living in the United States. Reporting for the Intercept, Trevor Aaronson tells this story through the case of the Liberty City Seven, a group of men caught up in an FBI counterterrorism sting in Miami in 2006. A decade later, all but one of the Liberty City Seven defendants are free, suggesting these so-called terrorists weren't particularly dangerous in the first place. Aaronson's latest piece is part of a larger body of work that examined 15 years of terrorism international prosecutions in the United States.
(In photo by Trevor Aaronson: Patrick Abraham is one of the so-called "Liberty City Seven" who were convicted of conspiracy to provide material support to a terrorist organization, among other charges. After he was released, he returned to Haiti, where he teaches English at a school in Port-au-Prince.)
[Reporting for this project was sponsored by the Ethics and Excellence in Journalism Foundation.]
May 14th, 2017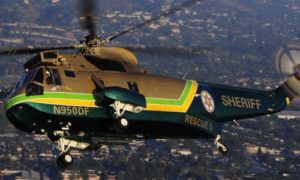 In the last four years twenty-one members of the Los Angeles County Sheriff's Department have been convicted of federal crimes, including the department's popular former sheriff Lee Baca, causing the head of the FBI's Los Angeles office, to describe the LASD as having a "toxic culture of corruption seen only in the movies." A three-part investigation by WitnessLA by Celeste Fremon into possible incidents of fraud relating to a fleet of Sea King helicopters loaned under a controversial Defense Department program suggests challenges remain in rooting out a culture of fraud.
[Reporting for this project was sponsored by the Ethics and Excellence in Journalism Foundation.]