April 22nd, 2014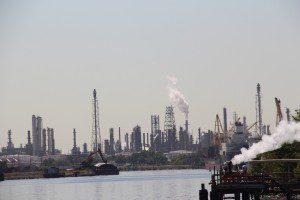 Reid Frazier has won a regional Edward R. Murrow Award, from the Radio Television Digital News Association (RTDNA) for his series "The Coming Chemical Boom." His investigation aired on The Allegheny Front, a program carried by Pennsylvania public radio stations.
In a series of reports to inform his audience on what might happen when the petrochemical industry comes to Pennsylvania as proposed, Frazier traveled to Texas and Louisiana to report on conditions there – where the chemical industry is booming, thanks to cheap natural gas. In Houston, he found the chemical plants brought economic benefits, but that air quality suffered, increasing the risk of cancer, asthma, and heard disease.
Photo by Reid Frazier.
April 10th, 2014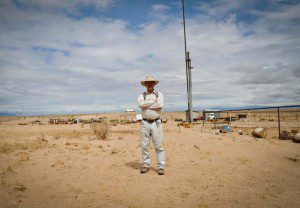 From Joseph Sorrentino for In These Times, a report on real estate con games that prey upon the poor in New Mexico.
An excerpt: "People are losing their land and their money to suspect real estate deals. They're also buying land thinking they can live there, only to learn too late that they can't."
"Many people buying land in colonias are Mexican or Mexican-American, and they often speak and read only Spanish; contracts are almost always in English. Further, there's no requirement for sellers to produce a title or title insurance to prove that they actually have the rights to the land."
Photo courtesy of Joseph Sorrentino.
March 21st, 2014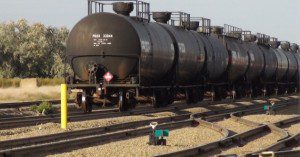 For InsideClimate News, Marcus Stern and Sebastian Jones report on possible reasons for recent explosions of oil transported by rail.
An excerpt:  The worry, according to a half-dozen industry experts who spoke with InsideClimate News, is that some producers are adjusting the pressure settings to leave in substantial amounts of natural gas liquids.
"There is a strong suspicion that a number of producers are cheating. They generally want to simply fill up the barrel and sell it—and there are some who are not overly worried about quality," said Alan J. Troner, president of Houston-based Asia Pacific Energy Consulting, which provides research and analysis for oil and gas companies. "I suspect that some are cheating and this is a suspicion that at least some refiners share."
Photo Credit: U. S. Department of Transportation
March 18th, 2014
Author Nick Turse, who wrote Kill Anything that Moves with support from the Fund for Investigative Journalism, has shared in the 2014 I.F. Stone "Izzy" Award for his relentless investigations into civilian war deaths. The Award was established by the Park Center for Independent Media at Ithaca College.
The award citation for Turse:
In news pieces and a book published last year, Turse has given human form and voice to civilian victims of U.S. wars from Vietnam to Afghanistan. His acclaimed best-seller, "Kill Anything That Moves: The Real American War in Vietnam," relied on classified Pentagon documents and fresh first-person interviews to reveal that violence against Vietnamese noncombatants was "pervasive and systematic — the predictable result of official orders." A journalist, historian and Nation Institute fellow, he monitors current U.S. military interventionism in articles for TomDispatch.com (where he is managing editor) and The Nation, for which he coauthored the special report "America's Afghan Victims."
Said Izzy judge Robert McChesney, "Nick Turse combines the fastidiousness of a serious historian and a journalist's intuition for the big story, along with an uncompromising commitment to the truth, wherever it leads."
March 10th, 2014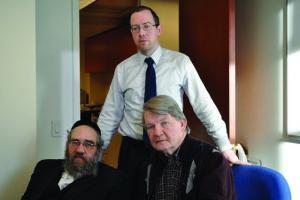 Hella Winston, an independent journalist who has investigated sexual abuse cover-ups in the Ultra Orthodox Jewish communities of New York and New Jersey, reports that a Brooklyn criminal case against a whistleblower, the father of a sex abuse victim, has fallen apart. Winston has received two grants from the Fund for Investigative Journalism to look into cases that had been covered up, and continues to track the developments.
From Winston's report: The saga of Kellner's case, and all that preceded his arrest, encompasses both a narrative of positive change within the chasidic community and a cautionary tale…
…Kellner himself is confident that "if, in the end, they will investigate what happened here and go after the intimidators, it would mean that all of this tampering and intimidation would end, that these people no longer run the streets. And that is probably worth the whole pain and suffering of my indictment because I don't see any other way we could have accomplished this."
Sam Kellner in photo at left, with his lawyers.
March 7th, 2014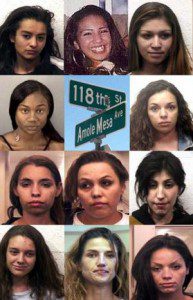 From Diana Washington Valdez, in a special report for the El Paso Times, the frustrating search for clues to solve the murders of several women whose bodies were found, many years later, in shallow graves on the outskirts of Albuquerque. Families are upset that police have made so little progress.
An excerpt: Relatives of several of the West Mesa murder victims, whose bodies were discovered in February 2009, said police initially brushed off the possibility of a serial killer and failed to investigate the disappearances as potential kidnappings and homicides.
"They saw them as 'oh, just another prostitute dead,'" said Gloria Gonzalez, the aunt of Julie Nieto, one of the West Mesa victims.
Ray Schultz, who retired as the police chief, said that wasn't true, that police worked hard to find all missing persons.
The families also claim that the Albuquerque Police Department appears to be distracted by a series of recent scandals, including the loss of all kinds of evidence from the evidence storage room; a U.S. Justice Department investigation into allegations of police brutality; and allegations of sexual assault by police officers. Albuquerque police denied that this is the case.
March 6th, 2014
For Daily Kos, the story of the continuing struggle for equality in insurance coverage and treatment for mental illnesses. As Mary Ann Swissler reports, federal law has required that insurance plans treat mental and medical coverage equally, since 2008. But the reality is quite different, according to her survey of patients.
Excerpts: "In [a survey conducted by Swissler], 53 percent of the women called insurance "a barrier to care." Those swimming in the glass half full will point to the 47 percent who called insurance "a helpful partner."  When asked if insurance provided choice of therapists who understood their problems, only 46 percent said yes, insurance provided caregivers with relevant expertise.  Due to visit limits, 31 percent reported seeing her therapist for a shorter time than desired and 35 percent called co-pays "a barrier to care."
"Consumers need to be vigilant," and that's part of the problem, added Los Angeles attorney Lisa Kantor. People seeking mental health treatment are vulnerable because of their condition and the stigma. "I think the insurance companies know this, and they prey on that fact…We need people to not take no for an answer."
February 24th, 2014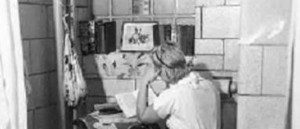 From Audrey Quinn, for Life of the Law, the story of mothers who give birth in prison.
An excerpt: A Department of Corrections study found having a baby in a prison nursery makes a woman twice as likely to stay out of prison later. Byrne [Mary Byrne, a professor at Columbia University School of Nursing] decided to conduct her own research, following sixty of the babies from the Bedford prison nursery until the age of eight. She compared their development to kids in the general population. "The children overall did very well," Byrne concludes… Byrne found that 70 percent of the babies she studied managed to form secure attachment with their moms – more than in the outside world. Despite these findings, prison nurseries are extremely rare.
February 24th, 2014
The documentary "Private Violence," directed by Cynthia Hill, has debuted at the 2014 Sundance Film Festival. The film tells the story of two women, a domestic violence advocate who was victimized herself years ago, and a young mother who, with the advocate's help, fought in court to keep her abusive ex-husband in prison. The documentary will air on HBO this fall. For more information and to track screenings and air dates, visit the Private Violence website and its Facebook page.
Photo courtesy of: Rex Miller.
February 21st, 2014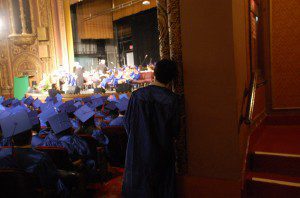 From Rong Xiaoqing, for Sing Tao Daily, translated into English for Voices of NY, a deeply reported story of the mental health consequences for some American students at one highly competitive high school in New York City.
An excerpt: "For many academically competitive students, Stuyvesant is the ultimate goal. But once you get in, everyone is so competitive. You have to stay at the top in order to get into Ivy Leagues. But not all students can stay at the top. Some of them will show symptoms of depression, adjustment disorder, hopelessness and withdrawing," said Peter Yee, Deputy Director of Hamilton Madison House. Yee said the youth mental health program of his organization every year serves a few students from Stuyvesant (which, like the organization, is also in Downtown Manhattan). He says he gets more Stuyvesant students than from any other school, though he won't give specific numbers.
Photo courtesy of: Rong Xiaoqing