July 28th, 2014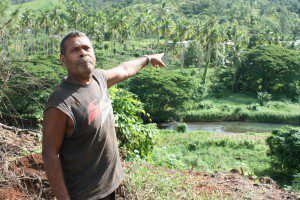 Reporting from Fiji, site of an $8.7 million get-away from rising sea levels in the Pacific, Christopher Pala reports the purchase had no clear purpose: "…while [Kiribati president Anote] Tong's warnings of impending doom for atoll dwellers have brought him a measure of fame abroad and even a panel that nominated him for a Nobel Peace Prize, in Kiribati they elicit confusion in some people and derision in others.
"A lot of people now worry about climate change," said Tealoy Pupu, a 20-year-old student, as she lay pandanus leaves out to dry. "We just don't know what to think."
Tong's predecessor as president, Teburoro Tito, had read the scientific studies on atoll dynamics. "The scientists tell us that our reefs are healthy and can grow and rise with the sea level, so there is absolutely no need to buy land in Fiji or anywhere else," he said emphatically. "How can we ask for foreign aid when we spend our own money on such foolish things?"
"We know that the whole reef structure can grow at 10 to 15 mm a year, which is faster than the expected sea-level rise," confirmed Paul Kench, an atoll geo-morphologist at the University of Auckland." 
[Reporting sponsored by The Reva & David Logan Foundation.]
Photo credit: Christopher Pala/IPS
June 4th, 2014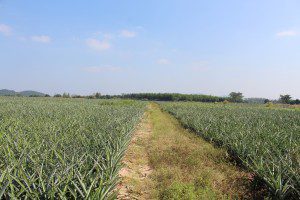 Matt Rusling reports from Kanchanaburi, Thailand for BorderlessNews on abusive labor brokers who supply workers for the food processing industry.
An excerpt: "Aye" sat cross-legged on a concrete floor and described the violence she has witnessed since she started working at the fruit processing plant. "There are cases where people end up in hospitals – I'm talking broken legs, hands and fractured ribs," she said, requesting that Borderless not use her real name out of fear of reprisals. "These abuses are always happening but committed secretly. It has been like that for a long time. Someone who dares inform about it can disappear," she said.
June 4th, 2014

The warning signs were there, but disregarded. Rone Tempest reports on state and federal dollars wasted on a failed Wyoming energy project that had promised to provide electricity throughout the American Southwest.
An excerpt: The Two Elk saga is made up of intertwined stories: one man's outsized dream; Wyoming's desire to believe in energy castles in the air, kept aloft by taxpayer dollars; and the federal government's failure to bring anyone down to earth, until millions of dollars in public money had been squandered. It is, in short, a case study of territorial ambition, personal greed, political nepotism, government malfeasance, and a highly creative interpretation of federal tax laws.
May 7th, 2014
Nick Baumann, for Mother Jones, tells the story of Naji Mansour, an American citizen living abroad who refused to become an informant for the Federal Bureau of Investigation. He and his family suffered the consequences.
From the article:  Two weeks into his detention, Naji's jailers escorted him from his cell into a clean, bright room, where at last he saw a familiar face, a fellow American. It was an FBI agent he'd met with in the past. The agent told Naji that he could end his nightmare. "Help me help you," he said.
And here is a transcript and audio of FBI agents interviewing Mansour.
Photo credit: David Degner.
May 7th, 2014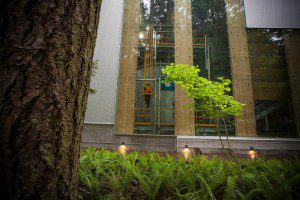 From Robert McClure for InvestigateWest and The Tyee, of British Columbia Canada, an investigation of the green energy claims from backers of burning "biomass" for fuel. In theory, the plants and trees burned are renewable, and therefore "green" as a source of energy.  But the smoke produced clouds the sunny portrait of a carbon-neutral alternative.
Photo credit: Paul Joseph Brown/ecosystemphoto.com
May 6th, 2014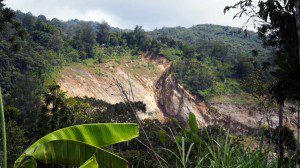 From Ian Shearn, published in The Nation, the story of a U.S. government decision to make a $3 billion loan which contradicted President Obama's pledge to address climate change by phasing out fossil fuel subsidies. Shearn uncovered evidence that the project was the cause of a deadly landslide and has continuing disastrous impacts on the local environment and communities of Papua New Guinea.
The Huffington Post also ran a compelling short documentary on the story with interviews from local residents, and officials.
An excerpt from The Nation article: "The ExxonMobil loan was hardly the only exception to [President Obama's] stated position. Since Obama took office, the Export-Import Bank has invested more than $27 billion in fossil fuel endeavors, while lending less than $2 billion to clean energy projects."
Photo credit: Olivier Pollet
April 22nd, 2014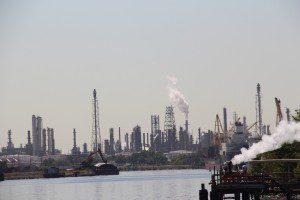 Reid Frazier has won a regional Edward R. Murrow Award, from the Radio Television Digital News Association (RTDNA) for his series "The Coming Chemical Boom." His investigation aired on The Allegheny Front, a program carried by Pennsylvania public radio stations.
In a series of reports to inform his audience on what might happen when the petrochemical industry comes to Pennsylvania as proposed, Frazier traveled to Texas and Louisiana to report on conditions there – where the chemical industry is booming, thanks to cheap natural gas. In Houston, he found the chemical plants brought economic benefits, but that air quality suffered, increasing the risk of cancer, asthma, and heart disease.
Photo by Reid Frazier.
April 10th, 2014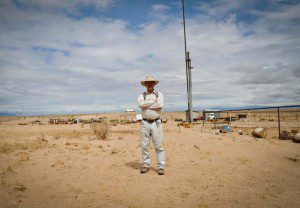 From Joseph Sorrentino for the Sante Fe Reporter and In These Times, the story of real estate con games that prey upon the poor in New Mexico.
An excerpt: "People are losing their land and their money to suspect real estate deals. They're also buying land thinking they can live there, only to learn too late that they can't."
"Many people buying land in colonias are Mexican or Mexican-American, and they often speak and read only Spanish; contracts are almost always in English. Further, there's no requirement for sellers to produce a title or title insurance to prove that they actually have the rights to the land."
Photo courtesy of Joseph Sorrentino.
March 21st, 2014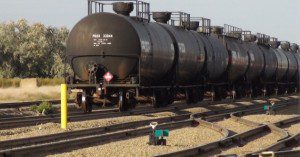 For InsideClimate News, Marcus Stern and Sebastian Jones report on possible reasons for recent explosions of oil transported by rail.
An excerpt:  The worry, according to a half-dozen industry experts who spoke with InsideClimate News, is that some producers are adjusting the pressure settings to leave in substantial amounts of natural gas liquids.
"There is a strong suspicion that a number of producers are cheating. They generally want to simply fill up the barrel and sell it—and there are some who are not overly worried about quality," said Alan J. Troner, president of Houston-based Asia Pacific Energy Consulting, which provides research and analysis for oil and gas companies. "I suspect that some are cheating and this is a suspicion that at least some refiners share."
Photo Credit: U. S. Department of Transportation
March 18th, 2014
Author Nick Turse, who wrote Kill Anything that Moves with support from the Fund for Investigative Journalism, has shared in the 2014 I.F. Stone "Izzy" Award for his relentless investigations into civilian war deaths. The Award was established by the Park Center for Independent Media at Ithaca College.
The award citation for Turse:
In news pieces and a book published last year, Turse has given human form and voice to civilian victims of U.S. wars from Vietnam to Afghanistan. His acclaimed best-seller, "Kill Anything That Moves: The Real American War in Vietnam," relied on classified Pentagon documents and fresh first-person interviews to reveal that violence against Vietnamese noncombatants was "pervasive and systematic — the predictable result of official orders." A journalist, historian and Nation Institute fellow, he monitors current U.S. military interventionism in articles for TomDispatch.com (where he is managing editor) and The Nation, for which he coauthored the special report "America's Afghan Victims."
Said Izzy judge Robert McChesney, "Nick Turse combines the fastidiousness of a serious historian and a journalist's intuition for the big story, along with an uncompromising commitment to the truth, wherever it leads."