October 25th, 2018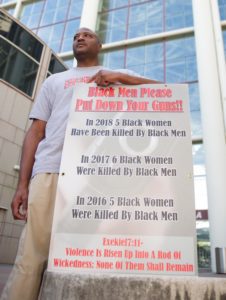 Five black women were killed in Mobile, Alabama, in 2016, six in 2017 and five by April this year. That is 16 women dead, mostly at the hands of black men, over three years in this small Southern city.
In a story for NBC News—and her latest piece on domestic violence in the black community—FIJ and Schuster Institute Fellow Chandra Thomas Whitfield tells of police sergeant John C. Young, who, in April, asked the Mobile City Council to address the issue of black women being killed by intimate partner violence.
Young received a tepid response.
A Centers for Disease Control and Prevention study notes that black women are 35 percent more likely to be victims of domestic violence than white women. In the story, L.A. author Sa'iyda Shabazz says silence about the issue for many in the black community stems from worries of contributing to the racist stereotype that black men are more violent than men of other races.
Meanwhile, Young says he will continue his one-man crusade despite the city council's lack of response.
John C. Young protests in front of the Mobile Government Plaza. Photo by Tim Jones
[FIJ thanks The Ford Foundation for providing the funding for this project.]
October 25th, 2018
The City, a new investigative podcast from USA TODAY, tells the story of an undercover FBI investigation that failed to bring justice to a black Chicago neighborhood that had been the victim of illegal dumping perpetrated by the mob. 
The City was created by investigative reporter Robin Amer, who received bridge funding for the show from FIJ. 
The story begins in Chicago in 1990. Highways are rebuilt, old buildings demolished, new parks and skyscrapers erected. But all that rubble has to go somewhere: a pair of vacant lots in a black, working-class neighborhood called North Lawndale.
At the helm of this operation is a guy sporting a Cosby sweater, manicured nails, and underworld connections: John Christopher. For more than a decade, what Christopher does on this lot is a tour through the underbelly of Chicago: aldermen get indicted; an FBI investigation goes awry; a neighborhood gets polluted with impunity. And a community's resilience is tested—all under the specter of racism in America.
A City of Chicago car drives past the illegal dump site at the center of the investigation. Photo by Brian Jackson
[FIJ thanks The Park Foundation for providing the funding for this project.]
October 16th, 2018

In 2011, FIJ helped fund investigative reporter Trevor Aaronson's research into the FBI's program of recruiting informants to break terrorist plots within the U.S. That reporting became the Mother Jones magazine story "The Informants," which Aaronson wrote while a fellow at the Investigative Reporting Program at the University of California, Berkeley. Part of that Mother Jones story followed the FBI's involvement with counterterrorism informant Shahed Hussain – the owner of the company whose limousine crashed in upstate New York on October 6, killing 20. Ironically, Hussain's relationship with the FBI began when he was caught running a scam at the New York DMV.
Aaronson, now the Executive Director of the Florida Center for Investigative Reporting and a contributor to The Intercept, says, "I think there's a valid question here about whether this horrible accident would have happened had the FBI not protected this guy from deportation and prosecution for more than a decade."
September 26th, 2018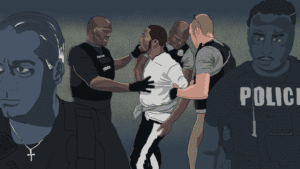 A months-long investigation by WAMU reporter Patrick Madden and a team of graduate students from the Investigative Reporting Workshop at American University found evidence that many gun possession cases – nearly 4 in 10 – were dismissed in court, raising questions about police tactics in gun searches.
The investigation "Collateral Damage" focused on the impact of the Washington police department's aggressive focus on confiscating illegal guns. The series – produced for radio, video and web – explored how tactics used by police to search for guns are also angering and alienating residents, especially in the city's predominantly black neighborhoods where police focus these efforts.
Illustration by Ruth Tam / WAMU
[FIJ thanks The Nicholas B. Ottaway Foundation for providing the funding for this project.]
September 18th, 2018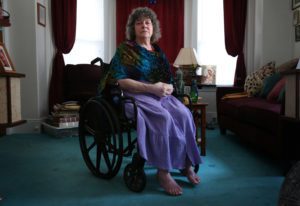 As America's population ages, the need for homecare workers increases as well. FIJ and Schuster Institute Fellow Linda Matchan investigated this burgeoning industry in Massachusetts and found both a shortage of people willing to work in these low paying jobs, as well as a lack of oversight of the people taking care of the state's elderly and homebound.
Matchan covers the issue in two stories for the Boston Globe. In the first, she documents the neglect and abuse that some patients suffer at the hands of criminal homecare workers. In the second story, she follows a Ghanaian woman who is part of a coterie of foreign workers who help fill the gap in home healthcare needs. Additionally, in an interview with radio station WBUR, Matchan describes the reporting, as well as her own story of looking for a home healthcare worker.
Photo of Deborah Lesco by Craig F. Walker/The Boston Globe
[FIJ thanks The Ford Foundation for providing the funding for this project.]
September 14th, 2018

In the September/October issue of Ebony Magazine (subscription required), FIJ and Schuster Institute Fellow Chandra Thomas Whitfield takes an in-depth look at the troubling statistic that Black women are more likely than any other group of women in the country to be killed in domestic violence incidents. She writes that while media reports tend to highlight crimes committed by strangers, research shows that Black women are most likely to be harmed by those closest to them–their partners and spouses. According to a CDC report, Black women are twice as likely as White women to be killed by an acquaintance. Another source says that poverty is a factor, especially for women with children who depend on their abusers for income.
[FIJ thanks The Ford Foundation for providing the funding for this project.]
September 10th, 2018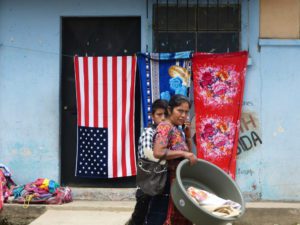 Grant recipient Maria E. Martin has completed a bilingual web and radio project examining the effects of the Trump administration's deportation policies on Guatemala.
According to her reporting, approximately 200,000 Guatemalans leave for the United States each year. And for the past two years, more than 50,000 Guatemalans have been deported annually. It is estimated that between 1.5 and 2 million Guatemalans live in the U.S. and at least half of them lack legal status.
Martin told the stories of deported Guatemalans, both recent migrants and people who had been living and working in the U.S. for decades, in a story for NBC. And in a report for NPR, Martin talked with the director of a migrant refuge in Guatemala who calls the current situation, "a game of pingpong." He said that 95 percent of deported migrants interviewed by his group will try to return again to the U.S.
Martin also completed a two-part documentary radio project for Making Contact that examined the plight of women migrants and the reasons so many Guatemalans are leaving their country. She also looked at the cost of deportations for the receiving countries, and specifically whether Guatemala is prepared to cope with the tens of thousands of people deported annually by the U.S.
Her reporting also ran as a series of audio and written stories on the Spanish-language radio network Radio Bilingüe, covering the cost of lost remittances to Guatemala; the particular dangers faced by women who want to migrate; and deported Guatemalans who try their luck again at returning to the U.S.
A woman and boy walk past towels for sale in San Juan Ostuncalco, one of hundreds of Guatemalan indigenous communities that send migrants north. Photo by Maria E. Martin
[FIJ thanks The Reva and David Logan Foundation for providing the funding for this project.]
August 20th, 2018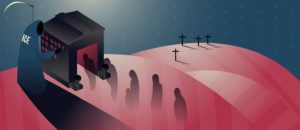 Grant recipient Robin Urevich has published a series of stories in Capital & Main outlining two deaths connected to inadequate medical care at immigration detention centers run by Emerald Correctional Management. Urevich's investigation found that the firm received millions from no-bid government contracts while providing sub-par service—this despite a history of poor performance on the part of the company. As of 2016, the company had abandoned or been fired from more detention contracts than it maintained.
The Louisiana-based firm went out of business in 2017, but the abuses uncovered reflect a lack of oversight by ICE in vetting potential prison contractors. Immigration detention has expanded fivefold in the past 23 years, Urevich reports, and with the Trump administration's deportation surge, is growing larger.
Illustration by Define Urban for Capital & Main
[This project was funded by The Park Foundation.]
August 20th, 2018
In 1838, the Society of Jesus in Maryland, an international Jesuit community, sold 272 slaves to plantations in Louisiana. That sale saved Georgetown University, a Jesuit school, from financial ruin. With funding from FIJ, reporters from The Hoya—the student paper at Georgetown—examined the university's legacy of slavery and its relationship to descendants of the enslaved. Their investigation found that the university had unearthed human remains in 2014 while constructing the newest dormitory building on campus. Those remains were near what was once a segregated graveyard—the final resting place of several Georgetown slaves. The discovery was not publicized and the space remains unmarked.
Additionally, the student team traveled to Maringouin, Louisiana, where the majority of the population are descendants of the 272 slaves sold to save the university in 1838. Maringouin has not had a high school since 2009, and students must make a 58-mile daily commute to attend school. Locals told the student journalists that they believe the decision to shut the school was motivated in part by race, and they are calling for Georgetown and the Society of Jesus to support primary and secondary education in the town.
Poynter has written the story behind the story of The Hoya report.
And, finally, the Georgetown students produced an online edition that recaps their investigation.
Above, a view of sugarcane fields around Maringouin, Louisiana. Photo by Derrick Arthur
[Funding for this project was provided by The Nicholas B. Ottaway Foundation and the Jonathan Logan Family Foundation.]
August 9th, 2018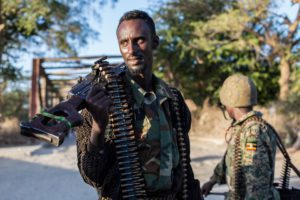 Grant recipient Christina Goldbaum has won the Edwin M. Hood Award for Diplomatic Correspondence from the National Press Club for her reporting on suspected U.S. military involvement in the killing of 10 civilians during a mission in Somalia in 2017. This follows her earlier win of a Livingston Award for Excellence in International Reporting for the same series of stories in the Daily Beast.
Goldbaum's reporting found evidence that U.S. Special Forces undertook the mission based on dubious intelligence from poorly vetted sources. Her reporting also raised questions about the oversight and strategy of U.S. forces in Africa. While the number of U.S. military missions in Africa has increased by 1,900 percent between 2008 and 2015, a person working with the U.S. mission in Somalia says, "There is no U.S. strategy here."
The stories were mentioned by Representative Ted Lieu (D-CA) in his call for a House Foreign Affairs Committee hearing on counterterrorism efforts in Africa.
In photo, a Somali National Army soldier patrols alongside African Union Peacekeeping Forces. Photo by Christina Goldbaum
[Funding for this project was provided by the Reva and David Logan Foundation.]