February 23rd, 2018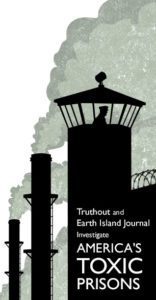 Earth Island Journal and Truthout spent more than a year on a collaborative reporting project investigating the links between mass incarceration, environmental degradation, and social justice. Using federal and state data gathered through FOIA requests, and on-the-ground reporting from prisons and prison-adjacent communities in California, Texas, and Pennsylvania, the "America's ToxicPrisons" series revealed that from coast to coast, prisons, jails, and detention centers are exposing prisoners to environmental health hazards — through their siting on contaminated lands and hazardous locations, and their use of polluted drinking water. Often, not unlike factory farms, prisons themselves also become significant sources of pollution.
Since the series was published, the Department of Justice withdrew plans to build a prison on a mountaintop-removal site in Kentucky, the US Environmental Protection Agency announced plans to add prison locations to its online environmental justice mapping tool. What's more, the NAACP's Legal Defense and Educational Fund, citing the project,  sent a letter to Attorney General Jeff Sessions and Acting Bureau of Prisons Director Thomas Kane, to demand that the Justice Department investigate and remedy the conditions.
[Funding for this project was provided by the Park Foundation.]
February 15th, 2018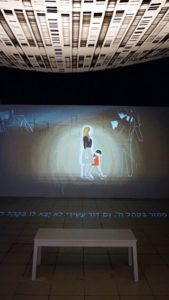 FIJ/Schuster Institute diversity fellow Michele Chabin focused on the desperate plight of families touched by mamzer status, the closest thing Judaism has to a class of untouchables. The status is passed down from generation to generation. Writing for New York Jewish Week, Chabin sheds light on why so-called mamzerim are sentenced to a life of secrecy and shame. While wars and migration once allowed most families touched by mamzerut to hide their status, the advent of the internet, digital recordkeeping and increasingly stringent rabbinical standards is making it more difficult to safeguard their secret. Those advocating for mamzerim say Judaism's most influential rabbis lack the courage to find solutions to mamzerut.
In photo courtesy of Nurit Jacobs-Yinon, an exhibit of "Mamzerim, Labeled and Erased" at the 2017 Jerusalem Biennale.
[Funding for this project was provided by the Ford Foundation.]
February 9th, 2018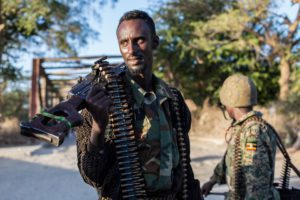 Christina Goldbaum spent three months investigating a U.S. Special Forces-led operation in Bariire, Somalia and found compelling evidence that U.S. Special Operators fired upon and killed 10 civilians, including a child.  Goldbaum's reporting for the Daily Beast showed that the decision to fire was partly based on information from notoriously untrustworthy sources and made despite concern from African Union Peacekeeping leadership. The story prompted U.S. Rep., D-California, to call for a House Foreign Affairs Committee hearing on U.S. counter-terrorism in Africa, using his time to discuss the Daily Beast investigation.  The Head of U.S. Africa Command requested the Defense Criminal Investigative Service open its own investigation into the operation. In an internal memo obtained by Goldbaum, the head of U.S. Specials Operations Command in Africa urged his troops to use greater caution and obtain high level approval for all ground operations.
In photo by Christina Goldbaum, a Somali National Army soldier goes on foot patrol with African Union Peacekeeping Forces in Afgoye.
[Funding for this project was provided by the Reva and David Logan Foundation.]
February 2nd, 2018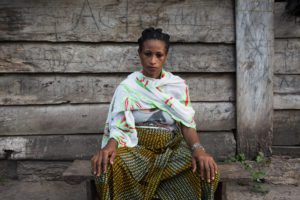 When Colorado-based Newmont Mining arrived in the hills of Brong-Ahafo in Ghana in 2004, locals were optimistic that Africa's second-largest gold producer would deliver lucrative jobs. But Sophia Jones, reporting for Sierra magazine, found that thousands of residents have been displaced by Newmont and its open-pit, cyanide-processing mine. Jones, an editor and reporter with the Fuller Project for International Reporting, and Accra-based photojournalist Ruth MacDowall say they discovered widespread abuses against the local population, including alleged sexual assaults. Farmers have been pushed out and their land destroyed. Jones writes that women bear the brunt of the physical, social and economic impacts of mining and some are battling Newmont for a return of their land and livelihood.
In photo by Ruth MacDowall, Zeinabu Dawda regularly attends protests against Newmont. "I will persevere," Dawda says. "I don't fear anything."
[Funding for this project was provided by the Reva and David Logan Foundation.]
January 31st, 2018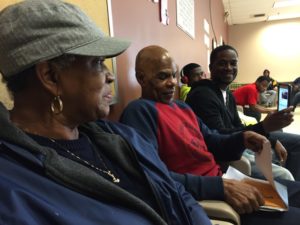 FIJ/Schuster Institute diversity fellow Lisa Armstrong continued her investigation into how the United States incarcerates juveniles. In a piece for The Intercept, Armstrong looks into the case of Zerious Meadows, who at 63 was recently released from the Macomb Correctional Facility near Detroit.  He spent 47 years behind bars. The United States is the only country that sentences minors to life in prison without parole, Armstrong has previously reported. In her current project, Armstrong notes that Michigan has the second-highest number of juvenile lifers in the country. A 2016 court decision gave the approximately 1,500 people who were sentenced before 2012, like Meadows, a chance at release.
In photo by Lisa Armstrong, Zerious Meadows, center, spends time with family after being released from the Macomb Correctional Facility near Detroit.
[Funding for this project was provided by the Ford Foundation.]
January 26th, 2018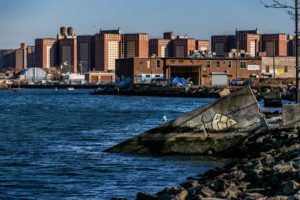 New York City is threaded with heavily polluted waterways, like the Gowanus Canal, Newtown Creek and the Bronx River, where sewage and chemicals sometimes make the water dangerous to even touch. An investigation by City Limits shines light on an undercovered element of the city's ongoing violation of the Clean Water Act: raw sewage from homes and apartments pumped through illegal pipes into waterways, and industrial chemicals dumped down storm drains or leaked onto waterfront land. Individual incidents can involve hundreds of thousands of gallons of raw sewage a day, but no one knows the full extent of the problem. Dozens of times each year, monitoring devices pick up high fecal bacteria counts, but the city often cannot find their origin. City Limits' report highlights the need for more intense monitoring and broader public awareness if swimmable, fishable water is ever going to be reality in the five boroughs.
WNYC recently featured the investigation by City Limits.
In photo by Adi Talwar for City Limits, city investigators have found more than a dozen buildings encompassing nearly 1,000 homes whose sewage was running into Coney Island Creek via an illicit connection.
[Funding for this project was provided by the Park Foundation.]
January 24th, 2018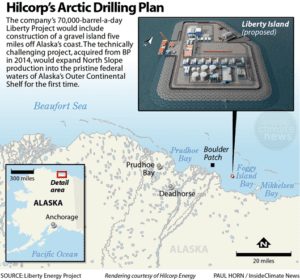 InsideClimate News delved into the regulatory record of the energy company Hilcorp, a Houston-based firm that has kept a low profile despite being one of the country's largest privately held oil and gas producers. As Hilcorp makes plans to drill in the Arctic, InsideClimate reviewed thousands of pages of government documents and conducted interviews with industry experts and watchdogs. The investigation by InsideClimate portrays a company that critics say prioritizes an aggressive expansion in Alaska while repeatedly falling short on safety and environmental protection. A version of the story was also published in the Dallas Morning News.
[Funding for this project was provided by the Park Foundation.]
January 24th, 2018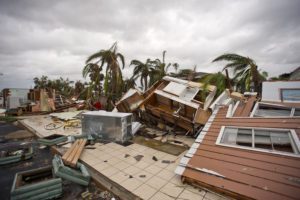 Hurricane Harvey wreaked havoc on the Texas Coast in the waning days of August, dumping more than 50 inches of rain in parts of the Houston area. The storm flooded thousands of homes and killed more than 80 people. The devastation was swift, and the recovery is far from over. The Texas Tribune, in collaboration with Reveal and ProPublica, investigated recovery efforts and found deep problems caused by repeated flooding in overbuilt areas of Houston and a tangle of conflicting priorities when it comes to aiding private developers and individual homeowners. Months after Harvey, some displaced families remain in limbo. The lack of data, including the true extent of personal financial ruin, could deepen the woes of many homeowners who could fall through the cracks because of daunting layers of government bureaucracy. The multi-part series also documented the dilemma of competing priorities between public flood control projects and private loss.
In photo by Eddie Seal for the Texas Tribune: A destroyed motel in Rockport on August 28, 2017. The motel was heavily damaged as Hurricane Harvey made landfall as a category 4 hurricane with winds of 130 mph in Rockport on Friday, August 25, 2017.
[Funding for this project was provided by the Park Foundation.]
January 18th, 2018
In its continuing coverage of the Washington state's foster care system, InvestigateWest, in partnership with the news site Crosscut.com, reports that state officials have nearly doubled the amount it pays to secure beds for children, from $325 per night to $600. Recently obtained payment records and confidential but incomplete data obtained by InvestigateWest shows how some host families are making a small fortune as the state grapples with finding solutions for what one state official called "child mills."  What's more, the state sometimes spends more than $2,000 per night to provide children shelter at hotels. The ongoing work by InvestigateWest and Crosscut prompted a forum that drew hundreds of people and garnered attention by lawmakers, who have enacted new laws to address shortcomings in the state's foster care system.
In photo by Kathryn Sauber for InvestigateWest, foster kids and their advocates rally in Olympia last spring.
[Funding for this project was provided by the Ethics and Excellence in Journalism Foundation.]
December 22nd, 2017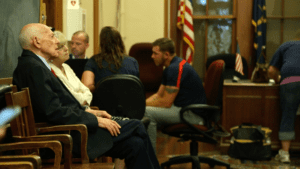 Further investigation by WNIN and Side Effects Public Media calls into question the work of a government-hired psychologist on thousands of Social Security Administration disability claims. The news outlets had previously reported about concerns that the psychologist might have falsified at least two dozen mental competency exams related to criminal court cases.. The scrutiny arose after he was convicted of falsifying one such exam. The widening scrutiny, according to WNIN, stems from his role in 10,567  disability cases for which he performed services for the Social Security Administration. The psychologist, Albert Fink, was paid more than $1.6 million between 2006 and 2016, according to public records obtained by the news outlets through public records requests.
In photo by AJ Casey for WNIN, Psychologist Albert Fink at a court hearing in GIbson County, Indiana. The doctor was charged with obstruction of justice after admitting he had faked court-ordered mental health examinations.
[Funding for this project was provided by the Ethics and Excellence in Journalism Foundation.]