July 24th, 2017
Accepting Applications for 2018:
The Fund for Investigative Journalism (FIJ) and the Schuster Institute for Investigative Journalism at Brandeis University are accepting applications for a project designed to broaden opportunities for diverse journalists in independent investigative reporting. The initiative invites applications from two communities: journalists of color and women journalists.
Pioneered with support from the Ford Foundation, this is the second consecutive year that grants and matching fellowships will be offered to help journalists of diverse backgrounds — widely recognized as underrepresented in the ranks of U.S. independent investigative reporters — to report and write important stories about unreported or underreported social justice issues.
Four independent, U.S.-based reporters with strong proposals to investigate significant systemic or social justice issues will be selected.  One of those will be chosen as a "Rising Star" who will also receive funding for mentorship support. Read the rest of this entry »
June 21st, 2017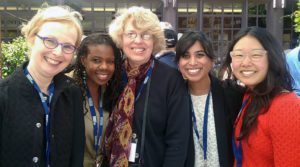 The Logan Symposium hosted in April by the Graduate School of Journalism at the University of California, Berkeley, provided some of our FIJ/Schuster Institute fellows an opportunity to meet and learn from some of investigative journalism's best.
For Linda Matchan, the symposium helped restore the "bounce" in her step and renewed her commitment to a discipline that, she said, can sometimes be discouraging because of "the many logistical and human obstacles that stand in the way" of stories.
Like the other fellows, she learned immensely from the discussions led by some of the profession's most celebrated talents.
Washington Post reporter David Fahrenthold, who recently won a Pulitzer for his reporting on Donald Trump's presidential campaign, was especially helpful in getting our fellows to think beyond traditional reporting and storytelling.
June 10th, 2017
Applications are in for a Director of Operations, a new FIJ position that will help Executive Director Sandy Bergo and the Board of Directors advance the organization's mission of supporting independent investigative journalists.
The new staffer will help ensure organizational effectiveness and efficiency. The position will oversee FIJ.org, publish this monthly newsletter and assist in managing grants, among other duties.
June 5th, 2017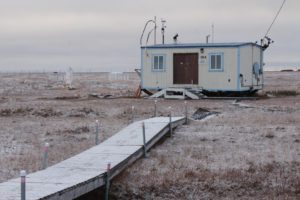 As warming temperatures thaw the Arctic, pressure is mounting to develop new sources of oil and gas and expand shipping routes throughout the region. As Madeline Ostrander reports for "ensia," the Arctic is especially vulnerable to a type of air pollution called black carbon, and scientists are scrambling to understand and mitigate its impacts before it's too late.
(Photo by Madeline Ostrander: Scientists study the impacts of air pollution on the Arctic in this remote lab outside of Utqiaġvik, Alaska.)
[Reporting for this project was sponsored by the Park Foundation.]
May 14th, 2017
Seven journalsts selected as diversity fellows by the Schuster Institute and the Fund for Investigative Journalism have begun working on their projects.As they continue their reporting, the fellows will take part in training and networking conferences — thanks to the generosity of Jon Logan and the Reva and David Logan Foundation.Three of the fellows are spending the final days of April at the University of California, Berkeley, for the invitation-only Logan Symposium. The remaining four head to Phoenix in June for the IRE conference.Funding from the Logan Foundation allows FIJ to pay the full cost of registration, airfare and accomodations for the fellows.
Lisa Armstrong, Michele Chabin, Lottie Joiner, Jaeah Lee and Linda Matchan were announced earlier this year as FIJ Schuster Institute Social Justice Investigative Reporting Fellows. Sonia Paul and Stacy Thacker were selected as investigative "rising stars."
The fellowships, underwritten by the Ford Foundation, hopes to increase the ranks of women and journalists of color in a field where they have been underrepresented.
In other news: FIJ recently announced $120,000 in grants for investigative journalism. Visit FIJ.org for a list of the latest grant recipients. Read the rest of this entry »
May 2nd, 2017
The Fund for Investigative Journalism seeks Director of Operations
The Fund for Investigative Journalism (FIJ) helps fund groundbreaking investigative stories that otherwise would not be told. Founded in 1969, FIJ makes grants to independent investigative journalists who have great tips, ideas, and sources, but need financial resources to do their work.
FIJ is governed by a board of experienced investigative journalists. It is an organization of journalists helping journalists by raising the funds that make independent watchdog reporting possible.
To help meet the growing needs of investigative journalists who work independently, without the resources or protection of media organizations and newsrooms, FIJ is hiring a Director of Operations.
The Director of Operations oversees all office operations and procedures to ensure organizational effectiveness and efficiency and reports directly to the Executive Director. Read the rest of this entry »
April 1st, 2017
NEXT APPLICATION DEADLINE: Monday, May 22, 2017
---
---
The Park Foundation is extending its support of independent watchdog journalism. The foundation announced this month that it is awarding FIJ another $50,000.This is the seventh year the Park Foundation has given toward FIJ's mission.

"This is a vote of confidence in the Fund's expanding role as an underwriter of vital, independent investigative reporting," said Ricardo Sandoval-Palos, chair of FIJ's Board of Directors. "The Park Foundation's support fuels our ability to underwrite outstanding journalism."

The Park Foundation's grants support media work such as investigative reporting, public broadcasting and documentary filmmaking. The foundation's other philanthropic causes include the environment and animal welfare.

Foundation's Fundraising Challenge Continues

The Ethics and Excellence in Journalism Foundation awarded FIJ $50,000 for the coming year – and pledged $25,000 more if FIJ can come up with $25,000 in new donations from other donors by Jan. 31. FIJ encourages supporters – including individual donors – to help secure the matching funds.
---
HIGHLIGHTS OF THE MONTH
Kurdish militia behind Arab expulsions in Syria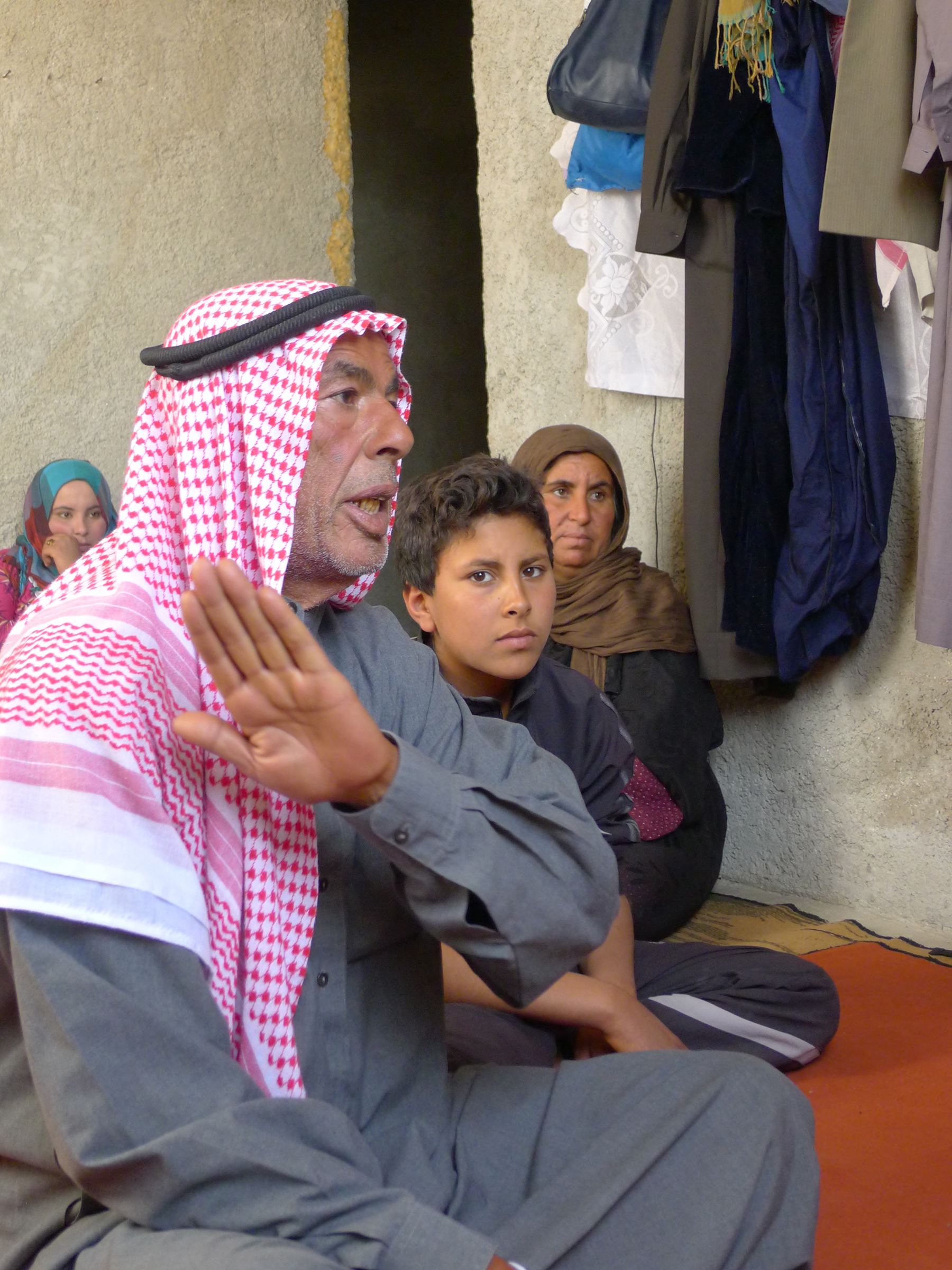 Ibrahim Abo Omar, 61, a Syrian Arab, describes the eviction of his family from their home in Tel Abyad, Syria, last spring by the Kurdish YPG militia. "They just locked the door. Put the keys in their pocket." (Photo for The Nation by Roy Gutman)
---
Roy Gutman set out to investigate
what appeared to be an ethnically motivated mass expulsion of Arabs in northern Syria from late 2014 through mid-2015 by a Kurdish militia allied with the United States, the People's Protection Units (YPG).
While Gutman could not document any systematic "ethnic cleansing," he found evidence that the militia, the Syrian branch of the Kurdistan Workers' Party (PKK), had organized widespread expulsions of Arabs, a war crime under international humanitarian law, and systematically violated the human rights of Kurds and Arabs in northern Syria. The expulsions were largely political, undertaken at the behest of the Assad regime, with which the YPG is closely allied.
A six-month investigation for The Nation shows that the militia has evicted Arabs from their homes under threat of violence starting in 2013 and subsequently has blown up, torched, or bulldozed their homes and villages.
In addition, Gutman found that the Syrian militia has used whatever means necessary to recruit fighters, even at gunpoint, as it kills political opponents and suppresses the news media.

Central to Gutman's reporting is the struggle for Kurdish independence, which has had a long and violent history across Iraq, Turkey, Syria and Iran.
Debris from a demolished home is loaded onto a truck. Detroit's demolition protocol requires that dust be sprayed down, which is not occurring in this case. (Photo for The Nation by Eilís O'Neill)
---
In cities like Detroit, demolishing old buildings might help rejuvenate blighted neighborhoods. But doing so has unintended consequences, according to a report by Eilís O'Neill for The Nation.
The problem with destroying tens of thousands of old homes is that many are covered in lead paint, and demolition crews risk unleashing clouds of lead dust into the environment — near schools, bus stops and neighborhoods with young families — and threatening the health of children.
February 27th, 2017
FIJ grant recipient Lucinda Fleeson has been in Nepal to help a team of journalists report on the aftermath of the massive 2015 earthquake that toppled centuries-old buildings. The temblor killed some 9,000 people and left hundreds of thousands homeless. The team has been analyzing data and tracking the progress of rebuilding.
NiemanReports recently featured the project on its website.
February 15th, 2017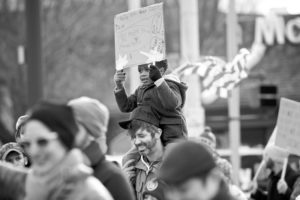 For its Unequal Justice project, InvestigateWest collaborated with the Pamplin Media Group, Portland State University's Mark G. Harmon and independent journalist Kate Willson in analyzing a decade's worth of court records by race. The team sifted through 5.5 million court records and reported out the unique experiences of African Americans in the Portland urban area and that of Latinos in the state's rural expanses. The reporting discovered that blacks and Latinos were charged more frequently for such violations as jaywalking, spitting in public, traffic infractions and drug-related offenses.
[Photo: March for Justice and Equality on Jan 28, 2017. Photo by Jaime Valdez.]
[Reporting sponsored by the Ethics and Excellence in Journalism Foundation.]
January 23rd, 2017

Jan. 23, 2017
FOR IMMEDIATE
RELEASE
Contact: email hidden; JavaScript is required
FUND FOR INVESTIGATIVE JOURNALISM AND SCHUSTER INSTITUTE FOR INVESTIGATIVE JOURNALISM ANNOUNCE SOCIAL JUSTICE INVESTIGATIVE REPORTING GRANT AND FELLOWSHIP AWARDS
The Fund for Investigative Journalism (FIJ) and the Schuster Institute for Investigative Journalism at Brandeis University are pleased to announce the winners of our nationally competitive journalism initiative funded by the Ford Foundation, with the express goal of increasing diverse and inclusive voices and topics in investigative journalism.
Five journalists will be awarded grants and fellowships for social justice investigative reporting projects, and two early-career journalists selected as "Rising Stars" will receive editorial mentorships in addition to grants and fellowships to support their projects.
Lisa Armstrong, Michele Chabin, Lottie Joiner, Jaeah Lee and Linda Matchan were selected as FIJ Schuster Institute Social Justice Investigative Reporting Fellows and will receive grants and fellowships to conduct their investigative reporting.
The two selected as Investigative Journalism Rising Stars are Sonia Paul and Stacy Thacker.