October 13th, 2017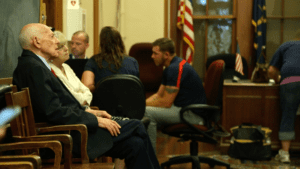 Steve Burger of WNIN public radio of Indiana delved into the background of a psychologist often hired as an expert court witness after the psychologist was convicted of felony charges for falsifying an evaluation in one case.  The psychologist, Albert Fink, had performed dozens of competency evaluations over the last 10 years, and those evaluations were now under question after authorities said he confessed to falsifying a report related to a trial at which he was supposed to offer testimony. WNIN's reporting revealed a system easily abused because it lacks adequate oversight. Courts rely on psychologists to assess the mental fitness of defendants, but serious questions now swirl around how courts determine mental competency in Indiana and what system of oversight is in place to ensure defendants get a valid examination.
As part of its ongoing investigation, WNIN uncovered a list of 29 cases in which it is suspected the doctor may have falsified the evaluations. WhenWNIN contacted the chief public defender of the Indiana Supreme Court, officials took the unusual step of actually reaching out to the defendants in those other cases to advise them of their options.
(In photo by AJ Casey for WNIN, Psychologist Albert Fink at a court hearing in GIbson County, Indiana. The doctor was charged with obstruction of justice after admitting he had faked court-ordered mental health examinations.)
[Reporting for this project was provided by the Ethics and Excellence in Journalism Foundation.]
October 12th, 2017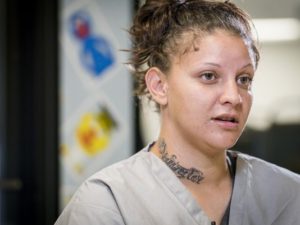 In her latest package focusing on recidivism in America for USA Today, FIJ/Schuster Institute diversity fellow Lottie Joiner examines how women are faring in a criminal justice system designed with men in mind. Many of the programs that help inmates re-enter society aren't appropriate for women, Joiner reports. Once an inmate is in the system, it's hard for her to stay out; in fact, about 70% of female inmates return to the system within five years. Joiner most recent multimedia package focuses on the struggle by one woman to keep herself out of prison for good.
Two previous installments began Joiner's deep dive into re-entry programs, as part of USA Today's ambitious "Policing the USA" project.
Chapter 1 described the recidivism problem in America.
Chapter 2 focused on how one woman was seeking to change the system after being caught in the revolving door of the criminal justice system.
Chapter 3 looks into the experiences of another woman, who has been in and out of custody since she was 12.
(In photo by Jarrad Henderson for USA Today, Candace Harp-Harlow talks about the struggles to put herself back on the right path.)
[Reporting for this project was provided by the Ford Foundation.]
October 3rd, 2017
The Fund for Investigative Journalism is proud to announce a pair of gifts that will further the work of independent watchdog journalists.
An unsolicited $100,000 gift from the Weissman Family Foundation was a very pleasant surprise.
A family representative told FIJ that concerns over an "assault on facts" prompted the foundation's decision to seek out and financially support an investigative journalism nonprofit.
Earlier this year, the craigslist Charitable Fund gave FIJ $75,000, the second time the philanthropic organization has donated to our mission.
"These gifts recognize the pivotal role FIJ plays in bringing vital journalism to light," said FIJ Board President Ricardo Sandoval-Palos. "The generous contributions provide support to even more independent journalists who want to make sure that institutions of power are held accountable."
The contributions help FIJ secure additional funds from the Ethics and Excellence in Journalism Foundation, which had vowed to match up to $25,000 of new money raised by FIJ.
We hope the generosity will keep flowing as FIJ strives to continue its mission of backing important projects that would otherwise go unreported.
In other news: Bobby Caina Calvan, a former reporter with the Associated Press and the Boston Globe, has joined FIJ's staff as director of operations. Read the rest of this entry »
September 27th, 2017
Jeff Kelly Lowenstein has been leading reporters from across the globe in an investigation of the worldwide lottery industry.
In the United States, he assembled a team from the Columbia Journalism School and PennLive as part of an ambitious reporting project to better understand how lotteries are gamed by some of their frequent players. The team submitted public records requests to every state with a lottery, sending more than 100 public record requests to obtain information about their winners, game odds and investigative reports.
Kelly Lowenstein also partnered with about 40 people, including journalists, from 10 countries, who worked in the United States, Europe and Africa. They discovered a massive industry, nearly $300 billion strong in 2014 – an amount greater than the gross domestic product of 157 countries. Eight companies play an outsized role in lotteries around the world, operating in as many as 100 countries. Some of these companies have avoided hundreds of millions of dollars in taxes and have sought to curry favor by hosting lavish parties.
[Reporting for this project was provided by the Green Park Foundation.]
September 19th, 2017
(Washington) – The Fund for Investigative Journalism (FIJ) announced today that Bobby Caina Calvan has been named Director of Operations. Calvan is a veteran journalist with experience covering breaking news on political and government beats as well as longform feature writing for major news services and outlets. He has been a reporter for Associated Press, the Boston Globe, and the Sacramento Bee.
Making the announcement, Sandy Bergo, executive director of FIJ, said "Bobby's talent and dedication will help FIJ serve a greater number of investigative journalists to meet the growing need for accountability coverage of public officials and institutions. I am thrilled that he is joining FIJ to help fulfill, and expand our mission."
Calvan also has important experience mentoring young journalists, and working with diversity issues, as a reporter, lecturer, and in leadership positions with the Asian American Journalists Association. His multiplatform, website, and social media skills are especially valuable in his new role. During the past year, Calvan has worked as a consultant helping to promote the work accomplished by FIJ grantees. He will continue in that role as a staff member.
The Fund for Investigative Journalism helps fund groundbreaking investigative stories that otherwise would not be told. Founded in 1969, FIJ makes grants to independent investigative journalists who have great tips, ideas, and sources, but need financial resources to do their work.
September 9th, 2017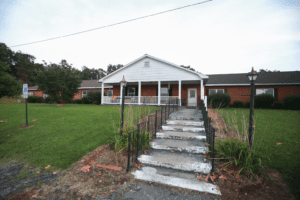 A team from Carolina Public Press reviewed three years of public records for all 1,200 adult care homes in North Carolina and conducted dozens of interviews with regulators, patient advocates, facility managers and others. The result was a series of stories revealing the inconsistencies and troubling issues that undermine the regulation and oversight of these private, for-profit facilities.
(Photo by Colby Rabon/Carolina Public Press: A New Outlook of Taylorsville is an adult care home in rural Alexander County in North Carolina. Residents started a fire there in December 2014. The facility remains open, with zero stars, according to state regulators.)
[Reporting for this project was provided by the Ethics and Excellence in Journalism Foundation.]
September 6th, 2017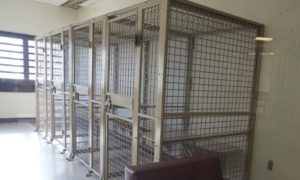 With no place to house some mentally ill people who could pose a danger to themselves or others, New Hampshire has taken the unusual step of housing them in the psychiatric unit of the state prison — even if they haven't committed a crime, according to a report by Nancy West, co-published by InDepthNH.org and the New Hampshire Business Review. That's despite warnings by the New Hampshire Psychiatric Society three decades ago advising against commingling civilly committed individuals with convicted criminals. Some states, West noted, have banned the practice even for very brief holds.
(Photo by Nancy West: "Therapy booths" are used for group therapy for some mentally ill patients at the Secure Psychiatric Unit at the New Hampshire State Prison for Men in Concord, New Hampshire.)
[Reporting for this project was provided by the Ethics and Excellence in Journalism Foundation.]
August 30th, 2017
A pair of projects by InvestigateWest continues FIJ's long tradition of supporting journalism that makes a difference. Lawmakers in the states of Washington and Oregon credit the outlet for spurring change.
The outlet's investigation into Washington's foster care system prompted new laws and a $48 million funding boost to tackle some of the system's woes.
In Oregon, InvestigateWest's "Unequal Justice" project moved the Legislature to pass laws seeking to address the unfair treatment of people of color by the criminal justice system.
The package, as noted by the Washington Post, "found that minority residents were far more likely to be charged for dozens of crimes, from minor infractions such as littering and jaywalking to more serious offenses, such as robbery."
FIJ couldn't do its work without its generous patrons.We appreciate longtime funders such as the Nicholas B. Ottaway Foundation, which recently gave another $25,000. FIJ board member David Ottaway is a member of the Ottaway family.
And we thank new benefactors, including the Scripps Howard Foundation, which gave $5,000 to help revamp FIJ's mentorship program. Applicants for the current round of grants — the deadline is Sept. 25 — can request a mentor through the Submittable platform.
August 23rd, 2017
Washington – The Fund for Investigative Journalism (FIJ) has awarded $58,500 to cover the costs of eleven new investigations being undertaken by independent reporters in the US and around the world. The grants help freelance journalists and nonprofit news centers with reporting expenses such as travel and document fees.
The journalists receiving grants include:
Daffodil Altan, Investigative Reporting Program, University of California – Berkeley
Robert Gutsche, Jr., professor, Florida International University – Miami
Myron Levin, FairWarning
Kari Lydersen, Chicago journalist and Northwestern University professor
Brendan McCarthy, Kentucky Center for Investigative Reporting
Robert McClure, InvestigateWest
Tom Stevenson, investigative journalist based in Istanbul
Silvia Vinas, Radio Ambulante
Ali Winston, reporting fellow, Investigative Fund
The names of some grantees are being withheld at their request.
Applications are currently being taken at investigate.submittable.com. The Fund for Investigative Journalism has raised the maximum award to $10,000. Requests for mentors are also being accepted as part of the application process. The next deadline is September 25.
Applications are also being taken for a grant/fellowship program conducted with FIJ's partner, the Schuster Institute for Investigative Journalism at Brandeis University. That program will award four grants, up to $10,000, along with fellowships at the Schuster Institute, to support reporting by diverse journalists with an emphasis on women and people of color.  The deadline to apply is November 1.
August 23rd, 2017
Massachusetts has more repeat lottery winners than any other state, and some are redeeming so many winning tickets that they're raising questions about the integrity of the $5 billion state lottery. Massachusetts officials have long suspected that some frequent winners cash lottery tickets for others who don't want to claim the money themselves because of taxes, child support or other debts, wrote Michael Levenson of the Boston Globe and Jeff Kelly Lowenstein, a visiting professor at Columbia last semester.
The story was part of an analysis of nearly 11 million lottery records from 34 states by PennLive.com and students at Columbia University's Graduate School.
In Connecticut, a handful of big lottery winners show up again and again. A first-ever analysis of lottery winnings dating back to mid-1998, conducted by the Hartford Courant in collaboration with students at the Columbia journalism school, found 57 people who have won $1,000 or more at least 50 times.
The projects in Massachusetts and Connecticut are part of an international investigation involving reporters from Africa, Europe and the United States.
[Reporting for this project was provided by the Green Park Foundation.]