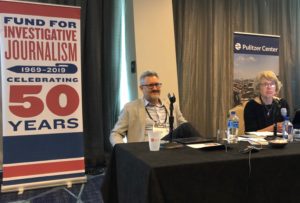 At the Investigative Reporters and Editors Conference, Houston, June 14.
Executive Director Sandy Bergo explained to a roomful of journalists the ins and outs of applying for a Fund for Investigative Journalism grant. In the tradition set forth by founder Philip Stern, who launched FIJ in 1969, Bergo described how the Fund awards up to $10,000 to reporters to pursue investigations on government corruption and wrongdoing. The session also honored FIJ's 50th anniversary.
It was co-led with Steve Sapienza of the Pulitzer Center. The session was opened to include introductions from two other grant-makers: Laird Townsend of FIRE and Jane Sasseen of The McGraw Business Journalism Fellowship.
Steve Sapienza, left, and Sandy Bergo