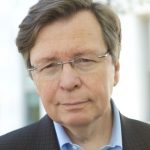 Charles Lewis is a tenured professor and the founding executive editor of the Investigative Reporting Workshop at the American University School of Communication in Washington, D.C.
A former producer for ABC News and CBS News 60 Minutes, he quit network television and subsequently founded and led two Pulitzer Prize-winning nonprofit news organizations, the Center for Public Integrity (1989) and its International Consortium of Investigative Journalists (1997), the first global network of premier investigative reporters to develop and publish online multimedia exposés across borders.
A bestselling author/co-author of six books, he was named a MacArthur Fellow in 1998,
he received the PEN USA First Amendment Award in 2004, and he was awarded the I.F. Stone Medal for Journalistic Independence in 2018.