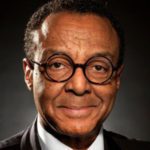 Clarence Page is a winner of the 1989 Pulitzer Prize for commentary, is a nationally syndicated columnist and editorial board member in the Chicago Tribune's Washington Bureau.
His other honors after four decades of professional journalism include lifetime achievement awards from the National Society of Newspaper Columnists, the Chicago Headline Club, the National Association of Black Journalists and, most recently, the 2018 Kiplinger award for distinguished contributions to journalism from the National Press Foundation.
Page is a member of the board of the Herb Block Foundation, the Committee to Protect Journalists and the Fund for Investigative Journalism.