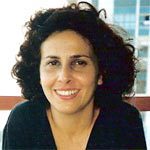 Diana Schemo is the executive editor and co-founder of 100Reporters and founding director of Double Exposure: The Investigative Film Festival and Symposium. She is an author and award-winning veteran national and foreign correspondent, with more than twenty-five years as a staff writer at the The New York Times and the The Baltimore Sun. She has covered poverty and child abuse, religion and culture.
The Times nominated her coverage of education for a Pulitzer Prize in 2003. As bureau chief for the Times in Rio de Janeiro from 1995 to 1999, Schemo tracked the drug war in Colombia, and that country's brutal conflict between leftist rebels and right-wing paramilitaries. Her stories chronicled the rise of Hugo Chavez in Venezuela, Texaco's environmental record in Ecuador, indentured servitude in Brazil, and journeys to the heartland of Brazil, where she wrote of modern-day slavery and of a previously uncontacted native tribe. Before joining the Times, Schemo became the first woman assigned overseas for The Baltimore Sun, heading the paper's West European bureau in Paris and, later, opening a second bureau in Berlin. She covered the trial of Klaus Barbie, the infamous "Butcher of Lyon," nuclear arms negotiations, the Kurdish exodus from Iraq following the first Gulf War, and the collapse of Communism in East Germany.
She has reported from more than twenty-five countries and regions, from Somalia to Israel, Iraq to the Amazon. Schemo's work has also appeared in Ms., Marie Claire, New York and The New York Times magazines. She is the author of the 2010 book Skies to Conquer: A Year Inside the Air Force Academy (Wiley). The book tracks a year in the life of one squadron at a time of upheaval in the military's youngest, if most controversial, service academy. She is a three-time winner of the New York Times Publisher's Award, and shared an award (with Joan Jacobson of the Baltimore Sunpapers) from the National Association of Black Journalists, for an investigation of Baltimore's Urban Services Agency.