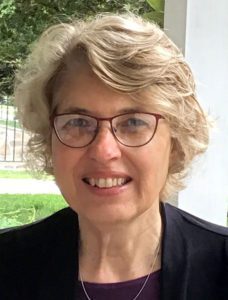 WASHINGTON — Fund for Investigative Journalism Executive Director Sandy Bergo today announced that she will retire at the end of 2019. Bergo has led the organization since she was appointed by the Board of Directors in 2010.
"Sandy has brought significant growth and great passion to FIJ," said Board of Directors President Marcia Bullard. "She has provided exceptional leadership and we will miss her influence. Because of Sandy's work, FIJ has been able to support many more journalists' projects. Sandy has set us on a course for strong future growth."
A search for a new executive director is underway. The board has named a search committee headed by Mark Greenblatt of Scripps Washington Bureau. It includes Anu Narayanswamy of the Washington Post, David Boardman of the Klein College of Media and Communication at Temple University and Susanne Reber of Scripps Washington Bureau.
Under Bergo's leadership, FIJ has significantly increased its fundraising and expanded the number of grants provided each year to independent investigative journalists. Bergo also established programs that provide legal guidance and mentoring services to grant recipients and created a fellowship program that helps expand opportunities for journalists of color.
"It's been great fun to work with all the journalists who come to FIJ with stories they are burning to tell, and gratifying to help them get the resources they need. And it's been a blast to work with a nonprofit board of accomplished journalists who devote their time and talents to ensuring that FIJ fulfills its mission," said Bergo.
Bergo is a longtime investigative reporter. During her tenure with FIJ, she continued her investigative reporting work, freelancing for the Better Government Association of Chicago. Before joining FIJ, she was a producer on the investigative teams at WBBM-TV in Chicago and WJLA-TV in Washington, a writer at the Center for Public Integrity, and a freelance reporter.
She and her husband, journalist Chuck Neubauer, reside in the Washington, D.C., area.
FIJ is marking its 50th anniversary of making grants to support the work of independent investigative journalists. Grant recipients have won three Pulitzer Prizes – including the 2019 Pulitzer for general nonfiction – the Peabody Award, a National Magazine Award and the MacArthur Foundation's genius grant, among others. The nonprofit is based in Washington, D.C.
For more information, contact [email protected].