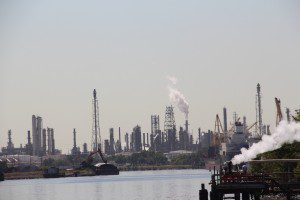 Reid Frazier has won a regional Edward R. Murrow Award, from the Radio Television Digital News Association (RTDNA) for his series "The Coming Chemical Boom." His investigation aired on The Allegheny Front, a program carried by Pennsylvania public radio stations.
In a series of reports to inform his audience on what might happen when the petrochemical industry comes to Pennsylvania as proposed, Frazier traveled to Texas and Louisiana to report on conditions there – where the chemical industry is booming, thanks to cheap natural gas. In Houston, he found the chemical plants brought economic benefits, but that air quality suffered, increasing the risk of cancer, asthma, and heart disease.
Photo by Reid Frazier.