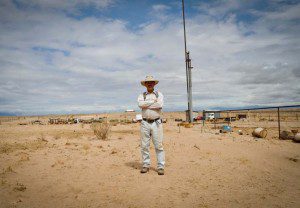 From Joseph Sorrentino for the Sante Fe Reporter and In These Times, the story of real estate con games that prey upon the poor in New Mexico.
An excerpt: "People are losing their land and their money to suspect real estate deals. They're also buying land thinking they can live there, only to learn too late that they can't."
"Many people buying land in colonias are Mexican or Mexican-American, and they often speak and read only Spanish; contracts are almost always in English. Further, there's no requirement for sellers to produce a title or title insurance to prove that they actually have the rights to the land."
Photo courtesy of Joseph Sorrentino.