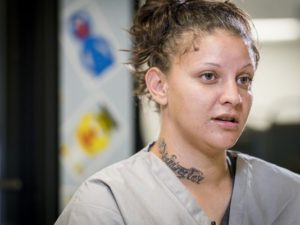 In her latest package focusing on recidivism in America for USA Today, FIJ/Schuster Institute diversity fellow Lottie Joiner examines how women are faring in a criminal justice system designed with men in mind. Many of the programs that help inmates re-enter society aren't appropriate for women, Joiner reports. Once an inmate is in the system, it's hard for her to stay out; in fact, about 70% of female inmates return to the system within five years. Joiner most recent multimedia package focuses on the struggle by one woman to keep herself out of prison for good.
Two previous installments began Joiner's deep dive into re-entry programs, as part of USA Today's ambitious "Policing the USA" project.
Chapter 1 described the recidivism problem in America.
Chapter 2 focused on how one woman was seeking to change the system after being caught in the revolving door of the criminal justice system.
Chapter 3 looks into the experiences of another woman, who has been in and out of custody since she was 12.
(In photo by Jarrad Henderson for USA Today, Candace Harp-Harlow talks about the struggles to put herself back on the right path.)
[Reporting for this project was provided by the Ford Foundation.]