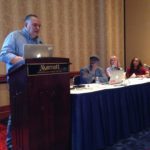 (Washington) If you've got a great story, you can find the funding to get it done. That was the message from Phillip Martin, WGBH-Boston senior investigative reporter and a senior fellow at the Schuster Institute for Investigative Journalism at Brandeis University.
"There's always a place for good journalism and there's always funding for good journalism," he told a packed conference room at the 2016 convention of the National Association of Black Journalists and National Association of Hispanic Journalists, held in Washington DC this week.
Martin has won several grants and fellowships that allowed him to pursue stories that he wanted to do but his employer could not afford. His stories on human trafficking were honored with the national Edward R. Murrow Award. A 2012 fellowship from the International Center for Journalists financed the travel.
If a grant or fellowship application is turned down, "do not give up," said Martin. Oftentimes, an applicant can find out why the proposal was rejected, do extra research, resubmit and get the grant.
Fund for Investigative Journalism (FIJ) president Ricardo Sandoval Palos moderated the panel on "Finding Funding," and announced that several organizations have launched initiatives this year to provide training, grants and fellowships, specifically targeted for journalists of color, to address the "embarrassing dearth" of investigative reporters of color in the U. S.
Partnering with the Schuster Institute, FIJ has launched one of those initiatives, financed by the Ford Foundation, offering $9,000 grants paired with Schuster fellowships to women and journalists of color. Applications are being taken now through October 1 at investigate.submittable.com.
Schuster managing editor Lisa Button talked about the wide range of fellowships available, often as part of programs connected to universities, and encouraged applications for Schuster's fellowship program from freelance as well as staff reporters. "It starts with your idea and with your commitment," said Button.
Susan Smith Richardson, editor and publisher of The Chicago Reporter described how the nonprofit news center she leads pitches projects to foundations, much as reporters pitch stories to editors or funding sources. To be successful, she must explain how the project is unique. Foundations want to know "what is this project bringing to the table that is more than what's already out there," she said. As a website publisher, she also sets circulation goals, measured by reader page views.
She presented the latest project from The Chicago Reporter, "Settling for Misconduct," which documents the cost of civil lawsuits alleging police misconduct in Chicago. Among the findings: between 2012 and 2015 the city paid out $210,752,752 to settle 655 civil lawsuits. Cases are settled almost every other day.
The stories and database are available online: http://projects.chicagoreporter.com/settlements/. The Chicago Reporter focuses on investigations of race and poverty.
-Sandy Bergo, Fund for Investigative Journalism