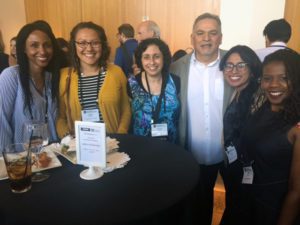 Four of FIJ's diversity fellows came from near and far to attend this year's Investigative Reporters and Editors conference in Phoenix this past June. For the fellows, it was more than just about learning new skills. It was also about being part of a community.
FIJ Board President Ricardo Sandoval-Palos joined the FIJ/Schuster fellows for a reception.
Michele Chabin traveled 6,000 miles from Jerusalem to attend the gathering.
"Working from another continent, from a home office and not a newsroom, it's easy to feel isolated," Chabin said.
She added: "How wonderful it was to network, to learn, through personal conversations and workshops, that others are dealing with the same challenges: the need to work faster due to the 24/7 social media news cycle; the importance of learning new technology (I didn't know how to do customized searches on Facebook); and the value of maintaining relationships with sources even after the story has ended."
Chabin was a speaker at the conference, taking part on a panel about religious organizations – a key element of her research as an FIJ/Schuster Institute fellow.
For Sonia Paul, conferences can sometimes be intimidating "for a freelance journalist like me whose reporting instincts have never quite fallen into any one particular journalism tribe… While attending this year's IRE conference as an FIJ/Schuster fellow didn't wholly resolve some of those issues, it certainly helped make me feel like I was part of a community."
Attending the conference, she said, also served as a painful reminder about how far the journalism industry has yet to go to become more diverse and inclusive.
That reminder wasn't lost on Stacy Thacker.
"At just about every conference I've been to there is the diversity conversation but I could see some of those results in IR," she said. "There were multiple stories of what IRE used to look like compared to now. I could even see it in my group, there were four Native American journalist at IRE, including me, and while we had a small number I was glad to see a number at all."
Thacker was grateful for an opportunity to take part on a panel focusing on coverage of Native America.
Of course, there was a lot of learning going on, too. Lisa Armstrong, for one, discovered new research tools that she immediately put to use.
"As an investigative journalist, it's sometimes hard for me not just to find phone numbers but other information about sources who are often reluctant to talk," Armstrong said.
Online social media networks present a new trove of information, she said. One tool in particular, StalkScan, has provided her more powerful ways of harvesting information from Facebook that has allowed her to expand a network of possible sources.
Earlier this year, FIJ sent three of the seven diversity fellows to the Logan Symposium hosted by the University of California, Berkeley.
 (In photo: Lisa Armstrong, far left, shared a photo of the group in Phoenix. She was joined by, left to right, Stacy Thacker, Michele Chabin, FIJ Board President Ricardo Sandoval Palos, Sonia Paul and Lottie Joiner.)