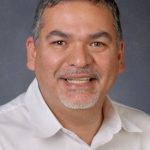 Ricardo Sandoval-Palos is an award-winning investigative journalist and editor whose career has spanned four decades. He is the Public Editor – ombudsman – for PBS, the nation's leading public media outlet.
Prior to joining PBS, Sandoval-Palos consulted with non-profit investigative news outlets such as InsideClimate News and 100Reporters, and was a supervising editor for Morning Edition, the flagship news show for National Public Radio.
He also served as an international editor with Center for Public Integrity in Washington, DC, and assistant metro editor for the Sacramento Bee in California. Between 1997 and 2006, he was a correspondent in Latin America for the Dallas Morning News and the San Jose Mercury News.
Before that, in California, he won recognition for his coverage of the savings and loan scandal, the deregulation of public utility companies, and profiteering in the opaque business of international remittances. He also co-authored the award-winning biography, The Fight in the Fields: Cesar Chavez and the Farmworkers Movement.
He volunteers as a board member for the Ida B. Wells Society, which focuses on education and opportunity for journalists of color. He's an advisor to the Fund for Investigative Journalism, the Metcalf Institute for Environmental Reporting at the University of Rhode Island, and the Enterprise Fund of the International Documentary Association.