In new book, Seymour Hersh recounts the 'stories behind the stories' in long career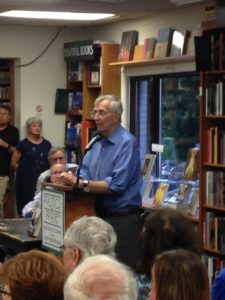 Seymour Hersh has published a memoir in which he recounts his long career as an investigative journalist. His book, "Reporter," shares what his publisher calls "the stories behind the stories."
Hersh has been making the rounds to promote the memoir, including a recent visit to the Washington, D.C., bookstore Politics & Prose.
Hersh won a Pulitzer in international reporting for his FIJ-funded expose on the My Lai massacre during the Vietnam War. In his book, Hersh describes FIJ as "an important foundation that continues today to finance innovative newspaper and magazine stories."
The Washington Post called his book a welcome addition to those focused on "the making of journalism."
(Photo by Chuck Neubauer.)
Dissidents in Egypt push for reforms despite harsher treatment from government
In a piece for the Los Angeles Review of Books, Tom Stevenson looks into the lives of Egyptian dissidents under the US-backed dictatorship in Egypt. The report uncovers the extreme intimidation, surveillance, and repression the Egyptian government uses against dissidents, who nonetheless continue to challenge the state despite ever harsher conditions.
[Funding for this project was provided by the Reva and David Logan Foundation.]
FIJ launches new collaborations for next round of diversity fellowships
InsideClimate News, The Marshall Project, Reveal/CIR,
Ida B. Wells Society join FIJ diversity initiative
The Fund for Investigative Journalism is proud to announce partnerships with four of the country's most innovative journalism nonprofits for a yearlong fellowship program that aims to expand opportunities for diverse journalists in watchdog reporting, with an emphasis on journalists of color.
InsideClimate News, The Marshall Project and Reveal from The Center for Investigative Reporting are joining FIJ in this important collaboration to train more investigative journalists and help draw focus to stories that might otherwise go untold.
The Ida B. Wells Society for Investigative Reporting will play a supporting role by providing fellows with additonal training and support.
"It is critically important to support and train a new generation of investigative journalists," said FIJ Board President Marcia Bullard. "We're excited to offer diverse journalists the opportunity to work with these stellar journalism organizations."
FIJ and its partners will select up to four fellows who will work with one of FIJ's partner outlets to produce deeply reported investigations on climate change and the environment, social justice and the U.S. criminal justice system, and government accountability and the abuse of power.
Fellows will have access to reporting expertise and other resources offered by partner outlets. Each will get guidance from some of the industry's best editors and investigative journalists.
The deadline to apply is Oct. 1, 2018, and fellows will be announced by the end of the year.
This will be the third year that FIJ is offering diversity fellowships. So far, 11 journalists have taken part in the program.
For nearly half a century, the Fund for Investigative Journalism has supported the work of independent journalists who have lacked the resources needed to pursue their investigations. The late Philip M. Stern founded FIJ in 1969 to invest in the work of determined journalists in the fight against racism, poverty, corporate greed and governmental corruption. FIJ-supported projects have won a wide array of journalistic honors, including the Pulitzer Prize, the Peabody Award, the George Polk Award, the Sigma Delta Chi Award and many more.
"I've watched FIJ grow this program over the years and patterned parts of our own fellowship program on theirs," said Amy Pyle, editor in chief of Reveal/CIR. "I look forward to supporting FIJ in promoting the work and advancement of journalists with diverse backgrounds and perspectives."
Reveal, a product of the country's oldest nonprofit investigative newsroom, engages and empowers the public through investigative journalism and groundbreaking storytelling that sparks action, improves lives and protects our democracy. Reveal publishes its work on its website, public radio program and podcast (produced with PRX), social media platforms and in partnership with media partners nationwide and around the world.
Reveal looks for stories that are unique and deeply investigative that clearly pinpoint who is responsible, with the potential for driving change.
FIJ's partners are recognized across the industry for the rigor of their journalism, their expertise in their respective reporting areas and for the innovative ways in which they engage with their audiences.
"We're thrilled that the Fund for Investigative Journalism is making this opportunity available to The Marshall Project," said Carroll Bogert, president of The Marshall Project. "We look forward to working with our FIJ fellow to produce a stellar piece of investigative journalism that will have real impact on the criminal justice system."
The Marshall Project is a nonprofit, nonpartisan newsroom covering criminal justice issues in the United States. Launched four years ago, it has published more than 1,200 stories with over 100 media partners and has won many top journalism awards, including the Pulitzer. The Marshall Project prioritizes stories that require deep digging and have not been covered by other news outlets – including stories about immigration as a parallel criminal justice system.
FIJ is also proud to partner with InsideClimate News, another Pulitzer Prize-winning nonprofit and nonpartisan news organization. ICN provides essential reporting and analysis on climate change, energy and the environment. It serves as a watchdog on government, industry and advocacy groups.
"We're delighted to work with the Fund for Investigative Journalism on this important project and to bring an FIJ fellow into our newsroom and community," said Stacy Feldman, ICN's executive editor. "We're covering complex, dramatic and urgent stories of climate change and environmental injustice, and it's crucial to have reporters from a broad range of perspectives and background to help us tell them."
Started 11 years ago as a two-person blog, ICN has grown into one of the largest environmental newsrooms in the country. ICN is committed to establishing a national reporting network, training the next generation of journalists and strengthening the practice of environmental journalism.
The Ida B. Wells Society is dedicated to increasing and retaining reporters and editors of color in the field of investigative reporting. The organization, which is spearheaded by veteran journalists, also seeks to educate news organizations and journalists on how the inclusion of diverse voices can raise the caliber, impact and visibility of investigative journalism as a means of promoting transparency and good government. The Society is open to journalists of all races and backgrounds who support the mission of the organization.
For more information, contact FIJ Executive Director Sandy Bergo, sbergo@fij.org. 
Campaign contributors more likely to get debt-collection contracts in Ohio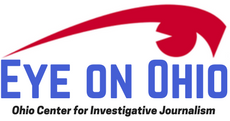 James McNair examined 10 years of public data on behalf of the Ohio Center for Investigative Journalism. He found a strong correlation between the amount of campaign contributions and the revenue received by law firms doing collection work for the state attorney general's office. What's more, the data showed that debt collection firms who hired lobbyists got more money. 
[Funding for this project was provided by the Park Foundation.]
Book examines fracking boom's role in the fracturing of America
Eliza Griswold examines the fracking boom in her book "Amity and Prosperity: One Family and the Fracturing of America." In an essay for the New York Times, Griswold addresses a concept called "the resource curse" in her book. In her essay, she asserts that the subjects of her book, who live in a resource-rich part of the rural United States, suffer from many of the same structural pressures and disadvantages as people living in countries that most Americans think of as less developed.
[Funding for this project was provided by the Ethics and Excellence in Journalism Foundation and the Park Foundation.]