Cambodia's Curse: The Modern History of a Troubled Land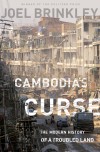 Joel Brinkley's investigative reporting in modern Cambodia  found "willful mismanagement" of the country.
In 1992, Cambodia became a United Nations protectorate – the first and only time the UN tried something so ambitious. What did the new, democratically-elected government do with this unprecedented gift? Brinkley found a people in the grip of a venal government that refuses to provide even the most basic services without a bribe.  He learned that nearly half of the Cambodians who lived through the Khmer Rouge era suffer from Post-Traumatic Stress Disorder and other debilitating mental illnesses. These afflictions have darkened the entire nation's personality. Brinkley uncovered a malnourished populace that still lives as Cambodians did 1,000 years ago, while government officials divert unimaginable sums into their own pockets. These ministers are the only overweight people in a nation where the hungry waste away.