Evicted, Still Homeless: A Report from Armenia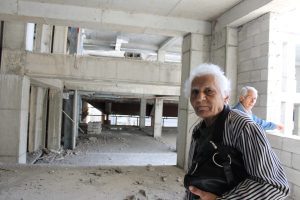 Roza Hovhannisyan reports from Armenia for Iragir.am on the frustrations of people evicted from the old town center of Yerevan, waiting more than ten years for decent housing.
An excerpt:
The European Court of Human Rights will resume the examination of applications of three families evicted from 25 Buzand Street at the center of Yerevan. These families were deprived of their property in the result of demolition of old center of Yerevan. The houses of this territory were demolished in 2004, and most affected families are still homeless. In 2011 the ECtHR passed a decision on the cases Baghdasaryan-Zarikyantses v Armenia, Gharibyan v Armenia and the Ghasabyans v Armenia but the government of Armenia has not implemented the decision yet.
[Reporting sponsored by The Reva and David Logan Foundation.]
Photo credit: Roza Hovhannisyan