Fanaticus: The Roots of Extreme Fan Violence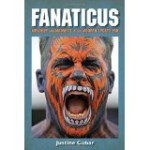 From Justine Gubar, Fanaticus: Mischief and Madness in the Modern Sports Fan, an investigation of fan violence in the United States and around the globe, published by Rowman & Littlefield.
Gubar conducted original interviews of victims and perpetrators to explore the roots, and the modern manifestation, of fan mayhem. Her investigation also explores the role of sports leagues and the security and beverage industries.
[Reporting sponsored by The Ethics and Excellence in Journalism Foundation and The Park Foundation.]