February 7th, 2017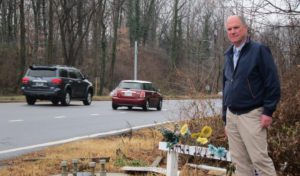 State and local secrecy is on the rise but gets far less attention than similar issues at the federal level. The public's ability to gain access to public information is often hampered by state and local governments themselves. In a five-part series for Reveal, the Center for Investigative Reporting, also published by Gannett newspapers and USA TODAY, Miranda Spivack showed the damaging effects of state and local secrecy. Many states, relying on an obscure federal law, withhold documents, data and reports on dangerous roads, bridges and intersections. In a related piece, she illustrated the harmful effect when private contractors gain control of public records such as court documents and crime data, limiting access and reselling information, sometimes at exorbitant prices.
[In photo: Richard Boltuck, an economist who lives in Bethesda, Maryland, stands near his home at a makeshift memorial for three family members who were killed in 2016 at the accident-prone intersection. Boltuck has been lobbying the state for information about the intersection's dangers for eight years. Photo by Stephen R. Herm for Reveal.]
[Reporting sponsored by the Ethics and Excellence in Journalism Foundation.]
January 13th, 2017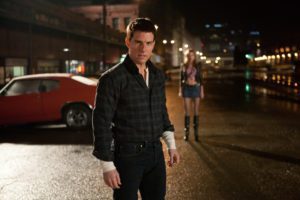 Pennsylvania has spent more than half a billion dollars over the past decade to lure film and TV productions to the state. But an investigation by PublicSource suggests that millions of dollars spent to provide film tax credits are not only being misallocated, but also wasted. Some of the findings: All but 1 percent of film tax credits are transferred to companies that have nothing to do with film or TV – essentially transforming the program into a backdoor tax break for some of the largest corporations and utilities operating in Pennsylvania.
[Pittsburgh's Strip District served as the backdrop for a raucous fight scene in "Jack Reacher," starring Tom Cruise. (Photo courtesy of Paramount Pictures via PublicSource.)]
[Reporting sponsored by the Park Foundation.]
January 11th, 2017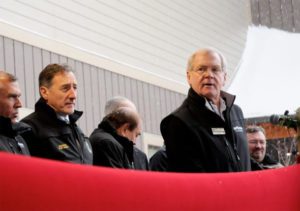 Allegations of fraud have long clouded a ski resort in northern Vermont, including allegations that developers misused $200 million in immigrant investor funds raised through wealthy immigrants seeking special U.S. visas. VTDigger began reporting on these allegations two years before the Securities and Exchange Commission brought charges against the developers last April in what VTDigger reports is now the largest EB-5 immigrant investor fraud case in the nation's history. In its investigation, VTDigger found that the division of state government charged with monitoring the EB-5 program in Vermont did not properly oversee the Jay Peak projects and that top elected officials promoted the developments to overseas investors despite allegations of fraud dating back to 2012.
[Photo caption: Jay Peak Resort CEO and president Bill Stenger, right, Gov. Peter Shumlin, center, and Miami business man Ariel Quiros, far left, at a ribbon cutting at the ski area. VTDigger photo.]
[Reporting sponsored by the Nicholas B. Ottaway Foundation.]
January 5th, 2017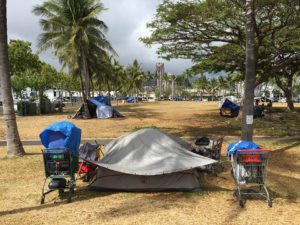 Hawaii has the nation's highest rate of homelessness, with thousands of impoverished people setting up tent cities on sidewalks and along beaches. Many of the homeless are from the Pacific region of Micronesia, whose residents are allowed to live and work freely in the United States under a 30-year-old treaty. Hawaii has been the overwhelming destination of choice, and the state is struggling to accommodate these new arrivals. Aaron Wiener of Mother Jones provides an overview of the dire situation and how it came to be. 
[Photo cutline: A homeless encampment in Kakaako Waterfront Park in Honolulu. Photo by Aaron Wiener.]
[Reporting sponsored by the Park Foundation.]
December 23rd, 2016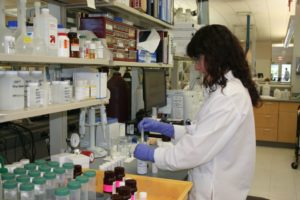 A yearlong investigation by the Iowa Center for Public Affairs Journalism reveals the prevalence of nitrates, arsenic, lead and bacteria in private wells across the state. But the 288,000 Iowans who rely on private wells for drinking water may not truly know what's in their water because their wells aren't required to be tested, according to a three-day series, "Crisis in Our Wells," reported by Lauren Shotwell. Because the water quality in those wells goes unregulated, the health risks are unknown.
[Photo by Lauren Mills Shotwell for IowaWatch: Hannah Lyons, an environmental lab analyst with the Iowa State Hygienic Lab, filtered samples on May 3, 2016, prior to an arsenic speciation test.]
[Reporting sponsored by the Gannett Foundation.]
December 20th, 2016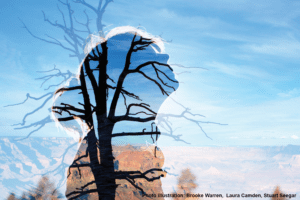 Lyndsey Gilpin interviewed more than 50 people — from park rangers and scientists, to superintendents and a former Park Service director — for her piece in High Country News looking into sexual harassment within the National Park Service. Her reporting, Gilpin said, revealed an agency that failed to protect workers from sexual misconduct, partly because of the agency's culture of machismo, retaliation and a confusing process for reporting and handling complaints.
[Reporting sponsored by the Ethics and Excellence in Journalism Foundation.]
December 12th, 2016
The Vichada region of Colombia, located in the country's eastern plains, has become coveted real estate for corporate agribusinesses and other wealthy interests. An investigation led by Oscar Parra and published in Spanish by rutasdelconflicto.com (translated to English here) documents how the country's powerful — including emerald mining barons, multinational companies, drug traffickers and paramilitary groups — are taking control of land intended for poor farmers. Sometimes land is taken through coercion and violence, sometimes through legal sales that compensate farmers well below the market value of the property.
[Reporting sponsored by donations made through the Catalogue for Philanthropy.]
December 6th, 2016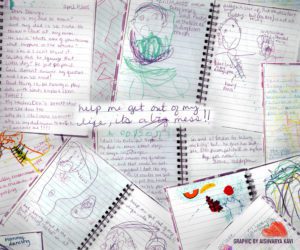 Reporter Laurie Udesky interviewed more than 30 parents and children across the United States in her two-year investigation into systemic problems in the nation's family courts that are endangering children. Her report for 100Reporters, "Custody in Crisis," exposed the peril faced by thousands of children nationwide as family courts give custody to sexually and physically abusive parents. Udesky found an alarming lack of accountability in a family court system that too often dismisses credible evidence of abuse, while relying on dubious theories to subvert the protective parents' credibility.
[Reporting sponsored by the Ethics and Excellence in Journalism Foundation.]
December 5th, 2016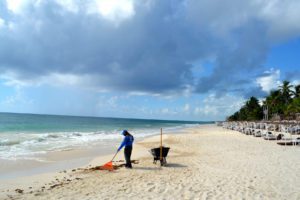 The town of Tulum, on Mexico's Caribbean coast, has become a hugely popular tourist destination for "eco-chic" travelers seeking a boutique beach experience, according to a report by Oscar Lopez for Newsweek. But paradise comes at a price: As real estate values have soared, environmentalists and residents have been forced into battle against rich businessmen and powerful politicians who are seeking to develop the land by any means necessary.
[In photo, a worker cleans a stretch of Tulum's beaches. Though Tulum looks pristine, the town's infrastructure is foundering, with raw sewage spilling into one of the largest underground river systems in the world. Photo by Oscar Lopez.]
[Reporting sponsored by donations made through the Catalogue for Philanthropy.]
December 2nd, 2016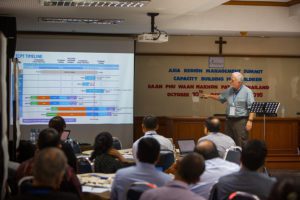 Foundations, corporations and individual Americans gave $119 billion in 2015 to religious charities. Steve Rabey, reporting for the Colorado Springs Gazette and Religion News Service, found that some of these charities aren't very forthcoming about how they spend their money. Reporting for the Gazette, Rabey delved into the financials of some of his community's largest ministries. But not all complied with his request for records — in apparent violation of transparency standards of the Evangelical Council for Financial Accountability. In his piece for RNS, Rabey took a broader look at financial transparency among the country's largest religious ministries.
[In photo, Ed Anderson, Compassion International's chief financial officer, discusses information systems with ministry workers in Thailand in October. Photo courtesy of Compassion International.]
[Reporting sponsored by the Ethics and Excellence in Journalism Foundation.]