December 12th, 2016
The Vichada region of Colombia, located in the country's eastern plains, has become coveted real estate for corporate agribusinesses and other wealthy interests. An investigation led by Oscar Parra and published in Spanish by rutasdelconflicto.com (translated to English here) documents how the country's powerful — including emerald mining barons, multinational companies, drug traffickers and paramilitary groups — are taking control of land intended for poor farmers. Sometimes land is taken through coercion and violence, sometimes through legal sales that compensate farmers well below the market value of the property.
[Reporting sponsored by donations made through the Catalogue for Philanthropy.]
December 6th, 2016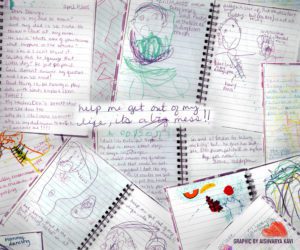 Reporter Laurie Udesky interviewed more than 30 parents and children across the United States in her two-year investigation into systemic problems in the nation's family courts that are endangering children. Her report for 100Reporters, "Custody in Crisis," exposed the peril faced by thousands of children nationwide as family courts give custody to sexually and physically abusive parents. Udesky found an alarming lack of accountability in a family court system that too often dismisses credible evidence of abuse, while relying on dubious theories to subvert the protective parents' credibility.
[Reporting sponsored by the Ethics and Excellence in Journalism Foundation.]
December 5th, 2016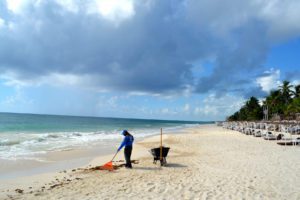 The town of Tulum, on Mexico's Caribbean coast, has become a hugely popular tourist destination for "eco-chic" travelers seeking a boutique beach experience, according to a report by Oscar Lopez for Newsweek. But paradise comes at a price: As real estate values have soared, environmentalists and residents have been forced into battle against rich businessmen and powerful politicians who are seeking to develop the land by any means necessary.
[In photo, a worker cleans a stretch of Tulum's beaches. Though Tulum looks pristine, the town's infrastructure is foundering, with raw sewage spilling into one of the largest underground river systems in the world. Photo by Oscar Lopez.]
[Reporting sponsored by donations made through the Catalogue for Philanthropy.]
December 2nd, 2016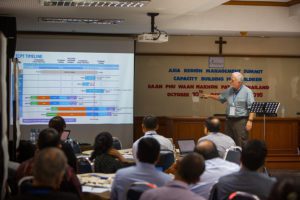 Foundations, corporations and individual Americans gave $119 billion in 2015 to religious charities. Steve Rabey, reporting for the Colorado Springs Gazette and Religion News Service, found that some of these charities aren't very forthcoming about how they spend their money. Reporting for the Gazette, Rabey delved into the financials of some of his community's largest ministries. But not all complied with his request for records — in apparent violation of transparency standards of the Evangelical Council for Financial Accountability. In his piece for RNS, Rabey took a broader look at financial transparency among the country's largest religious ministries.
[In photo, Ed Anderson, Compassion International's chief financial officer, discusses information systems with ministry workers in Thailand in October. Photo courtesy of Compassion International.]
[Reporting sponsored by the Ethics and Excellence in Journalism Foundation.]
November 5th, 2016
As the need for personal care attendants rises for the country's aging baby boomers, concern is also rising about the quality of care being dispensed by caregiver placement agencies. Jennifer Margulis, reporting for Oregon's Jefferson Public Radio, documents how some families are let down by for-profit in-home care agencies that don't adequately screen their workers – in some cases, failing to conduct thorough criminal background checks.
[In photo: Shoshanah Dubiner, 73, says she and her husband both want to stay in their home in Ashland, Oregon, as they age. They worry about the quality of care from caregivers hired through placement agencies. (Photo by Jennifer Margulis)]
[Reporting sponsored by the Park Foundation.]
October 28th, 2016
The trafficking of stolen cultural or historical artifacts is a worldwide concern, but an underreported one. David Hidalgo and the Peruvian investigative site Ojo Público launched an online catalogue of stolen artifacts that could help draw attention to the problem. Four independent teams across Latin America contributed to the cross-border endeavor, which included investigative journalists, computer programmers and data analysts. Relying on information collected from government agencies, independent organizations and Interpol, the group amassed a census of stolen art that begins to reveal the reach of a global network of smuggled items that the United Nations says generates billions of dollars in illegal profits.
[Reporting sponsored by the Reva and David Logan Foundation.]
October 18th, 2016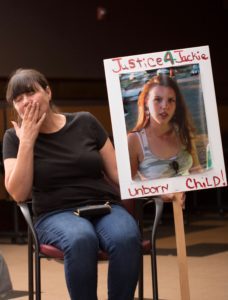 The death of Jackie Salyers, a pregnant 32-year-old Puyallup tribal member, went mostly unnoticed when police in Tacoma, Washington, shot her in the head in January. As publicity over police shootings intensifies, scant attention has been focused on Native Americans who are killed by authorities, according to Stephanie Woodard's report for "In These Times." According to data from the Centers for Disease Control and multiple other tabulations, police kill Native Americans at a rate higher than any other group. Inspired by the "Idle No More" and "Black Lives Matter" campaigns, Native Americans are working to focus attention on police-related deaths in their communities and address the root causes of the violence.
(Photo: Lisa Earl has joined the Puyallup tribe in mourning victims of police violence, including her daughter Jackie Salyers, who was pregnant at the time Tacoma police shot her. Photo by Joseph Zummo.)
[Reporting sponsored by the Reva and David Logan Foundation.]
October 4th, 2016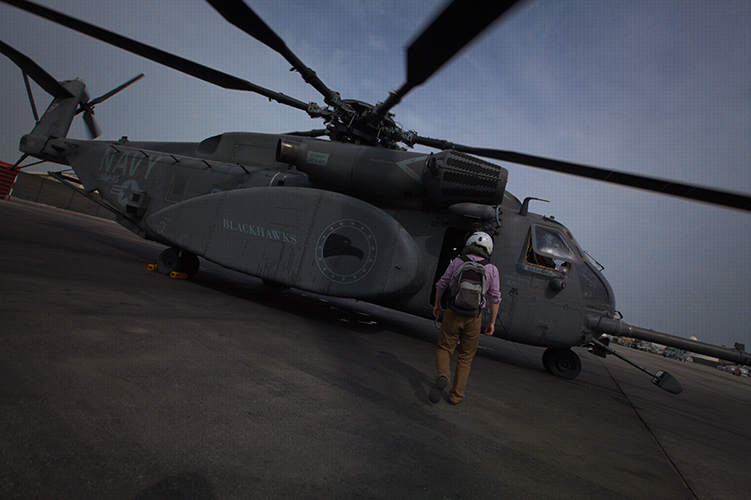 The Navy's aging fleet of minesweeping helicopters is in disrepair. In fact, less than a fourth of the 28 remaining Sea Dragons are in flying shape at any given time, according to a two-part report by Mike Hixenbaugh and Jason Paladino in The Virginian-Pilot.
In partnership with UC Berkeley's Investigative Reporting Program, the pair reported that the Navy needs to keep the Sea Dragon in service through at least 2025, and likely for years beyond that, because there is no viable replacement for the aircraft – despite the growing threat posed by mines.
More than a quarter-million ocean mines are held in the inventories of 50 navies around the world, including Iran, China and North Korea.
(In accompanying photo, Virginian-Pilot reporter Mike Hixenbaugh boards a Navy MH-53E Sea Dragon helicopter in Bahrain while on a reporting assignment for UC Berkeley's Investigative Reporting Program. Photo by Jason Paladino.)
[Reporting sponsored by the Ethics and Excellence Foundation.]
October 3rd, 2016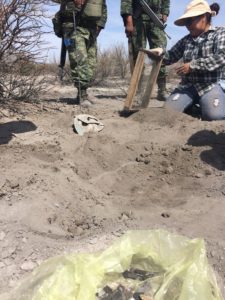 No one really knows how many people are buried in clandestine graves across Mexico in the wake of the country's drug wars. Mexican officials say 662 bodies were found in 201 graves in 16 Mexican states between August 2006 and October 2015.
But as Dawn Paley reported for The Nation, the tally could be far more staggering: During the same period, newspapers reported at least 2,439 bodies discovered in 30 of Mexico's 31 states, as well as in Mexico City. Meanwhile self-taught search teams fan out in search of loved ones, relying on hand-drawn maps, messages on WhatsApp and Facebook and tips from folks who speak of bodies being buried late into the night.
(In photo, a mother whose son disappeared sifts through sand for bone fragments as soldiers look on, outside of the city of Torreón. Photo by Dawn Paley.)
[Reporting sponsored by the the Reva and David Logan Foundation.]
September 29th, 2016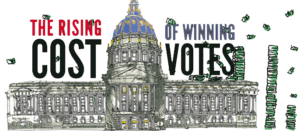 The role of money is looming larger in San Francisco politics, where nearly $28 million flowed into campaigns last year. Some campaigns had more money than others. In partnership with the TV Archive, a project of the Internet Archive, the San Francisco Public Press examined how the money was spent and analyzed the "half-truths and slanted narratives" being peddled by campaigns. Surprisingly, much of the money spent in the tech-savvy city was for old-school campaign tactics: mailers and television spots.
[Reporting sponsored by The Ethics and Excellence in Journalism Foundation.]