May 23rd, 2017
In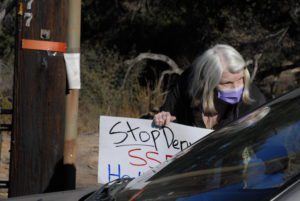 a series of reports for The California Report, Chris Richard investigated the long-stalled cleanup of the Santa Susana Field Laboratory near Los Angeles. He describes how NASA and the Department of Energy failed to fulfill their legal commitments to remove the contamination they and other federal agencies caused, including the radiation from a partial nuclear meltdown a half century ago. Richard reports that the environmental damage has yet to be fully addressed. A final segment examined similar regulatory failures by California's Department of Toxic Substances Control.
(Photo by Chris Richard/KQED: Jeanne Fjelstad hands out a leaflet warning visitors to the Santa Susana Field Laboratory of remaining chemical and nuclear contamination.)
[Reporting for this project was sponsored by the Park Foundation.]
May 15th, 2017
Over the past 15 years, the U.S. government has quietly released more than 400 people convicted on international terrorism-related charges. Some were deported to other countries following their prison terms, but a large number of convicted terrorists are living in the United States. Reporting for the Intercept, Trevor Aaronson tells this story through the case of the Liberty City Seven, a group of men caught up in an FBI counterterrorism sting in Miami in 2006. A decade later, all but one of the Liberty City Seven defendants are free, suggesting these so-called terrorists weren't particularly dangerous in the first place. Aaronson's latest piece is part of a larger body of work that examined 15 years of terrorism international prosecutions in the United States.
(In photo by Trevor Aaronson: Patrick Abraham is one of the so-called "Liberty City Seven" who were convicted of conspiracy to provide material support to a terrorist organization, among other charges. After he was released, he returned to Haiti, where he teaches English at a school in Port-au-Prince.)
[Reporting for this project was sponsored by the Ethics and Excellence in Journalism Foundation.]
May 14th, 2017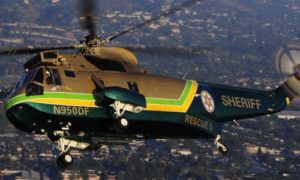 In the last four years twenty-one members of the Los Angeles County Sheriff's Department have been convicted of federal crimes, including the department's popular former sheriff Lee Baca, causing the head of the FBI's Los Angeles office, to describe the LASD as having a "toxic culture of corruption seen only in the movies." A three-part investigation by WitnessLA by Celeste Fremon into possible incidents of fraud relating to a fleet of Sea King helicopters loaned under a controversial Defense Department program suggests challenges remain in rooting out a culture of fraud.
[Reporting for this project was sponsored by the Ethics and Excellence in Journalism Foundation.]
April 17th, 2017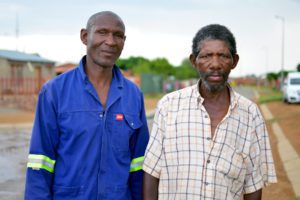 The mining industry built South Africa, but gold deposits are nearly depleted and coal markets are drying up. Documents uncovered by Mark Olalde reveal that major mining houses fail to properly close mines and instead sell their assets to smaller companies that lack funds for environmental rehabilitation.
Olalde also delved into the environmental, social and economic implications of South Africa's failed system of mine closures, as well as the questionable practices international mining companies employ to turn a profit. In communities like Amadiba, some are pushing back against projects financed by international mining ventures.
(Photo by Mark Olalde: Former South African miners and the country as a whole struggle to cope with a minerals extraction industry that is ill-prepared for mine closure and life after mining.)
[Reporting for this project was was sponsored by the Reva and David Logan Foundation.]
March 30th, 2017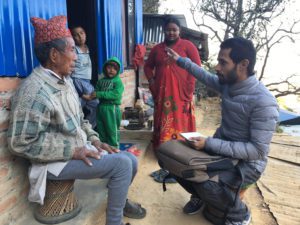 Lucinda Fleeson traveled to Nepal to probe delays in distributing housing grants to residents trying to rebuild after the disastrous 2015 earthquake. In her piece for the Philadelphia Inquirer, Fleeson writes about that only a meager 3 percent of the $936 million promised to residents has been disbursed.
NiemanReports recently featured her work with journalists in Nepal, who produced multimedia stories and interactive data graphics published on the website of the Center for Investigative Journalism-Nepal. The stories reached tens of thousands of readers and listeners. They were published in the three largest English-language newspapers and the leading English-language weekly. The BBC-Nepali radio service broadcast a series of related-stories throughout the country, where listenership counts more than 2.2 million.
Photo: Kathmandu Post reporter Roshan Sedhai talks with members of the Tamang community in the hills outside of Kathmandu. (Photo courtesy of Lucinda Fleeson.)
[Reporting for this project was sponsored by the Reva and David Logan Foundation.]
March 29th, 2017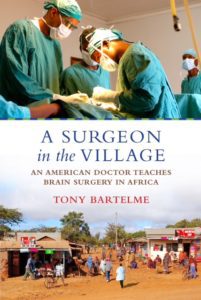 The shortage of surgeons leads to more than 17 million deaths worldwide every year. In his book, A Surgeon in the Village, recently published by Beacon Press,Tony Bartelme explores the problem by chronicling an American neurosurgeon's quest to teach brain surgery in a poor and remote area of Tanzania. The neurosurgeon, Dr. Dilan Ellegala, visited Tanzania in 2006 and was surprised to learn that the country had only three brain surgeons for its entire population of 43 million people. Bartelme's book documents the unintended consequences of the short-term medical mission model and new ways to reduce the global surgical gap.
[Reporting for this project was sponsored by the Nicholas B. Ottaway Foundation.]
March 3rd, 2017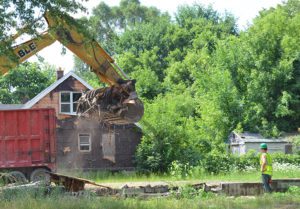 In cities like Detroit, demolishing old buildings might help rejuvenate blighted neighborhoods. But doing so has unintended consequences, according to a report by Eilís O'Neill for The Nation. The problem with destroying tens of thousands of old homes is that many are covered in lead paint, and demolition crews risk unleashing clouds of lead dust into the environment — near schools, bus stops, and neighborhoods with young families — and threatening the health of children.
PHOTO: Debris from a demolished home is loaded onto a truck. Detroit's demolition protocol requires that    dust be sprayed down, which is not occurring in this case.
[Reporting sponsored by The Park Foundation.]
March 2nd, 2017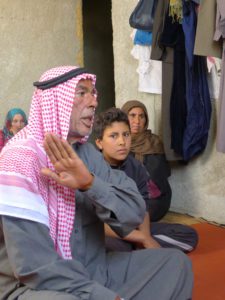 Roy Gutman set out to investigate what appeared to be an ethnically motivated mass expulsion of Arabs in northern Syria from late 2014 through mid-2015 by a Kurdish militia allied with the United States, the People's Protection Units (YPG). While Gutman could not document any systematic "ethnic cleansing," he found evidence that the militia, the Syrian branch of the Kurdistan Workers' Party (PKK), had organized widespread expulsions of Arabs, a war crime under international humanitarian law, and systematically violated the human rights of Kurds and Arabs northern Syria. The expulsions were largely political, undertaken at the behest of the Assad regime, with which the YPG is closely allied.
A six-month investigation for the Nation shows that the militia has evicted Arabs from their homes under threat of violence starting in 2013 and subsequently has blown up, torched, or bulldozed their homes and villages.
In addition, Gutman found that the Syrian militia has used whatever means necessary to recruit fighters, even at gunpoint, as it kills political opponents and suppresses the news media.
Central to Gutman's reporting is the long struggle for Kurdish independence, which has had a long and violent history across Iraq, Turkey, Syria and Iran.
PHOTO:Ibrahim Abo Omar, 61, a Syrian Arab, describes the eviction of his family from their home in Tel Abyad, Syria, last spring by the Kurdish YPG militia. "They just locked the door. Put the keys in their pocket. They said 'if you come back, we will slaughter you.'" He and his family — wife Jamila al Hussein Yusuf, 51 and son Ali, 12, are sitting just to the right of him — now live in Akcakale, a Turkish city just across the border from Tel Abyad. (Photo for The Nation by Roy Gutman)
[Reporting sponsored by the Nicholas B. Ottaway Foundation.]
February 15th, 2017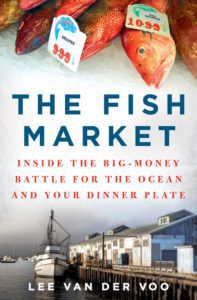 In her book, "The Fish Market," Lee van der Voo tells the story of the people, such as small boat fishermen, and the communities left behind in this era of ocean privatization – a trend that now controls more than half of America's seafood. Following seafood money from U.S. docks to Wall Street, she explains the methods investors, equity firms and the seafood industry have used to profit from the sustainable seafood movement. She also goes behind the scenes of the so-called "slow fish" movement that advocates both for quality food for consumers and a decent living for fisherman.
[Reporting sponsored by The Ethics and Excellence in Journalism Foundation and The Park Foundation.]
February 15th, 2017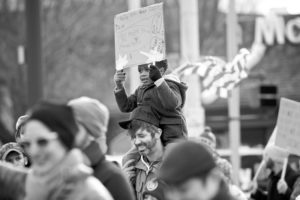 For its Unequal Justice project, InvestigateWest collaborated with the Pamplin Media Group, Portland State University's Mark G. Harmon and independent journalist Kate Willson in analyzing a decade's worth of court records by race. The team sifted through 5.5 million court records and reported out the unique experiences of African Americans in the Portland urban area and that of Latinos in the state's rural expanses. The reporting discovered that blacks and Latinos were charged more frequently for such violations as jaywalking, spitting in public, traffic infractions and drug-related offenses.
[Photo: March for Justice and Equality on Jan 28, 2017. Photo by Jaime Valdez.]
[Reporting sponsored by the Ethics and Excellence in Journalism Foundation.]