December 15th, 2017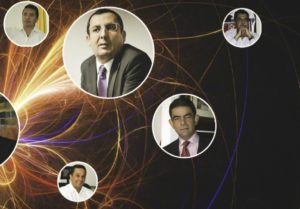 A team of 18 reporters from 11 national and local publications across Colombia launched an ambitious investigation into the work of 20 local comptroller's offices (hipervínculo en español) and the apparent conflicts of interests in the auditing of government agencies and the public treasury. The investigation, led by Colombian NGO Consejo de Redacción and published by El Espectador, found that comptrollers' offices sometimes employed people who are being investigated or who have close ties to governors, mayors and other officials who are supposed to be under scrutiny. What's more, comptroller's have signed off on contracts worth hundreds of thousands of U.S. dollars that involve relatives or close associates. The investigation reveals a system that has few checks and balances to prevent abuse.
[Funding for this story was provided by the Reva and David Logan Foundation.]
December 15th, 2017
A seven-month investigation by the Kentucky Center for Investigative Reporting revealed what it called "a Kentucky preacher-turned-politician's web of lies." The package, written by by R.G. Dunlop and Jacob Ryan, exposed what the center said was a series of deceptions over decades by state Rep. Dan Johnson, a self-anointed "pope, bishop and minister to outcasts."
The FIJ-sponsored investigation partly focused on the allegations of a 21-year-old woman who said she was molested by Johnson in his church basement when she was 17. It was part of a broader examination of the institutional failures that allowed Johnson to ascend into positions of power, including election to the statehouse.
Two days after "The Pope's Long Con" was published on Dec. 11, 2017, Johnson killed himself, the Bullitt County coroner told the Associated Press.
During his rise, Johnson claimed to have served as the White House chaplain to three presidents and as a United Nations ambassador. He said he performed last rites for all of the victims pulled from the fallen towers of the World Trade Center during the Sept. 11, 2001, terrorist attacks.
In its reporting, the center conducted more than 100 interviews and inspected thousands of pages of public documents, including police reports and court files.
KyCIR, a project of Louisville Public Media,  said Johnson declined to be interviewed despite numerous requests.
Louisville Public Media President Michael Stoler said he was saddened by Johnson's apparent suicide and offered condolences to his family, and stood resolute in his newsroom's mission "to provide the public with fact-based, unbiased reporting and hold public officials accountable for their actions."
(In photo by Jacob Ryan, Kentucky state Rep. Dan Johnson at a 9/11 memorial event in Bullitt County on Sept. 10, 2017.)
December 14th, 2017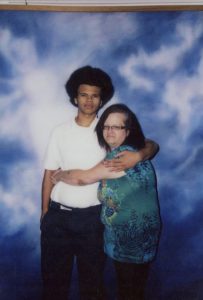 In a story for The New Yorker, FIJ/Schuster diversity fellow Lisa Armstrong reports on the movement to end solitary confinement for juveniles. Her piece, "A Teen-Ager in Solitary Confinement," chronicles the plight of Jermaine Gotham, who was sixteen the first time he was locked in "the box" in an upstate New York county jail. In 2016, President Obama banned solitary confinement for children in federal prisons. Several states, including California and Massachusetts, have either ended the practice or set limits for state prisons. But in other states, juvenile solitary confinement continues. Even where reforms are underway, local jails typically determine their own rules.
Photo of Jermaine Gotham courtesy of his mother, Angelena Morris, who is pictured with him.
[Funding for this story and the FIJ/Schuster Institute diversity program was provided by the Ford Foundation.]
December 6th, 2017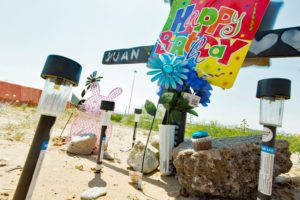 Southern New Mexico's fragile behavioral health system has taken many hits in recent years and doesn't meet the region's needs, according to a series of reports by NMPolitics.net in collaboration with the Las Cruces Sun-News and KRWG News. Law enforcement is increasingly tasked with handling crises they can't fix, data shows. Policymakers have taken some steps to help, but progress has been slow. The news collaboration set out to investigate the problem, tell the stories of people the system impacts, and explore possible solutions — including implementing new law enforcement programs, creating a mental health court and expanding the state psychiatric hospital to the region.
In photo by Robin Zielinski for NMPolitics.net, balloons and a cupcake festoon a cross on the Lohman Avenue bridge, where Juan Gabriel Torres was shot to death by police.
[Funding for this project was provided by the Ethics and Excellence in Journalism Foundation.]
November 28th, 2017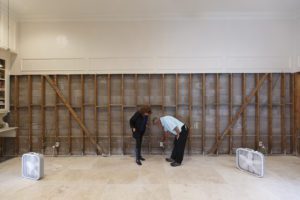 Even after Hurricane Harvey, the best efforts by Harris County officials to purchase the most flood-prone homes won't make a dent in the larger problem, according to the Texas Tribune in a collaboration with Reveal and ProPublica. Despite the obvious need and high demand, Harris County, home to Houston, is plagued by challenges endemic to buyout programs. Limited funds, competing priorities, strict criteria place buyouts out of reach of willing participants. The snail's pace of bureaucracy, which puts homeowners in limbo while creating opportunities for private developers to buy and flip flooded homes, also perpetuates the problem.
In photo by Michael Stravato for the Texas Tribune: Maurine Howard and husband Dave Davis are concerned with load bearing walls that may need to be replaced. Their home was flooded for weeks after water was released from Barker reservoir.
[Funding for this project was provided by the Park Foundation.]
November 27th, 2017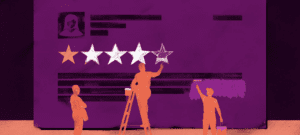 As more people seek information about opioid addiction and its consequences, finding unbiased information is extremely difficult, according to a new report by Cat Ferguson for The Verge. In fact, some popular publications that distribute information about addiction and treatment are doubling as marketing arms for treatment centers. Ferguson, who is pursing a broader investigation into how rehab marketers manipulate addicts, reports that the connections between rehab operations and the sites are relatively well-known within the industry but less known by people going to the sites for impartial information. Prompted by Ferguson's reporting, at least one site added disclaimers about its relationship with a treatment center.
[Funding for this project was provided by the Ethics and Excellence in Journalism Foundation.]
November 25th, 2017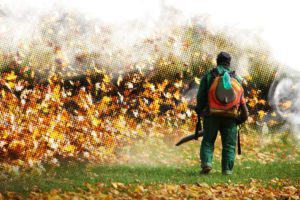 Leaf blowers and other gas-powered lawn and garden machines emit surprisingly large amounts of smog-forming chemicals. But scant research exists on the potential risks to the mostly low-paid immigrant workers who use the equipment for many hours each week.
FairWarning commissioned tests that found that levels of hazardous ultra-fine particles were as much as 50 times higher around the machines as at a busy intersection at rush hour. FairWarning's piece was carried by some 30 outlets, many of them members of the McClatchy newspaper chain. KCET-TV, the Los Angeles public television station, aired a 9-minute piece on the matter.
Meanwhile, the California Air Resources Board continues to tighten rules on leaf blowers and other landscaping equipment to further limit emissions.
[Funding for this project was provided by the Park Foundation.]
October 13th, 2017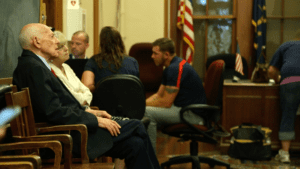 Steve Burger of WNIN public radio of Indiana delved into the background of a psychologist often hired as an expert court witness after the psychologist was convicted of felony charges for falsifying an evaluation in one case.  The psychologist, Albert Fink, had performed dozens of competency evaluations over the last 10 years, and those evaluations were now under question after authorities said he confessed to falsifying a report related to a trial at which he was supposed to offer testimony. WNIN's reporting revealed a system easily abused because it lacks adequate oversight. Courts rely on psychologists to assess the mental fitness of defendants, but serious questions now swirl around how courts determine mental competency in Indiana and what system of oversight is in place to ensure defendants get a valid examination.
As part of its ongoing investigation, WNIN uncovered a list of 29 cases in which it is suspected the doctor may have falsified the evaluations. WhenWNIN contacted the chief public defender of the Indiana Supreme Court, officials took the unusual step of actually reaching out to the defendants in those other cases to advise them of their options.
(In photo by AJ Casey for WNIN, Psychologist Albert Fink at a court hearing in GIbson County, Indiana. The doctor was charged with obstruction of justice after admitting he had faked court-ordered mental health examinations.)
[Funding for this project was provided by the Ethics and Excellence in Journalism Foundation.]
October 12th, 2017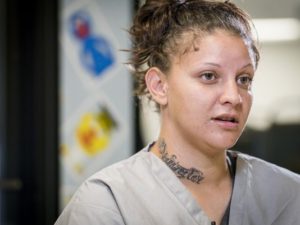 In her latest package focusing on recidivism in America for USA Today, FIJ/Schuster Institute diversity fellow Lottie Joiner examines how women are faring in a criminal justice system designed with men in mind. Many of the programs that help inmates re-enter society aren't appropriate for women, Joiner reports. Once an inmate is in the system, it's hard for her to stay out; in fact, about 70% of female inmates return to the system within five years. Joiner most recent multimedia package focuses on the struggle by one woman to keep herself out of prison for good.
Two previous installments began Joiner's deep dive into re-entry programs, as part of USA Today's ambitious "Policing the USA" project.
Chapter 1 described the recidivism problem in America.
Chapter 2 focused on how one woman was seeking to change the system after being caught in the revolving door of the criminal justice system.
Chapter 3 looks into the experiences of another woman, who has been in and out of custody since she was 12.
(In photo by Jarrad Henderson for USA Today, Candace Harp-Harlow talks about the struggles to put herself back on the right path.)
[Reporting for this project was provided by the Ford Foundation.]
September 27th, 2017
Jeff Kelly Lowenstein has been leading reporters from across the globe in an investigation of the worldwide lottery industry.
In the United States, he assembled a team from the Columbia Journalism School and PennLive as part of an ambitious reporting project to better understand how lotteries are gamed by some of their frequent players. The team submitted public records requests to every state with a lottery, sending more than 100 public record requests to obtain information about their winners, game odds and investigative reports.
Kelly Lowenstein also partnered with about 40 people, including journalists, from 10 countries, who worked in the United States, Europe and Africa. They discovered a massive industry, nearly $300 billion strong in 2014 – an amount greater than the gross domestic product of 157 countries. Eight companies play an outsized role in lotteries around the world, operating in as many as 100 countries. Some of these companies have avoided hundreds of millions of dollars in taxes and have sought to curry favor by hosting lavish parties.
[Reporting for this project was provided by the Green Park Foundation.]