March 29th, 2017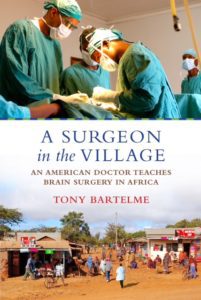 The shortage of surgeons leads to more than 17 million deaths worldwide every year. In his book, A Surgeon in the Village, recently published by Beacon Press,Tony Bartelme explores the problem by chronicling an American neurosurgeon's quest to teach brain surgery in a poor and remote area of Tanzania. The neurosurgeon, Dr. Dilan Ellegala, visited Tanzania in 2006 and was surprised to learn that the country had only three brain surgeons for its entire population of 43 million people. Bartelme's book documents the unintended consequences of the short-term medical mission model and new ways to reduce the global surgical gap.
[Reporting for this project was sponsored by the Nicholas B. Ottaway Foundation.]
March 3rd, 2017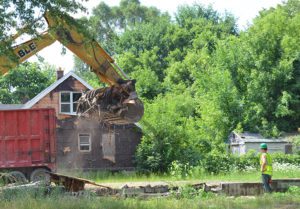 In cities like Detroit, demolishing old buildings might help rejuvenate blighted neighborhoods. But doing so has unintended consequences, according to a report by Eilís O'Neill for The Nation. The problem with destroying tens of thousands of old homes is that many are covered in lead paint, and demolition crews risk unleashing clouds of lead dust into the environment — near schools, bus stops, and neighborhoods with young families — and threatening the health of children.
PHOTO: Debris from a demolished home is loaded onto a truck. Detroit's demolition protocol requires that    dust be sprayed down, which is not occurring in this case.
[Reporting sponsored by The Park Foundation.]
March 2nd, 2017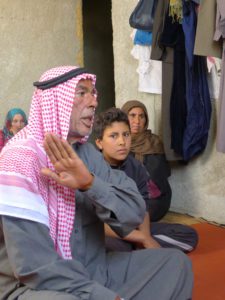 Roy Gutman set out to investigate what appeared to be an ethnically motivated mass expulsion of Arabs in northern Syria from late 2014 through mid-2015 by a Kurdish militia allied with the United States, the People's Protection Units (YPG). While Gutman could not document any systematic "ethnic cleansing," he found evidence that the militia, the Syrian branch of the Kurdistan Workers' Party (PKK), had organized widespread expulsions of Arabs, a war crime under international humanitarian law, and systematically violated the human rights of Kurds and Arabs northern Syria. The expulsions were largely political, undertaken at the behest of the Assad regime, with which the YPG is closely allied.
A six-month investigation for the Nation shows that the militia has evicted Arabs from their homes under threat of violence starting in 2013 and subsequently has blown up, torched, or bulldozed their homes and villages.
In addition, Gutman found that the Syrian militia has used whatever means necessary to recruit fighters, even at gunpoint, as it kills political opponents and suppresses the news media.
Central to Gutman's reporting is the long struggle for Kurdish independence, which has had a long and violent history across Iraq, Turkey, Syria and Iran.
PHOTO:Ibrahim Abo Omar, 61, a Syrian Arab, describes the eviction of his family from their home in Tel Abyad, Syria, last spring by the Kurdish YPG militia. "They just locked the door. Put the keys in their pocket. They said 'if you come back, we will slaughter you.'" He and his family — wife Jamila al Hussein Yusuf, 51 and son Ali, 12, are sitting just to the right of him — now live in Akcakale, a Turkish city just across the border from Tel Abyad. (Photo for The Nation by Roy Gutman)
[Reporting sponsored by the Nicholas B. Ottaway Foundation.]
February 15th, 2017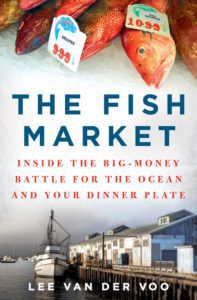 In her book, "The Fish Market," Lee van der Voo tells the story of the people, such as small boat fishermen, and the communities left behind in this era of ocean privatization – a trend that now controls more than half of America's seafood. Following seafood money from U.S. docks to Wall Street, she explains the methods investors, equity firms and the seafood industry have used to profit from the sustainable seafood movement. She also goes behind the scenes of the so-called "slow fish" movement that advocates both for quality food for consumers and a decent living for fisherman.
[Reporting sponsored by The Ethics and Excellence in Journalism Foundation and The Park Foundation.]
February 15th, 2017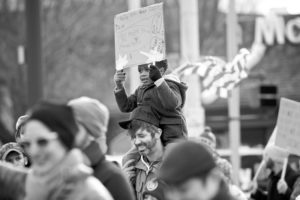 For its Unequal Justice project, InvestigateWest collaborated with the Pamplin Media Group, Portland State University's Mark G. Harmon and independent journalist Kate Willson in analyzing a decade's worth of court records by race. The team sifted through 5.5 million court records and reported out the unique experiences of African Americans in the Portland urban area and that of Latinos in the state's rural expanses. The reporting discovered that blacks and Latinos were charged more frequently for such violations as jaywalking, spitting in public, traffic infractions and drug-related offenses.
[Photo: March for Justice and Equality on Jan 28, 2017. Photo by Jaime Valdez.]
[Reporting sponsored by the Ethics and Excellence in Journalism Foundation.]
February 7th, 2017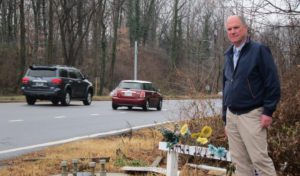 State and local secrecy is on the rise but gets far less attention than similar issues at the federal level. The public's ability to gain access to public information is often hampered by state and local governments themselves. In a five-part series for Reveal, the Center for Investigative Reporting, also published by Gannett newspapers and USA TODAY, Miranda Spivack showed the damaging effects of state and local secrecy. Many states, relying on an obscure federal law, withhold documents, data and reports on dangerous roads, bridges and intersections. In a related piece, she illustrated the harmful effect when private contractors gain control of public records such as court documents and crime data, limiting access and reselling information, sometimes at exorbitant prices.
[In photo: Richard Boltuck, an economist who lives in Bethesda, Maryland, stands near his home at a makeshift memorial for three family members who were killed in 2016 at the accident-prone intersection. Boltuck has been lobbying the state for information about the intersection's dangers for eight years. Photo by Stephen R. Herm for Reveal.]
[Reporting sponsored by the Ethics and Excellence in Journalism Foundation.]
January 13th, 2017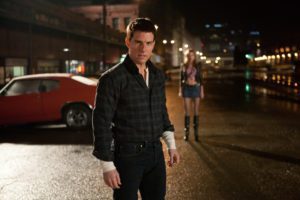 Pennsylvania has spent more than half a billion dollars over the past decade to lure film and TV productions to the state. But an investigation by PublicSource suggests that millions of dollars spent to provide film tax credits are not only being misallocated, but also wasted. Some of the findings: All but 1 percent of film tax credits are transferred to companies that have nothing to do with film or TV – essentially transforming the program into a backdoor tax break for some of the largest corporations and utilities operating in Pennsylvania.
[Pittsburgh's Strip District served as the backdrop for a raucous fight scene in "Jack Reacher," starring Tom Cruise. (Photo courtesy of Paramount Pictures via PublicSource.)]
[Reporting sponsored by the Park Foundation.]
January 11th, 2017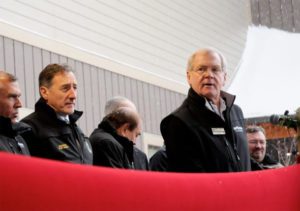 Allegations of fraud have long clouded a ski resort in northern Vermont, including allegations that developers misused $200 million in immigrant investor funds raised through wealthy immigrants seeking special U.S. visas. VTDigger began reporting on these allegations two years before the Securities and Exchange Commission brought charges against the developers last April in what VTDigger reports is now the largest EB-5 immigrant investor fraud case in the nation's history. In its investigation, VTDigger found that the division of state government charged with monitoring the EB-5 program in Vermont did not properly oversee the Jay Peak projects and that top elected officials promoted the developments to overseas investors despite allegations of fraud dating back to 2012.
[Photo caption: Jay Peak Resort CEO and president Bill Stenger, right, Gov. Peter Shumlin, center, and Miami business man Ariel Quiros, far left, at a ribbon cutting at the ski area. VTDigger photo.]
[Reporting sponsored by the Nicholas B. Ottaway Foundation.]
January 5th, 2017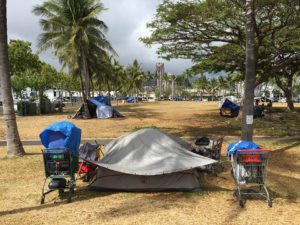 Hawaii has the nation's highest rate of homelessness, with thousands of impoverished people setting up tent cities on sidewalks and along beaches. Many of the homeless are from the Pacific region of Micronesia, whose residents are allowed to live and work freely in the United States under a 30-year-old treaty. Hawaii has been the overwhelming destination of choice, and the state is struggling to accommodate these new arrivals. Aaron Wiener of Mother Jones provides an overview of the dire situation and how it came to be. 
[Photo cutline: A homeless encampment in Kakaako Waterfront Park in Honolulu. Photo by Aaron Wiener.]
[Reporting sponsored by the Park Foundation.]
December 23rd, 2016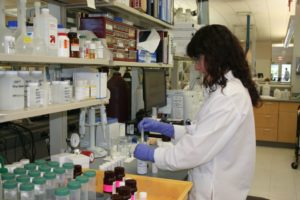 A yearlong investigation by the Iowa Center for Public Affairs Journalism reveals the prevalence of nitrates, arsenic, lead and bacteria in private wells across the state. But the 288,000 Iowans who rely on private wells for drinking water may not truly know what's in their water because their wells aren't required to be tested, according to a three-day series, "Crisis in Our Wells," reported by Lauren Shotwell. Because the water quality in those wells goes unregulated, the health risks are unknown.
[Photo by Lauren Mills Shotwell for IowaWatch: Hannah Lyons, an environmental lab analyst with the Iowa State Hygienic Lab, filtered samples on May 3, 2016, prior to an arsenic speciation test.]
[Reporting sponsored by the Gannett Foundation.]