Investigation raises questions about police tactics in D.C. gun cases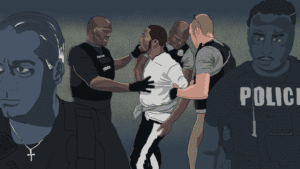 A months-long investigation by WAMU reporter Patrick Madden and a team of graduate students from the Investigative Reporting Workshop at American University found evidence that many gun possession cases – nearly 4 in 10 – were dismissed in court, raising questions about police tactics in gun searches.
The investigation "Collateral Damage" focused on the impact of the Washington police department's aggressive focus on confiscating illegal guns. The series – produced for radio, video and web – explored how tactics used by police to search for guns are also angering and alienating residents, especially in the city's predominantly black neighborhoods where police focus these efforts.
Illustration by Ruth Tam / WAMU
[FIJ thanks The Nicholas B. Ottaway Foundation for providing the funding for this project.]