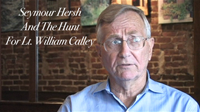 Click here to hear veteran investigative reporter Seymour Hersh tell how – with financial support from the Fund for Investigative Journalism – he learned about the massacre of civilians in Vietnam, how he tracked down Lt. William Calley and, in so doing, changed the world's perception of American intervention in Southeast Asia. It demonstrates how small grants from our fund have enabled talented journalists to produce big, important stories, changing the course of history.
February 9th, 2015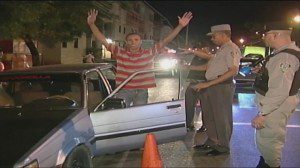 From Ezra Fieser for 18 Degrees North: A report on suspects who are shot and killed by police in the Dominican Republic. Human rights researchers say 15 percent of all homicides there are committed by law enforcement officers.
Watch the report here.
[Reporting sponsored by The Reva and David Logan Foundation.]
February 9th, 2015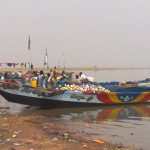 From Adu Koranteng for New Crusading Guide Newspaper and Modern Ghana News: It's banned, but practiced by fishermen in Ghana who are desperate to make a living. They kill fish with poisons such as DDT; the fish are later sold in markets. One local man told Koranteng: "We have seen them do it in the night but you cannot go close to them since some of them wield machetes… they will try to sink your canoe or kill you." Read more.
[Reporting sponsored by The Green Park Foundation and The Reva and David Logan Foundation.]
Photo credit: Adu Koranteng
February 6th, 2015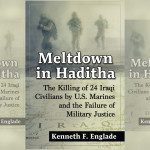 From Kenneth Englade, the account of the failure of military to exact justice in the deaths of 24 Iraqi civilians – including six children – at the hands of a U. S. Marine squad. Read more.
[Reporting sponsored by The Park Foundation.]
February 6th, 2015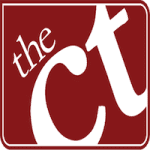 From Ana Radelet for The Connecticut Mirror: For eight years – until the law changed under Obamacare – state regulators in Connecticut never rejected Aetna's requests to raise health insurance rates.
[Reporting sponsored by The Ethics and Excellence in Journalism Foundation.]
February 3rd, 2015

From Rone Tempest, a follow-up to his investigation of a failed Wyoming energy project and the waste of taxpayers' money invested in it. Now Tempest has learned the federal government has demanded a refund of $5.7 million. The energy project was suspended "due to apparent serious mismanagement or misuse of funds." Read the full story at www.wyofile.com.
January 29th, 2015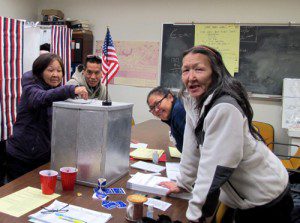 For the Indian Country Today Media Network, Stephanie Woodard monitored enforcement of voting rights reforms for historically disenfranchised Alaska Natives. Alaska Natives had won a language assistance lawsuit and had organized early voting – better suited for subsistence hunters and fishermen who cannot plan trips to distant voting locations on Election Day. The result: turnout soared.
But at the Pine Ridge Indian Reservation in South Dakota, she discovered evidence of voter suppression. The Justice Department intervened, and Native voter turnout surged.
Read the five-part series from Alaska: (A Seat at the Table), (Celebrates), (Election Morning), (The Alaska Native Way), and (One Voter at a Time), her photo-essay on Huffington Post, and the two-part series from South Dakota, (The Sheriff), and (A Bumpy Road).
 [Reporting sponsored by The Ethics and Excellence in Journalism Foundation.]
Photo credit: Stephanie Woodard
December 27th, 2014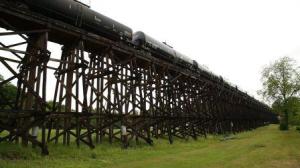 From Marcus Stern and Sebastian Jones, the story of tankers filled with volatile crude oil extracted through fracking operations in North Dakota, traveling by rail through Canada and the U. S. Five shipments of crude have exploded during the past two years. The railroad cars are old and defective, wooden rail structures are crumbling, and 47 residents of a Canadian town are dead. Stern and Jones report that U. S. regulators are working on the problem, but without a deadline or sense of urgency. The investigation was conducted in collaboration with InsideClimate News, The Weather Channel, and the Nation Institute's Investigative Fund.
View the Weather Channel video. Read more.
[Reporting sponsored by The Park Foundation.]
Photo credit: Jason Rudge / The Weather Channel
December 19th, 2014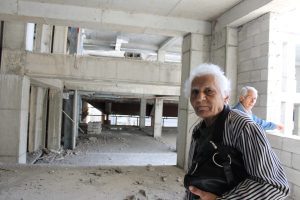 Roza Hovhannisyan reports from Armenia for Iragir.am on the frustrations of people evicted from the old town center of Yerevan, waiting more than ten years for decent housing.
An excerpt:
The European Court of Human Rights will resume the examination of applications of three families evicted from 25 Buzand Street at the center of Yerevan. These families were deprived of their property in the result of demolition of old center of Yerevan. The houses of this territory were demolished in 2004, and most affected families are still homeless. In 2011 the ECtHR passed a decision on the cases Baghdasaryan-Zarikyantses v Armenia, Gharibyan v Armenia and the Ghasabyans v Armenia but the government of Armenia has not implemented the decision yet.
[Reporting sponsored by The Reva and David Logan Foundation.]
Photo credit: Roza Hovhannisyan
December 15th, 2014
Dear friends and colleagues,
Greetings from the Fund for Investigative Journalism.
We sincerely hope you find yourself surrounded by family and good friends during this holiday season – and that you have the time to enjoy it all.
Amid the hustle and bustle this time of year, we hope our friends in and outside the world of journalism can take a few seconds to reflect on how dedicated reporters were able to overcome our industry's growing challenges and delivered stellar investigative work in 2014.
It is indeed tougher these days to dedicate sufficient time and resource to investigative journalism. Readers say they want it; publishers say they're committed to it. Yet the amount of money earmarked by the commercial news trade for investigative reporting continues to shrink. More investigative journalists face the prospect of letting stories go for a lack of resources. More journalists are digging into their own shallow pockets – even borrowing money – to bring projects to print or air.
The refreshing news is that 2014 was a very good year for investigative journalism – deep, aggressively researched stories yielded change around the world.
At the end of my first year as president of the Fund for Investigative Journalism, I can say with pride that 12 of the best minds in the business came together in 2014 and distributed $216,000 to 49 journalists around the globe.
You can see what FIJ grants yielded this year at our website, www.fij.org
Here is one example of the impact journalism we supported:
Columbia Journalism Review online features Isaiah Thompson, an FIJ grantee who in 2012 and 2013 broke stories about millions of dollars in civil asset forfeitures in Philadelphia, through Philadelphia City Paper and then Pro Publica.(http://www.cjr.org/united_states_project/isaiah_thompson_civil_forfeitu.php)
Thompson parlayed a $4,000 grant from FIJ into a project that exposed a major wrong. A lawsuit has been filed against the practice in Philadelphia. It's a challenge I am sure law enforcement and prosecutors around the country will follow closely.
This is what FIJ does: Our grants, which in 2014 averaged around $4,400, are designed to help independent investigative journalists cover expenses and take the extra steps necessary to complete a project.
FIJ continues to grow, and with careful planning and new outreach programs, we expect 2015 to be our biggest, busiest year. We have gotten to this level with tremendous support of foundations and families who share our goal of sustaining independent journalists who hold truth to power.
But our real strength is the mutual support of like-minded journalists. Take our board, for example. Not only did these outstanding journalists volunteer time and intellect, they all contributed their own, individual donations to FIJ in 2014.
A check, or an online contribution of just a few dollars, makes all the difference.
Look at what we did in 2014. Imagine what we will do in 2015 with your valuable support.
Here are a couple of painless ways to contribute, to accelerate the investigative work FIJ will continue to support in 2015 and well into the future:
ONLINE: http://fij.org/donate/
Old-school mail:  Fund for Investigative Journalism, 529 14th Street, NW – 13th Floor, Washington, DC  20045
Saludos!  And happy holidays.
Sincerely,
Ricardo Sandoval-Palos – President, Fund for Investigative Journalism board of directors
December 11th, 2014
(Washington) – The Fund for Investigative Journalism is pleased to announce The Morton K. and Jane Blaustein Foundation has awarded a two-year $60,000 grant to support the Fund's grant-making program.
The general operating grant underwrites the Fund's program for independent reporters who have the ideas, sources, and know-how to produce groundbreaking investigative journalism, but need help paying the expenses of reporting.
The support will also help the Fund conduct a mentoring program in partnership with Investigative Reporters and Editors (IRE) and the Society of Environmental Journalists (SEJ), which recruit veteran journalists to mentor grantees over the duration of their projects.
The Fund for Investigative Journalism has supported hundreds of investigative reporting projects since 1969, when it paid Seymour Hersh's travel expenses to help him check out a tip that civilians had been massacred by American soldiers in My Lai, Vietnam.
The Morton K. and Jane Blaustein Foundation, based in Baltimore, supports nonprofits active in the fields of education, health care, human rights, and social justice.
In addition to support from The Morton K. and Jane Blaustein Foundation, the Fund for Investigative Journalism receives foundation support from The Ethics and Excellence in Journalism Foundation, The Reva and David Logan Foundation, The Park Foundation, The Nicholas B. Ottaway Foundation, The Gannett Foundation, The Green Park Foundation, The Nara Fund, and from individual donors, many of them referred by the Catalogue for Philanthropy: Greater Washington.
Pro bono legal services are provided by Dykema Gossett PLLC, a national commercial law firm with a broad portfolio of community service and pro bono clients.
Pro bono business advisory services are provided by Leigh Riddick, Associate Professor of Finance at The American University's Kogod School of Business.
Donations for the Fund's grant-making program can be made online, www.fij.org, or by mail to the Fund for Investigative Journalism, 529 14th Street NW – 13th floor, Washington DC 20045.
The Fund is currently accepting grant applications for foreign and domestic investigations. The next deadline is January 15, 2015 – 5pm EST.