Prestigious Journalism Awards Honor "No-Jail Jailers" Series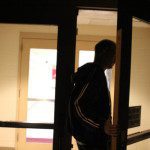 The "No-Jail Jailers" investigation from the Kentucky Center for Investigative Reporting has been honored with two top news industry awards: a national Investigative Reporters and Editors (IRE) award for radio investigative journalism, and a regional Edward R. Murrow Award from the Radio Television Digital News Association.
The investigation exposed a system in Kentucky that wasted $2 million a year, paying 41 elected jailers and deputies in counties that have no jails. The investigation was supported by a grant from the Fund for Investigative Journalism, with funding from The Ethics and Excellence in Journalism Foundation.
IRE judges commented: "The project stood out for the thorough data-driven reporting and the way its engaging interviews made for good radio."
Photo credit: Jacob Ryan