Surprising Findings About Babies Born in Prison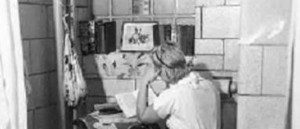 From Audrey Quinn, for Life of the Law, the story of mothers who give birth in prison.
An excerpt: A Department of Corrections study found having a baby in a prison nursery makes a woman twice as likely to stay out of prison later. Byrne [Mary Byrne, a professor at Columbia University School of Nursing] decided to conduct her own research, following sixty of the babies from the Bedford prison nursery until the age of eight. She compared their development to kids in the general population. "The children overall did very well," Byrne concludes… Byrne found that 70 percent of the babies she studied managed to form secure attachment with their moms – more than in the outside world. Despite these findings, prison nurseries are extremely rare.