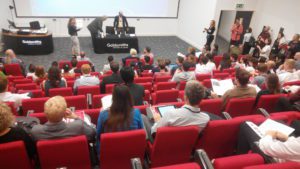 By Roza Hovhannisyan
With the assistance of the Fund for Investigative Journalism, I attended the Summer Conference of the Centre for Investigative Journalism in London on July 14-16, 2016. It was an excellent opportunity to improve my professional skills. The three-day conference included training sessions on various topics, and over 150 journalists from different countries of the world could choose panels that were most useful to them.
What new things did I learn from this course?
The focus of the CIJ Summer Conference was very much on data, with a wide range of sessions, from hands-on workshops to case studies.
The most effective topics for me were the following:
How to get the most out of the data tracks for maximum impact;
The power of data analysis for stories;
Finding patterns in the data;
Method Through the Madness; and
Creative techniques.
The session delivered by Bastian Obermayer and Frederik Obermaier, the two German journalists who played a large role in the reporting on the Panama Papers, was especially useful and provided me with lots of new journalistic insights.
How should an investigative journalist collect the documents and data needed for his or her article? What principles should he or she follow to write an objective and interesting article? I received answers to these questions during the three-day conference.
I would like to add that during this visit I discovered London because it was my first visit there. Visiting other countries is important for a journalist to expand their knowledge. I was able to do that thanks to the financial assistance of FIJ for which I am grateful.
[Editors note: Hovhannisyan is a journalist for Lragir.am in Yerevan, Armenia.]