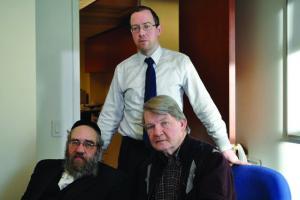 From Hella Winston for The Jewish Week, the Brooklyn DA's office says it needs more time to prepare its prosecution of an Orthodox Jewish whistleblower who reported sexual abuse.
An excerpt: "With the Brooklyn district attorney's case against chasidic sex abuse whistleblower Sam Kellner seemingly falling apart amid mounting evidence that Kellner's main accuser may have been manipulated and paid to lodge false charges against him, sexual abuse survivors and advocates are taking to the streets to protest the DA's conduct in the case." Read more.
Photo credit: Sam Kellner and lawyers, by Hella Winston.