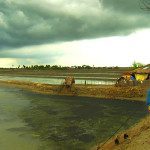 From Badruddoza Babu for Maasranga Television, an investigation of the use of climate funds in Bangladesh. Most of the money went to the least climate-affected areas, neglecting the most vulnerable coastal south. View the report here:
[Reporting sponsored by The Green Park Foundation.]
Photo credit: Mehedi Hasan
This story explores the south west coast of the country, the region most affected by climate. It suffers cyclones more than any other part. The report shows most climate funds are being spent in areas like Dhaka and Chittagong, two rich and least climate-affected cities in the country, leaving the most vulnerable coastal south and south west areas neglected. It also finds that the small share of the funds spent on the south west coast could not bring any real change. The responsible government ministry says it only manages the fund, and that the job of implementation lies with other departments.