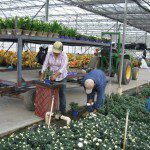 Viji Sundaram for New America Media: The use of the pesticide endosulfan, dubbed "DDT's cousin," has diminished around the world. In 2010, the U.S. Environmental Protection Agency began a six-year phase out of the chemical.  But in the United States, it is still legal to use the chemical at farms growing strawberries, pineapples, broccoli and other crops. Meanwhile, some agricultural workers are getting sick.
[Reporting sponsored by The Ethics and Excellence in Journalism Foundation.]
Photo credit: Farmworker Association of Florida.