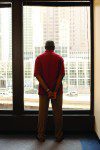 The Chicago Reporter's investigation of the State of Illinois' contracts with minority and disabled business owners has found limited impact, missed goals. Photo by: Jason Reblando.
"Empty Jackpot": Illinois celebrates its program to steer state contracts to businesses owned by minorities, women and people with a disability. But a closer look shows the state may not be fulfilling its goals.
"Less Shelter": The vast majority of state money marked for going to disabled business owners isn't going to people with disabilities. Instead, 98 percent of that money goes to "sheltered workshops"—a group operation usually run by a nonprofit where disabled people can work in a supervised setting.