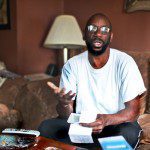 Isaiah Thompson, reporting for the Philadelphia City Paper, exposes how law enforcement authorities seize money from innocent people.
Here is an excerpt: "By way of a process known as "civil asset forfeiture," carried out in Philly by the Philadelphia District Attorney's Office, the DA may sue to take ownership of confiscated property and, if successful, keep it.
The law's intent is straightforward enough: to target drug criminals (and, to a lesser extent, other types of criminals) by going after the proceeds and mechanisms of their crimes, and to use those ill-gotten gains for the benefit of the public.
The implementation, though, is more complicated. In Philadelphia, the law has laid the framework for a civil asset forfeiture program that brings in upwards of $6 million a year from cases against thousands of Philadelphians, with little oversight of how cases are pursued or how profits are distributed. And, as [Dwayne] Marks learned all too well, that process has little regard for a property owner's guilt or innocence."
In a companion piece, Thompson tries to track how all that money is spent.
Photo of victim, Andre Rogers, courtesy of Neal Santos.