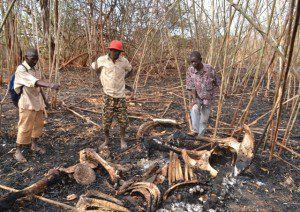 From Estacios Valoi for Oxpeckers, findings of official complicity in the slaughter of elephants – which has become "industrial" in scale in northern Mozambique.
"The killing of elephants in the north of Mozambique is reaching proportions never seen before," an advisor to the World Conservation Society told Valoi. Their ivory tusks are then smuggled across borders, mainly to China and Vietnam.
Despite tougher laws, Valoi's investigation found that officials facilitate the illegal trade. "Some sell weapons and ammunition, military uniforms and boots, and others facilitate the release of detainees and the disappearance of evidence," reports Valoi.
Valoi is a member of the Forum for African Investigative Reporters.
Photo credit: Estacios Valoi
[Reporting supported by The Green Park Foundation and The Reva and David Logan Foundation.]