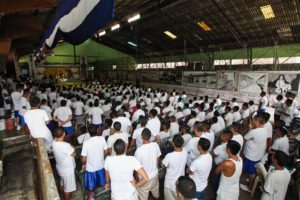 In two stories for The Intercept, FIJ/Schuster Institute diversity fellow Danielle Mackey reports on the difficulty and politics of leaving criminal gangs in El Salvador.
The first piece follows a 21-year-old who wants to retire after 10 years of murder and extortion with the gang Barrio 18. He hopes for a new life working with an evangelical Christian church. To his surprise, the gang lets him go, with conditions.
Besides entanglements with their old gangs, former gang members are ostracized by society and are targeted by police and other gangs. There are about 60,000 gang members in El Salvador. Mackey asks, "What is the solution to this problem if they can't retire?" This story was highlighted in the New York Times and Longreads.
The second piece reports on a historic change in U.S. foreign policy toward El Salvador that allows aid money to be used to help people leave gangs. The unannounced policy shift happened after a years-long political battle fought in both Washington and the U.S. Embassy in San Salvador.
A view of prisoners inside Apanteos prison, west of San Salvador, El Salvador. Photo by Salvador Meléndez/Revista Factum
[FIJ thanks The Ford Foundation for providing the funding for this project.]