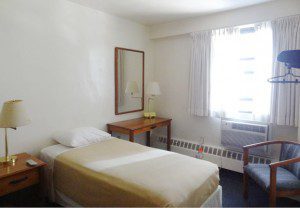 From Amy Lieberman for Women's Enews, the final part in her series on the hazards faced by transgender women locked up while awaiting immigration and asylum hearings. For example: "[Attorney Sarah] Vidal's client lives in a dorm with about 20 men and has filed formal complaints alleging an attempted rape, as well as ongoing harassing comments by detainees and guards. 'I am not sure why she was placed in an all-male facility,' Vidal said in a phone interview. 'She alleges that when she asked about it they told her that because she is a man they are putting her in a male facility.'"
The photo to the left, taken by Lieberman, is an example of hotel housing managed by charitable groups that are trying to accommodate transgender people seeking asylum in the U.S.
Read the full series:  Part One, Part Two, Part Three, Part Four.