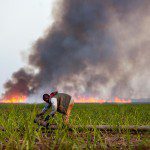 From Amy Bracken for Al Jazeera America, part one of an investigation of the working conditions for Haitians in the Dominican Republic. Conditions were supposed to improve under a trade deal between the U.S., the Dominican Republic, and five Central American countries. But Bracken documents a harsh life for Haitians working on the sugar plantations including excessive hours and unsanitary living conditions.
A plantation owner tells Bracken there is little or no enforcement of labor standards: "No, they are not interested in how we're treating the Haitians."
In Part Two, Bracken explains the cozy relationship between U. S. government officials and America's sugar barons.
[Reporting sponsored by The Reva and David Logan Foundation.]