Nigerian Investigative Journalist of the Year – 2012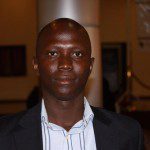 (Washington) The Fund for Investigative Journalism is proud to announce that Idris Akinbajo, whose investigation of mismanagment of Nigerian government programs to fight poverty and meet basic standard-of-living goals, called "Millennium Development Goals," was supported by the Fund, has been honored as "Nigerian Investigative Journalist of the Year 2012." The announcement, made in Abeokuta, Nigeria, said this about Akinbajo: "The judges said he brought 'a sense of depth,  craft, integrity, and class act, to his reporting and writing which not only  put the case for accountability in government forcefully on the table, but also brings a lot of pride to Nigerian journalism.'"  The journalist won the award for his "overall outstanding performance" during the year, which included his Fund-supported series of reports on fraud in the Millennium Development Goals programs. That series also won the Online category award, in the annual Wole Soyinka Awards for Investigative Journalism in Nigeria. The award is named for Africa's first Nobel Laureate in Literature, Wole Soyinka, who is a strong voice in Nigeria for freedom of expression and democracy.
FIJ Awards Grants to Investigative Journalists
WASHINGTON – The Board of Directors of the Fund for Investigative Journalism (FIJ) has awarded $60,000 in grants for 16 independent investigative projects in the United States and overseas.
The grants pay expenses such as travel, document collection, and small stipends. The Fund's grant-making program is made possible by support from the Park Foundation, the Gannett Foundation, the Ethics and Excellence in Journalism Foundation, The Nara Fund, and generous donations from family foundations and individuals.  Special funding from the Green Park Foundation also enabled the Fund to underwrite investigations of climate change, and of poverty.
Journalists receiving grants are:
Jason Berry, author and free-lance journalist
Michael Blanding and Heather White, writers specializing in environmental, human rights, and corporate responsibility issues
Sasha Chavkin, New York City based investigative reporter
Dan Christensen, Broward Bulldog
Reid Frazier, Pittsburgh public radio reporter
Anne Galloway, Vermont Journalism Trust/VTDigger.org
Jacqueline Ginley, California-based investigative reporter
Sara Gregory, Student Press Law Center
Sujin Kim, Iowa Center for Public Affairs Journalism
Lenzy Krehbiel-Burton, Native American Times contributor
Amy Lieberman, reporter with specialty in environmental and human rights investigations
Robert McClure, InvestigateWest
Jarrett Murphy, City Limits
Xiaoqing Rong, Sing Tao Daily
Gwyneth Shaw, New Haven Independent
Adam Welz, multi-media journalist with specialty in environmental coverage
The subjects of the investigations are confidential until published.
In addition to funding, grantees are eligible for mentoring by veteran members of Investigative Reporters and Editors and the Society of Environmental Journalists. Selected grantees may also be eligible for fellowships with the Schuster Institute for Investigative Reporting at Brandeis University.
The Fund for Investigative Journalism has supported hundreds of public service reporting projects since 1969, when it provided funding for Seymour Hersh to investigate the My Lai massacre. Hersh won the Pulitzer Prize for his coverage. Since then, many other Fund-supported writers have won prestigious journalism awards for their work.
Read more about Fund-supported projects and instructions for grant applications at www.fij.org. Journalists with questions about applying are encouraged to contact Sandy Bergo 202-662-7564, or fundfij@gmail.com.
Money Seized from Innocents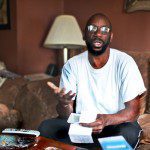 Isaiah Thompson, reporting for the Philadelphia City Paper, exposes how law enforcement authorities seize money from innocent people.
Here is an excerpt: "By way of a process known as "civil asset forfeiture," carried out in Philly by the Philadelphia District Attorney's Office, the DA may sue to take ownership of confiscated property and, if successful, keep it.
The law's intent is straightforward enough: to target drug criminals (and, to a lesser extent, other types of criminals) by going after the proceeds and mechanisms of their crimes, and to use those ill-gotten gains for the benefit of the public.
The implementation, though, is more complicated. In Philadelphia, the law has laid the framework for a civil asset forfeiture program that brings in upwards of $6 million a year from cases against thousands of Philadelphians, with little oversight of how cases are pursued or how profits are distributed. And, as [Dwayne] Marks learned all too well, that process has little regard for a property owner's guilt or innocence."
In a companion piece, Thompson tries to track how all that money is spent.
Photo of victim, Andre Rogers, courtesy of Neal Santos.
Toxic Laundry Emissions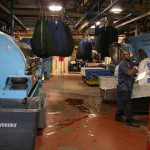 Barbara Moran, reporting for the Connecticut Health I-Team, discovers a toxic, overlooked environmental concern in industrial laundry facilities. An excerpt:
Laundering shop and print towels, which are cloths used to wipe oil, solvent and other chemicals off machinery can fuel the release of VOCs (volatile organic compounds) above federal limits. The use and processing of shop towels is largely under-regulated, despite its potential to emit toxic substances into the air…
State and federal investigations have exposed a potentially bigger problem: the spotty oversight of chemical-laden shop towels as they travel from factory floor to washing machine. The EPA and the laundry industry disagree on who bears liability for VOC emissions along this supply chain, with the EPA targeting laundries and the laundries pointing at customers.
"We don't always know what's arriving at the laundry, because these companies use different chemicals," said Joseph Ricci, the president and CEO of the Textile Rental Services Association of America (TRSA), which represents the laundry industry. "So the customer is ultimately liable for what's on the towel."
This poorly regulated process can lead to a mix of incompatible chemicals at the laundry, creating fire risks and additional risks for human health and the environment, according to state and federal officials.
"If you don't know what's in there it could be hazardous," said EPA's Rapp. "There have been explosions at these types of facilities. We've heard reports of fires in the washing machine when the washer is going. What are you ignoring when the water is on fire?"
Photo: Courtesy of the Connecticut Department of Energy and Environmental Protection.