Rebuilding from Nepal quake hampered by sluggish funding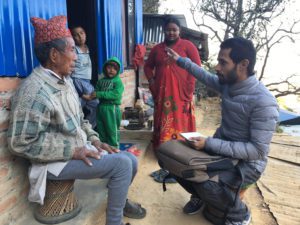 Lucinda Fleeson traveled to Nepal to probe delays in distributing housing grants to residents trying to rebuild after the disastrous 2015 earthquake. In her piece for the Philadelphia Inquirer, Fleeson writes about that only a meager 3 percent of the $936 million promised to residents has been disbursed.
NiemanReports recently featured her work with journalists in Nepal, who produced multimedia stories and interactive data graphics published on the website of the Center for Investigative Journalism-Nepal. The stories reached tens of thousands of readers and listeners. They were published in the three largest English-language newspapers and the leading English-language weekly. The BBC-Nepali radio service broadcast a series of related-stories throughout the country, where listenership counts more than 2.2 million.
Photo: Kathmandu Post reporter Roshan Sedhai talks with members of the Tamang community in the hills outside of Kathmandu. (Photo courtesy of Lucinda Fleeson.)
[Reporting for this project was sponsored by the Reva and David Logan Foundation.]
Worldwide shortage of surgeons takes massive toll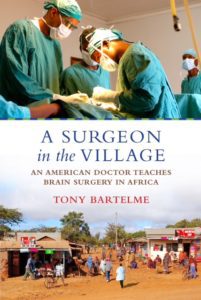 The shortage of surgeons leads to more than 17 million deaths worldwide every year. In his book, A Surgeon in the Village, recently published by Beacon Press,Tony Bartelme explores the problem by chronicling an American neurosurgeon's quest to teach brain surgery in a poor and remote area of Tanzania. The neurosurgeon, Dr. Dilan Ellegala, visited Tanzania in 2006 and was surprised to learn that the country had only three brain surgeons for its entire population of 43 million people. Bartelme's book documents the unintended consequences of the short-term medical mission model and new ways to reduce the global surgical gap.
[Reporting for this project was sponsored by the Nicholas B. Ottaway Foundation.]
Unintended consequences as cities address blight: lead contamination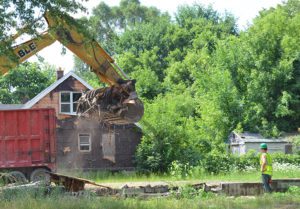 In cities like Detroit, demolishing old buildings might help rejuvenate blighted neighborhoods. But doing so has unintended consequences, according to a report by Eilís O'Neill for The Nation. The problem with destroying tens of thousands of old homes is that many are covered in lead paint, and demolition crews risk unleashing clouds of lead dust into the environment — near schools, bus stops, and neighborhoods with young families — and threatening the health of children.
PHOTO: Debris from a demolished home is loaded onto a truck. Detroit's demolition protocol requires that    dust be sprayed down, which is not occurring in this case.
[Reporting sponsored by The Park Foundation.]
Kurds push out Arabs and use intimidation to recruit fighters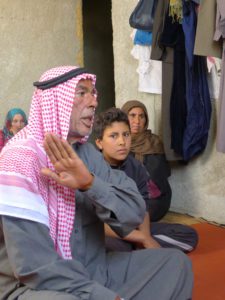 Roy Gutman set out to investigate what appeared to be an ethnically motivated mass expulsion of Arabs in northern Syria from late 2014 through mid-2015 by a Kurdish militia allied with the United States, the People's Protection Units (YPG). While Gutman could not document any systematic "ethnic cleansing," he found evidence that the militia, the Syrian branch of the Kurdistan Workers' Party (PKK), had organized widespread expulsions of Arabs, a war crime under international humanitarian law, and systematically violated the human rights of Kurds and Arabs northern Syria. The expulsions were largely political, undertaken at the behest of the Assad regime, with which the YPG is closely allied.
A six-month investigation for the Nation shows that the militia has evicted Arabs from their homes under threat of violence starting in 2013 and subsequently has blown up, torched, or bulldozed their homes and villages.
In addition, Gutman found that the Syrian militia has used whatever means necessary to recruit fighters, even at gunpoint, as it kills political opponents and suppresses the news media.
Central to Gutman's reporting is the long struggle for Kurdish independence, which has had a long and violent history across Iraq, Turkey, Syria and Iran.
PHOTO:Ibrahim Abo Omar, 61, a Syrian Arab, describes the eviction of his family from their home in Tel Abyad, Syria, last spring by the Kurdish YPG militia. "They just locked the door. Put the keys in their pocket. They said 'if you come back, we will slaughter you.'" He and his family — wife Jamila al Hussein Yusuf, 51 and son Ali, 12, are sitting just to the right of him — now live in Akcakale, a Turkish city just across the border from Tel Abyad. (Photo for The Nation by Roy Gutman)
[Reporting sponsored by the Nicholas B. Ottaway Foundation.]