In the wake of Mexico's drug wars, staggering number of the country's missing unearthed from clandestine graves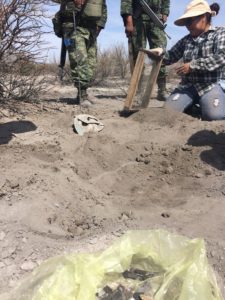 No one really knows how many people are buried in clandestine graves across Mexico in the wake of the country's drug wars. Mexican officials say 662 bodies were found in 201 graves in 16 Mexican states between August 2006 and October 2015.
But as Dawn Paley reported for The Nation, the tally could be far more staggering: During the same period, newspapers reported at least 2,439 bodies discovered in 30 of Mexico's 31 states, as well as in Mexico City. Meanwhile self-taught search teams fan out in search of loved ones, relying on hand-drawn maps, messages on WhatsApp and Facebook and tips from folks who speak of bodies being buried late into the night.
(In photo, a mother whose son disappeared sifts through sand for bone fragments as soldiers look on, outside of the city of Torreón. Photo by Dawn Paley.)
[Reporting sponsored by the the Reva and David Logan Foundation.]