Controversy over state-hired psychiatrist expands into federal disability claims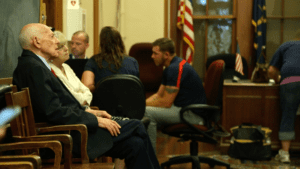 Further investigation by WNIN and Side Effects Public Media calls into question the work of a government-hired psychologist on thousands of Social Security Administration disability claims. The news outlets had previously reported about concerns that the psychologist might have falsified at least two dozen mental competency exams related to criminal court cases.. The scrutiny arose after he was convicted of falsifying one such exam. The widening scrutiny, according to WNIN, stems from his role in 10,567  disability cases for which he performed services for the Social Security Administration. The psychologist, Albert Fink, was paid more than $1.6 million between 2006 and 2016, according to public records obtained by the news outlets through public records requests.
In photo by AJ Casey for WNIN, Psychologist Albert Fink at a court hearing in GIbson County, Indiana. The doctor was charged with obstruction of justice after admitting he had faked court-ordered mental health examinations.
[Funding for this project was provided by the Ethics and Excellence in Journalism Foundation.]