Inmate deaths and lack of oversight found in ICE contract prisons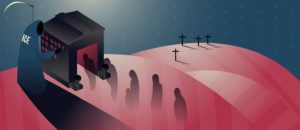 Grant recipient Robin Urevich has published a series of stories in Capital & Main outlining two deaths connected to inadequate medical care at immigration detention centers run by Emerald Correctional Management. Urevich's investigation found that the firm received millions from no-bid government contracts while providing sub-par service—this despite a history of poor performance on the part of the company. As of 2016, the company had abandoned or been fired from more detention contracts than it maintained.
The Louisiana-based firm went out of business in 2017, but the abuses uncovered reflect a lack of oversight by ICE in vetting potential prison contractors. Immigration detention has expanded fivefold in the past 23 years, Urevich reports, and with the Trump administration's deportation surge, is growing larger.
Illustration by Define Urban for Capital & Main
[This project was funded by The Park Foundation.]