Months after Hurricane Harvey, confusion remains in recovery efforts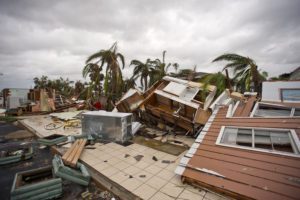 Hurricane Harvey wreaked havoc on the Texas Coast in the waning days of August, dumping more than 50 inches of rain in parts of the Houston area. The storm flooded thousands of homes and killed more than 80 people. The devastation was swift, and the recovery is far from over. The Texas Tribune, in collaboration with Reveal and ProPublica, investigated recovery efforts and found deep problems caused by repeated flooding in overbuilt areas of Houston and a tangle of conflicting priorities when it comes to aiding private developers and individual homeowners. Months after Harvey, some displaced families remain in limbo. The lack of data, including the true extent of personal financial ruin, could deepen the woes of many homeowners who could fall through the cracks because of daunting layers of government bureaucracy. The multi-part series also documented the dilemma of competing priorities between public flood control projects and private loss.
In photo by Eddie Seal for the Texas Tribune: A destroyed motel in Rockport on August 28, 2017. The motel was heavily damaged as Hurricane Harvey made landfall as a category 4 hurricane with winds of 130 mph in Rockport on Friday, August 25, 2017.
[Funding for this project was provided by the Park Foundation.]