"We Have Water But It's Not Drinkable"
Kent Paterson of Frontera NorteSur, in the first of a series on small town governance, describes how the excessive levels of arsenic in water supplies along the southern border of New Mexico, a longstanding problem, was exacerbated by the complete break-down of two water treatment plants. The utility in charge of delivering clean water belatedly notified residents of a consistent pattern of violations, going back four years, but the lack of consistent, timely notifications was itself a violation of the Safe Drinking Water Act. "… some of the basic elements of Management 101 hadn't been followed," according to a local official.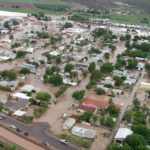 And finally, the small town of Hatch, New Mexico, having slowly recovered – by and large – from a devastating 2006 flash flood, struggles for a way to protect itself from future floods. The community is particularly vulnerable because most people living there have no flood insurance.
[Reporting sponsored by The Ethics and Excellence in Journalism Foundation.]