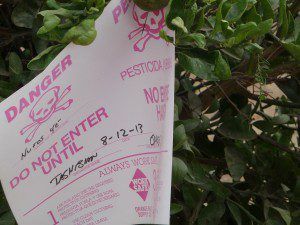 Li Miao Lovett reports for the National Radio Project that a chemical considered too dangerous for household use is still being sprayed to kill insects on croplands, exposing farmworkers and their families to its hazards.
An excerpt from the report:
In 2001, the U.S. Environmental Protection Agency – EPA – moved to protect children by banning in-home use, but the pesticide [chlorpyrifos] remains widely used in agriculture.
So you won't find this chemical now in your can of bug spray but farmworkers and their children continue to be exposed to chlorpyrifos.
Photo credit: Li Miao Lovett.
[Reporting sponsored by The Park Foundation.]